Busting Stereotypes: One Wrench at a Time
---
---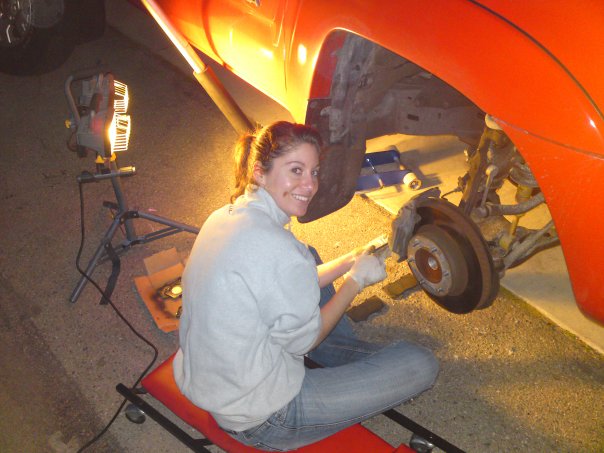 For the first time in history, individuals without power, money, or status can deliver their personal messages to a large global audience. If this in itself does not excite you, then you don't understand the power of Web 2.0. The fact is that words are incredibly powerful. They hold the ability to profoundly influence public thought.
Armed with our words and the Web 2.0 platform with which to deliver them, there will be many solutions to the global women's empowerment movement. I wish to focus on one in particular: Busting stereotypes. Currently, only 16% of global news stories focus on women. Of those few, half of them reinforce gender stereotypes. Women no longer have to accept those statistics. Using new media, we can shine the spotlight on our issues at a much higher rate, and focus on truth: Women are good at math & science. Women can skillfully wield a wrench. Women do make amazing leaders.
In the face of more extreme global issues (i.e. rape, discriminatory laws, etc.), busting stereotypes seems to demand a lower priority. But the fact is this: Stereotypes underlie our cultural thoughts and plant seeds in our minds that tell us we are second class citizens; they infiltrate societal belief in ways that make many complacent to women's strife, allowing global acts of gender violence to be accepted as "just the way it is;" they crawl deep into our minds without our permission or realization, making them difficult to fend off. The psychological effects run much deeper than many realize, making stereotyping a dangerous enemy indeed. How do you fight such a powerful, intangible force that is, I believe, the root cause of gender inequality & violence around the globe? How do we eliminate something that is hidden, abstract, and deeply rooted? I believe we can do this by giving the world one stereotype-defying example at time!
As a garage-tooling, motorcycle-riding, fashion-loving female engineer, I've begun to harness the power of new media by partnering with two other stereotype-busting women in starting a blog: Ms. Jane of All Trades (launching soon!). Our aim is to empower both ourselves and other women by proving that being feminine doesn't have to mean being powerless or incapable, and being powerful and capable doesn't have to mean being masculine either. We can wear our lipstick and heels, and work on our cars if we so choose. We needn't be trapped in limiting, stereotype-driven, gender-definition boxes. Just imagine: the confidence a reader builds when she uses our blog to learn how to change a flat tire; the idea growing in her mind--as she reads--that femininity is the face of an intelligent, strong, and capable woman! Can you imagine? I sure can and, frankly, I'm done imaging. I wish to begin creating. My vision is to create a safe space where a community of women can gather to build confidence as we challenge and bust gender stereotypes, one reader—and one wrench—at a time!