Canada is going backwards in the equal treatment of women
---
---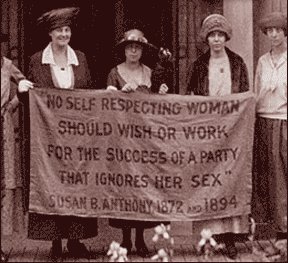 Canada is often viewed as a prosperous, progressive nation by the rest of the world. Canadians enjoy a high quality of life, peaceful living, and we are lucky to have considerable natural resources. Canadians proudly helped introduce the concept of peacekeeping to the world, and the Prime Minister involved, Lester B. Pearson, won the Nobel Peace Prize for his efforts.
http://en.wikipedia.org/wiki/Lester_B._Pearson
Today, Canada has a Prime Minister, Stephen Harper, that is intent on ignoring and reducing women's rights in Canada and around the world.
His Conservative minority government has abolished funding for many women's groups, including the National Status of Women, Match International (which funds health clinics for women and children overseas), the Canadian Research Institute for the Advancement of Women, the Centre for Equality Rights in Accommodation, the Alberta Network of Immigrant Women, the New Brunswick Pay Equity Coalition, Conseil d'intervention pour l'accès des femmes au travail (CIAFT), Réseau des Tables régionales de groupes de femmes du Québec, Centre de documentation sur l'éducation des adultes et la condition feminine, Ontario Association of Interval and Transition Houses (OAITH), and Womenspace Resource Centre in Lethbridge, Alberta.
All of these groups had small budgets and did very effective work for advancing the equality of women.
Stephen Harper's Conservative government made these cuts just before Canada hosted the G8 and G20 leaders in Toronto, and his government made a plea to improve funding for maternal health at the G8 meetings. Harper's initiative did not address the need for safe abortions as part of the maternal health plan; international aid groups, medical experts and women's groups in Canada were incensed. Many groups in Canada protested the plans to eliminate funding to any agencies that provided abortion as part of their maternal health care plan. "Conservative Senator Nancy Ruth sparked controversy on May 3, 2010, with comments she made during a meeting with women's equality rights groups on Parliament Hill. The groups were among many who had levelled criticisms at the Conservative Government for maintaining their refusal to include funding for abortions in their maternal health plan for the G8, even after finally agreeing to include family planning measures such as contraception. Nancy Ruth fired back at the groups, telling them to "We've got five weeks or whatever left until the G8 starts. Shut the fuck up on this issue," she said. "If you push it, there'll be more backlash. This is now a political football. This is not about women's health in this country". Additionally, Nancy Ruth said, "Canada is still a country with free and accessible abortion. Leave it there. Don't make this an election issue." The next day the Conservative government cut funding to 11 womens groups, some of which support abortion as part of the G8 maternal health initiative." - from Wikipedia http://en.wikipedia.org/wiki/Nancy_Ruth
Women in Canada have the right to choose abortion, and we have safe and accessible clinics in most parts of Canada, although the right to choose is currently under attack from fundamentalist elements in government and in society. Stephen Harper and his government are acting in a patriarchal and condescending manner toward women in developing countries by preventing them from having the right to choose a safe and medically supervised abortion.
Prime Minister Harper was also caught on camera referring to women as a 'left-wing fringe group.'
"On Wednesday, Sept. 9, CBC-TV aired a video that was leaked to The National. It depicted Prime Minister Stephen Harper at what was supposed to be a closed-door session, speaking to supporters. Among Harper's targets were ''left-wing fringe groups'' whose constitutional challenges resulted in landmark decisions with respect to reproductive and religious freedoms, pay equity, workplace discrimination, same sex and immigrant rights, anti-Semitism, hate speech and much more." - from the Facebook group 'Proud Fringers.'
http://www.facebook.com/pages/Proud-Fringers/219620268985?ref=ts#!/pages...
Here's an edited version of that video: http://www.youtube.com/watch?v=cWaxTotsqrE
Harper's Conservative minority government also prorogued Parliament in order to avoid discussing the torture of prisoners in Afghanistan, attacked pay equity for women, cancelled childcare agreements with the provinces of Canada, and have yet to put a plan in motion to find Canada's missing and murdered aboriginal women.
http://www.torontosun.com/news/canada/2010/04/21/13660361.html
It is time to make women's rights an election issue in Canada. We need to stop turning back the clock on women's advancement, women's empowerment, women's rights and Canada's international development commitments. Canada and the world needs Canadians to stand up for women's rights, both domestically and internationally. Women's rights are human rights.
For more information on Canada's system of government, please read:
http://en.wikipedia.org/wiki/Government_of_Canada