---
---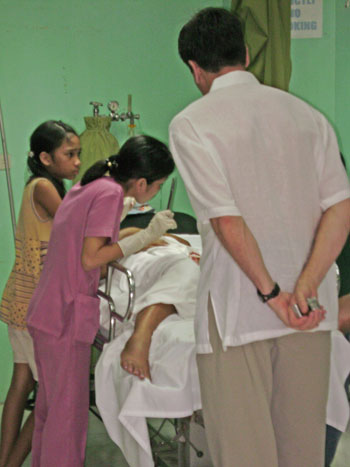 Well... it have been a while since I have offered any updates here. Recent travels to the Philippines and the HUGE effort now underway there, have admittedly kept me quite overwhelmed with work. Although none of that is really a good excuse for the lack of communication, the following explanation of my activities should - hopefully - provide understandable insight.
My recent travels were originally focused on performing "Needs Assessments" in the small rural clinics on some of the 7600 islands that comprise the Philippines. Initial assessments we performed in numerous clinics on the southern island of Mindanao.
This is an area fraught with disease and social unrest. Most common medical presentations included Malaria, Dengue Fever, Water Born Illness (Diarrhea), Tuberculosis, Pneumonia, Malnutrition and - of course - various wounds. Clinics are grossly under-equipped and have very limited medicine supplies.
While at one clinic my heart went out to a young victim of a motor cycle accident who endured a deep laceration to the inside of his thigh. The clinic had no local anesthesias. The victim let out loud screams of pain as he was held down and his wounds stitched up. Fortunately he finally passed out and the rest of the procedure could be performed much more easily. At least for everyone accept the victim's young daughter who looked on in terror as she tried to reason out what was happening to her young parent.
After reviewing numerous smaller clinics - and being astounded that many served populations in excess of 3500 people with on a $5000US annual budget for medicines - I headed back up to Manila for some important meetings with Ed, a fellow humanitarian relief worker friend with over 35 years experience and a vast history and contact network in southeast Asia.
My plan was to meet with Ed for 1 day then move on to similar interests in Kenya and the Congo. Ed stated he felt there was a huge need for telemedicine in the Philippines (I certainly agreed) and asked if I would consider staying an extra day as he could set up meetings with some key government contacts. He said they would be very interested in learning more about our capabilities and how they could apply in the Philippines.
Long story great abbreviated, that extra day turned in to a couple extra weeks. After extensive meetings with members of the Philippine Senate, Congress, Commanders from various branches of the Philippines Armed Forces as well as numerous chief surgeons, hospital administrators, university professors, and the Philippine National Police, a rather amazing project has unfolded.
The HELP Philippine Telemedicine Network is now working to deploy 720 of our solar powered telemedicine "Bring 'Em Back Packs" to all 240 congressional districts there. Likewise a limited number of our "Doc-in-a-Box" mobile clinics are also being requested.
Our packs will allow rural clinics to reach back via satellite (yes, that is funded too) to 4 Philippine Coast Guard Hospital Ships as well as Metropolitan Hospitals and two university medical centers. Likewise they can also reach back - as the need arises - to our extensive telemedicine network within the United States and other countries. This is especially important during times of disaster; an ever present danger with the annual threat of typhoons and disease outbreaks.
The packs include a tough ruggedized tablet PC, high speed satellite uplink, 12 lead EKG, Pulse Oximeter, Spirometer, Digital Stethoscope, Otoscope, Multi-Exam Camera (throat, wounds, eyes, etc.), automated defibrillator/CPR metronome, Ambubag and a folding solar panel that keeps the whole system operational for sustained deployment in areas where there is no electrical infrastructure. The systems will also include a patient database as well as a state-of-the-art "Advanced Incident Management System." This system provides amazing capabilities in monitoring situational awareness, asset tracking/management, refugee migration, disease migration and mitigation and much more.
We are also partnering up with several Philippine and US-based universities to conduct studies on this deployment (White Papers/Ph.D. thesis), to learn more about what goes right, what goes wrong and how the next deployment can be performed even more effectively.
Likewise a significant aspect of this system's deployment will also be focused upon using it as a "telementoring" tool. The system will allow university medical centers to connects with medical students sent to small rural clinics. These students will now have the "reach-back" capabilities to specialist staff who can guide them through difficult situations.
This system is amazingly effective, the application is amazingly complex and the needs are just plain heart-wrenching. As such our opportunity to make a profound impact is significant.
While I considerably regret not making it to Africa on this past mission, what we are doing is making a huge difference. The technology we are advancing is something I hope to focus upon the needs of the Congo next.
Just in case anyone is interested:
After working very hard with various equipment designers and manufacturers we have the price per "Bring 'Em Back Pack" currently under $25k each with price breaks for larger quantity orders. Likewise the system can be deployed for use with cellular systems (rather than satellite) if there is a suitable amount of bandwidth available of the system. We use cellular-based applications here in the states to connect rural clinics to metro hospitals on a regular basis.
Telemedicine has changed the face and level of effectiveness of our mobile medical clinic efforts. Many thanks goes out to our main collaboration partner Interactive Medical Solutions and it's director Dr. Alan Michels.