In Egypt: Tea of Freedom, Biscuits of Dignity
---
---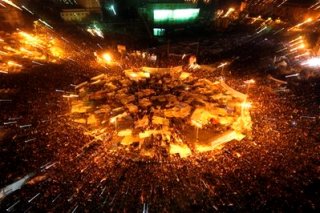 (Editor's Note: This piece was first published on OnIslam.net (http://www.onislam.net/english/culture-and-entertainment/editors-blog/45...). I posted here to note the victory moment in Egypt after Mubarak's stepping down. This piece will be followed by a special post for World Pulse about the role of Egyptian women)
...I do not know how I should start. How in few lines can I describe all such scenes of victory and shots of happiness?
All of a sudden, moans of oppression turned to be chants of triumph. Hard nights passed, dark times vanished, and the way for justice and dignity is wide open.
Egypt is reborn to witness a new chapter of its history.
After Friday Prayer on February11, a massive number of Egyptians went in sweeping protests across the country, marking another million-man demonstration, which they called the "Friday of Challenge." They all were outraged by the now ex-president Hosni Mubarak's speech on Thursday, in which he declared his stay in power and transfer of his authority to his deputy, Omar Soleiman.
Everybody was so angry at Mubarak's attitude of denial. They were expecting a different speech with a different message. Thus, big protests broke out in the Egyptian streets in major cities like Cairo and Alexandria. Hundreds of thousands went to presidential palaces to sit in fighting for their rights.
Since reporting on the escalation, I decided to go to Tahrir Square — the center of Cairo protests — to check on the stand of protesters. Although reports estimate numbers there to be over million, the road to the square was full of new protesters coming to share their rage and hope.
To cross to Tahrir Square, you need to walk over the ancient Qasr El-Nil Bridge. Since the beginning of protests, the bridge was turned into a big market where protesters can find everything that they may need on their way to the square. Stuff like snacks, mineral water bottles, and flags were sold on the bridge. Vendors of tiny business are so lucky to have the demonstrations that rise up their income, giving a push to the economy at this small scale.
Looking around the busy bridge, feelings of enthusiasm and positivity swept across the crowds, energizing them with a great hope for a better future for themselves and for their country.
Off the bridge, I entered another world: the protesters' wonderland.
What on Earth!
The Friday of Challenge was unique, even before the news of Mubarak's stepping down. It was shown in the eyes of protesters that they are so determined. They looked so brave, organized, and strong. They transformed the square to be a small community where they have expressed their demands, socialized with other Egyptians who keep coming from other governorates, and even spent their nights in small tenets spread in the middle of the square. They felt ok about staying till gaining their rights.
If you see them, you will never imagine that it was the 17th day of their continuous protest. They looked neither tired nor fed up; rather, they were getting strength by the passing of time.
Everything was systematic and normal inside the square, till an overwhelming stream of joy took the crowds by surprise. Mubarak stepped down! That's it!
Hearing this news, protesters went crazy with loud screams of no clear words or slogans, but just shouts of freedom.
For minutes, people stood shocked, unable to believe what they heard. Others bent down on the ground praying to God and thanking Him for answering their supplications. A third group was flying among the crowds to spread the news.
It was not all about Mubarak as a person, I think; the whole story is about gaining stolen rights, fighting corruption, and defending dignity.
As I spent enough time sharing Egyptians celebration, I can tell this nation is rising again after 30 years of stagnation. The biggest outstanding achievement of this revolution is the reestablishment of Egyptian society. Days of social rip have gone forever; all classes of Egyptians have been gathering in one place for days and nights, facing dangers and sharing responsibilities for one major goal: deposing the regime and changing their country.
The spirit of unity and awareness that exists among Egyptians now tops the long list of advantages of this revolution.
Memories of tough days that passed for the sake of liberating their homeland will never be erased from the minds of Egyptians. To them, it was written with the blood of martyrs and sweat drops of demonstrators.
As everything in Egypt becomes now valuable, I can still hear that old poor vendor who went around chanting for the revolution and for his products saying, "Tea of Freedom.. Biscuits of Dignity."