Janavi A and her story about the MICA mines are eye opening! Greed is the driving force!
---
---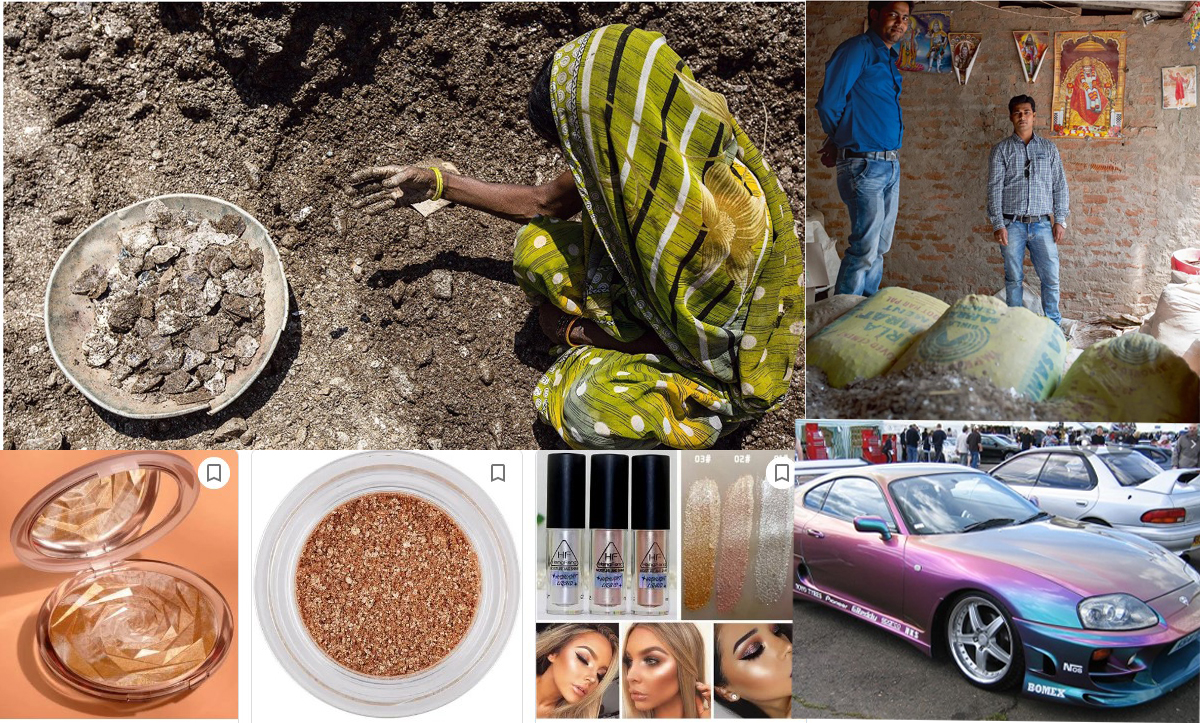 Janavi A  has really impressed me with her story about the mica in our lives and how we take it for granted. Please read it!
Direct link: CRUMBLING MINES WITH THEIR NIMBLE HANDS...https://www.worldpulse.com/community/users/jahnavi/posts/100595
--------------------------------------------------------------------------------------------------------------------
Are you willing to give up the mica in your life?  Greed is the driving force...continued!
Once again, we are all complicit in the crimes that are committed against humanity and ecology. But we must have our stuff! We by choice support industry.  And the more oblivious we are about the origin, the better.
Please make a cup of Fair Trade coffee, sit comfortably and have a read...
India produces 60 percent of the world's mica. Andhra Pradesh continues to be the leading producing state contributing 94% of the total production in India, and remaining six percent was reported from Rajasthan. Depending on its quality, mica's price on the world market can range from $1,000 to $2,000 (£650 to £1,300) per kilogram.
Make-up has mica...for the next time you need to shimmer!


blushes


eye liner


eye shadow


foundation


hair and body glitter


lipstick


lip gloss


mascara


moisturizing lotions


nail polish


Some brands of toothpaste


Appliances use mica...for the next time you need to watch, listen, eat or keep warm!


Radios, Televisions


Microwaves


Rice Cookers, Toasters, Kettles


Heating Systems


Automotive Industry uses mica...for the next time you have somewhere to go!
Vauxhall, Volkswagen, BMW, and Audi and many other automakers use mica to make the "shimmery" paint found on cars.
Medical and Scientific Technology needs mica...


breathing equipment


X-ray machines


navigation compasses


atomic microscopes


missile, laser and radar systems


Let's get personal...
Sarita Devi, a 25-year-old from Dhab, was just 12 when she started mining with her mother. Today, her right leg is held together by a metal rod after an accident almost killed her in February 2015. "I was digging. The walls of the mine were so soft that they collapsed upon me. I fainted immediately," she says, her black, vivid eyes staring at the barren ground beside her family house. "It happens frequently, but we generally manage to escape in time. That day, I didn't."
It took Devi's parents 30 minutes to extract her from the debris and reach the hospital, where she underwent emergency surgery. The mother of four is still traumatised by the accident. Although she has started walking again, she cannot bend or crouch and is now forced to stay at home, looking after her sons and elder relatives. Once she has recovered, she knows her only option will be to return to mining. "I really don't want to go back there, but what can I do?" she asks. The eldest of two brotherless sisters, Devi has to take care of her aging parents and find a way to repay the almost £1,000 loan she took for the hospital bill. Her family earns less than 70p per day. 
Some of the illegal mines in Koderma are commercial-scale enterprises with heavy machinery and hundreds of labourers, but most mica extraction is carried out by small-scale, freelance miners. As they work in makeshift underground holes, miners are often exposed to collapses and landslides -- which can be fatal. "Whenever I venture inside those holes, I don't know if I will come back alive," 
But the industry may not continue for long. Shallow deposits are running out and the villagers lack the technology to search deeper.  Sheet mica is found in many countries. It has been produced in the United States, Canada, Brazil, Argentina, German East Africa, Transvaal, British Nyassaland, Natal, Madagascar, India, Ceylon, Australia, China, and Japan. So they create an alternative should the child mining practices due to the shallow deposits in India being over extracted. The villagers fortunately/or unfortunately will have to find or create a new way to make a living. It's inevitable. 
Education provides the shine of hope when the shimmer of mica fades...
Young people are faced with the dilemma of leading a hard and unsatisfying life here in the mines or emigrating to work as labourers in Mumbai or Delhi says Sunita Kumari a bright, outspoken school teacher of 27 who has taught in Dhab for the past 11 years, is trying to offer local children another option. "I can't change the parents' lifestyle, but I can change that of the children if they come to school," she says during a break from lessons. Now, most of the children in Dhab attend lessons and go to the mine only at the weekend or during school holidays.
Credits to Janavi A of World Pulse, WIRED magazine, MATILDE GATTONI - Photos for WIRED magazine, Matteo Fagotto writer for WIRED magazine.
Direct link: The mineral sourced from illegal mines that powers your electronics...https://www.wired.co.uk/article/mica-illegal-mining-india
Hugs provided by JoMarie
Economic Power
Environment
Technology
Human Rights