---
---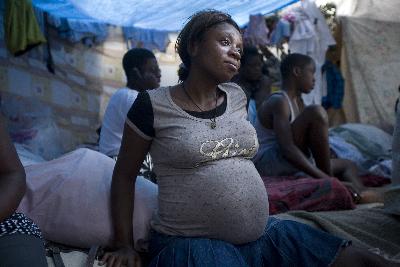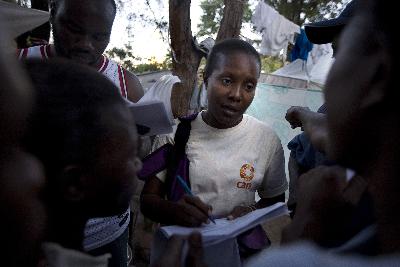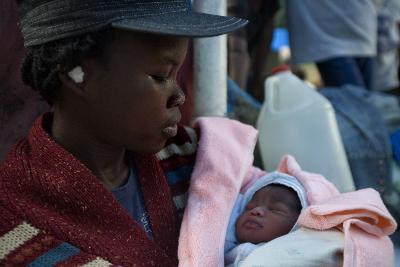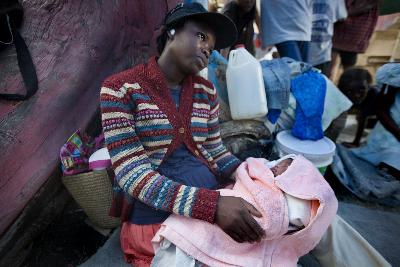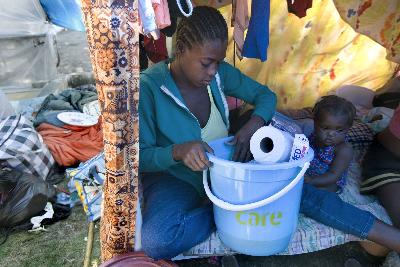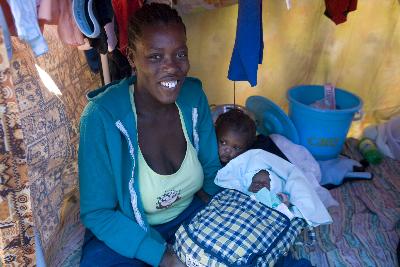 At the fragile moment in time when a life enters the world, when a child leaves the warm, protective cocoon of her mother's womb, one gesture can change everything. It can transform what could have been a happy occasion into the saddest of all.
Wadneicia may never know how lucky she was to open her eyes on January 20 in Saint Pierre Square, on the ground, lying on old packing boxes. It was 9:00 am when Joane Kerez, 20 years old, gave birth to her first child under a cloth tarpaulin with only her mother assisting her. All around, people went about their business. Curious onlookers crowded around the small space just two meters square in size, making it hard for the young pregnant woman to breathe.
"There were people all around watching me. I would have rather been somewhere else, in a cleaner place without all those people looking at my body," she says, embarrassed at the lack of modesty. At least 6,000 people "live" in this crowded square where every square inch of land is occupied by earthquake victims. Children play amidst the garbage and wash themselves in street ditches; women cook in pestilential stench since everyone urinates right in the camp due to the lack of toilet facilities. Joane's mother cut the umbilical cord with a non-sterile razor blade. The only water available was a tank that CARE had installed the day before. Five thousand litres of water was supplied to help meet the victims' needs.
"Thankfully CARE had installed the tank, otherwise I would have to have used water that comes out of the pipe at the end of the road."
No soap, no clean towel, no disinfectant, no doctor, not even minimal medical equipment in case of complications. No western woman could imagine even for an instant giving birth in conditions like these! And yet Joane's childbirth story is not extraordinary. Since January 13, hundreds of other Haitian women have given birth among garbage cans in the streets of Port-au-Prince.
To improve living conditions for the homeless, CARE has begun to distribute wheelbarrows, shovels and brooms so people can start to clear away the garbage. "Removing garbage is the absolute minimal requirement for limiting risks of disease," explains Franck Géneus, CARE's Health Director in Port-au-Prince. "We are going to set up a network of volunteers among the people living in the area to transmit hygiene awareness-raising messages. We can limit the risks considerably by providing everyone with information about this crucial and fundamental issue."
Saluka Francia's child was born a month ago in a hospital. But since the family has had to move to this camp, the little boy's health has deteriorated. "His tummy hurts, he has diarrhea and has caught a cold," his mother explains to me. I look at the abnormally small infant and can only worry because of the sad and sickly face that looks back at me. The baby winces and his appearance betrays his precarious health. When I ask the mother if he has been examined by a doctor, or if he is under medical care, I already know the answer: "No."
Viergemène Jean who is beginning her 8th month of pregnancy has not seen a doctor since the beginning of December, even though she complains of fatigue. "I feel tired, during the day I'm too hot, at night I am cold because we don't have anything to cover up with and I am discouraged."
For good reason – like Joane, she doesn't know how she is going to give birth and she is worried. "The hospitals have been destroyed, there are many people who are injured, I know there isn't enough place for everyone." Thus, the birth of a child, which should be a source of joy, is rather a time of worry and fear for these women.
Beside her, her friend Marie-Michel Blanc, 32 years old, is expecting her third child. We would imagine she would be more confident since she has already given birth. But her apprehension is not any less, and for good reason: her second childbirth didn't go well and she had to undergo a Caesarean section. Marie-Michel knows that option won't be available to her if she experiences complications this time. "My stomach hurts and I feel something is wrong, I don't know what is happening," she says in a worried tone. I am not a doctor... but I am a woman. So I put my hands on her abdomen, I touch the warm ball in which the child is growing. I quickly understand that the child that is due in less than 15 days is breech. What should I do? Worry her more even though I know there is no doctor that could help her? I encourage her to find a midwife in the camp, I tell her there are women who know what to do, who can assist her and maybe turn the baby around. Maybe ...
Everyone complains of the lack of space and the suffocating heat that burns the little ones' skin when the sun is at its zenith. So they wrap up the babies in cloth and towels to protect them. The children are certainly too hot, and we know that when there is no water, dehydration is a real threat. Thankfully, our teams have distributed water purification tablets.
Life is also made up of miracles, like the arrival of little Sarah, who was born the morning of the catastrophe. Mother and child were in a hospital that was partially destroyed, however they both escaped unscathed. "Everything was shaking, my bed was moving. I was very afraid. I heard noise and then people started to scream. I hugged Sarah tightly in my arms, I was sure we were going to die."
As she holds Sarah, her third child, Emy Merci has a blissful smile. Her face shows her gratitude for being alive. She talks of the same difficulties that the others have, but seems to be ready to endure it all because she has her baby by her side. Emy is even more thankful because today CARE gave her a hygiene kit with soap, toilet paper, tooth brushes, toothpaste, laundry soap, sanitary napkins and other products that will ensure better hygiene. "Thanks to this, I will be able to wash Sarah and wash her diaper. I didn't have any laundry soap and her clothes weren't clean. This will change everything," she says. Joane, Saluka, Marie-Michel and 1,000 other women received the same products and express the same gratitude.
In a situation this difficult, pregnant women and infants are even more vulnerable. In seeing these women, life seems more fragile than ever, hanging by a thread that could break any second. Sometimes just the infinitely small things make it easier for mothers and children. That is why we will continue to distribute these basic goods and help strengthen the thread of life during the women's childbirth and the children's first steps.
Written by Loetitia Raymond, CARE