Movie Review: Eat, Pray, Love
---
---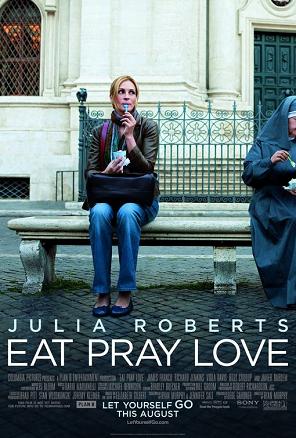 I love this movie especially that I have watched it with Raffy. I thought that he would not like the movie because he is a guy. But, he liked it and told me that he has plans for us to travel someday. For a start, maybe alone at Puerto Gallera. Hoping that we could get away for awhile. His birthday is just around the corner. Anyway, we cannot due to work. The important is that we are together with our precious quality time together.
Eat, Pray, Love is based on a true story by the author Elizabeth "Liz" Gilbert. She is a successful American writer played by Julia Roberts. Anyway, Her life is into a clutter. She has everything you could possibly want in life. But, she is not happy with her life. She decided to leave her husband by having a divorce and have a fling with this young staged actor where she was introduced into the world of prayer. But, the same thing happened to her where the relationship did not worked out.
A journey of one year is taking its place. She has to travel to Italy to EAT, India to PRAY, Bali to LOVE. Doing the Math, 4 months each country. To have inner peace and true love really takes effort in finding yourself and thus, loving yourself first.
A breath taking Italy in any cinematic scenes from the streets to the vineyards from the sunrise to sun down. If I did not love Italy so much from any angle. Especially in the search for the word -- Rome... they say its SEX. Here, Liz learns the Italian language, the hand signs and the pleasures of eating. Tasting the food until the indulgence satisfies the body and after which shopping into a size bigger. How I love seeing the food here like pizza, spaghetti pasta with all the herbs and spices and gellato. It is a Thanksgiving to be grateful in having friends and families.
In India is where Liz discovers the power of prayer, forgiveness and believing in love again. After indulging for the nourishment of the body, the spiritual side has to be fed. This voyage of self-discovery in having inner peace takes effort or a lifetime. Silence is one key of listening to the surroundings and into the heart.
Here in the movie, Liz was amazed of the traditions of India about arranged marriage. I, for one, being an Asian, arranged marriage is not very surprising to me. I have witnessed my Indian, long time friend Angie, since in our nursery days together until now that she has now her family, I have witness her wedding and saw her happiness of being married. I am really happy for her and her family. No regrets. . . that's life.
Last stop of the travel is in Bali where she met Ketuk, a ninth generation medicine man who taught her how to smile and mediate. In return, she gave a gift book where she photocopied it and book bind of the notes of Ketuk's grandmother. One touching scene is that in her birthday, she asked her friends assistance to help a physically abused local woman who is divorced and have a child, where she does not have anything to support her child. They say that a divorced woman in Indonesia does not have any legal rights at all especially towards their children.
Also, in Bali, she met a Brazilian divorced man who is willing to love her unconditionally without any expectations. She has to balance her life and taking the risk of having love again into her life. As a human being, the comfort zone is a place where safety is present. But, risk is a different matter.
Having watched this movie is really feeling good about life and that giving me inspiration to discover and improve myself especially loving myself more in order for me to love Raffy and my Mama. Sure, mistakes are there. Forgiveness is freely there for us to embrace it. Accepting of ourselves, knowing the pleasures in life, the power of prayer and sharing our blessings to others that will give us inner-peace and true love.
Enjoy the movies and life, my friends. God bless.