---
---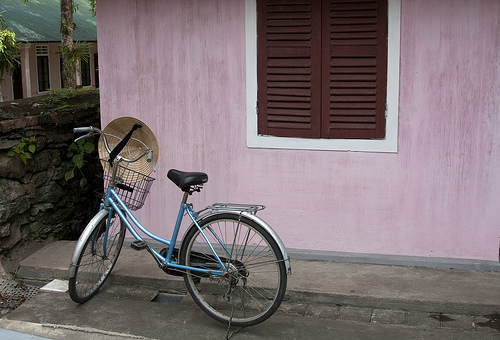 I had experienced riding my bike almost 7 years. I knew many places in Phnom Penh because my bike. It helped me to communicate with different people from differnct parts of Cambodia. I felf shame to ride bicycle all the time when I moved in distance. I love and hate it the most.
I have some reasons to love my bicycle the most. First, I never spend any riel to buy gasoline for it. This way I can save money to buy other things that I need for my study. I can have access to buy my own bag, pen, pencil, and sometimes dress. Second, I never stuck on the way home even though there is traffic jam or flooding. It always helps me to go forward and save my time. Third, I can do exercise during cycling. My legs become stonger. I feel more flexible to ride anywhere in any kind of traffic. I enjoy sightseeing along the way home. I ride it slowly and see people, flowers, and roadside ads. I observe a lot of information whenever I'm on the road. Especially, I never have traffic accidence. I always safe with my bike.
Also, I have some other reasons that I hate my bike the most. First, I have to spend a lot of energy to get me to school and private classes. I sometimes couldn't concentrate in study very much because of tiredness. Second, I could not sleep well at night. My legs' muscle have dreadful pain. I have to apply Ice C-Cool every night. Third, I have difficult time to park my bike. Most of the time the parkie discriminate with someone who ride bicycle. They only like to park motobike and cars because they can charge more money.They make me feel shame that I don't have motobike or car as other students.
In short, I still feel thankful to my bike that it gives me a lot of experience in life even it is good or bad. I can know people deeper inside just because of it. I proud of myself that I can overcome and rich the point that I am toay. However, I still want to ride my bike, but in different situation.