---
---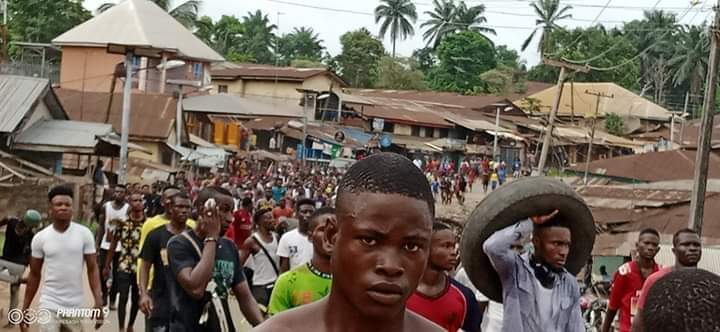 Ebem OHAFIA ON FIRE. .As a police man killed a guy because settlement  last night as about 9pm.
 Abia State , Nigeria.
A notable young man by name Friday,, was shut dead yesterday by unknown police officer.As about 9pm yesterday being friday 17th April 2020.
The unknown police officer ran away, the youth of the community are all in search for him.
This brought the anger of the community and the whole youth at large, the DPO's  house, police station, the Court, cars and all perosners were all set free due to this conflict happing right now ..
Ohafia is a known community that is as peaceful as always,the question is why then is all this things happening to a place of peace? 
They asked us to stay at home because of Covid 19,without food ,light and other basic amenities.,
They were suppose to protect us but the killed us ,they are killing my people and threatened to rape our daughters and mothers .
Covid 19 is not killing us ,.rather hunger and police/soldiers are killing our youths ,the leaders of tomorrow.Oh my goodness!!!were do we go from here ? Lord please protect our fathers our youths and our mothers and the children .Shine your love upon us and heal our land please.
May the gentle soul of the young man rest in peace..
Environment
Health
Human Rights