Participation à la formation sur l'utilisation de la nouvelle technologiede l'informatique par Maman SHUJAA en partenariat aR
---
---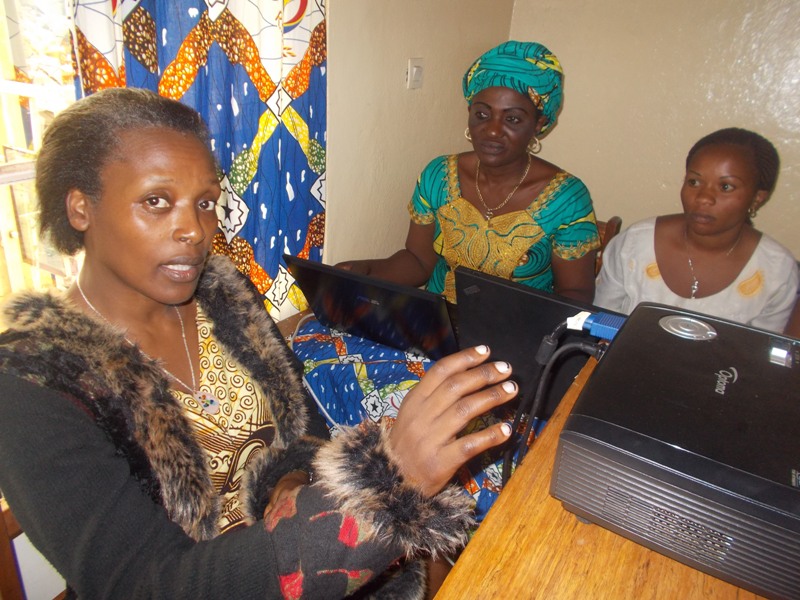 Je suis Mme Bernadette NTUMBA, ccordinatrice de l'ONG AMCAV, qui a son siège à Uvira centre avec 05 antennes dans la Plaine de la Ruzizi.
AMCAV travaille beaucoup plus dans la défense de droits de la femmes ( Lutte contre les violences sexuelles et basées sur le genre), Toutes ces activites ne sont pas connues dans le monde sauf aux quesques bailleurs qui nous connaissent
Je tiens à remercier le Centre Informatique Maman Shujaa d'avoir pensé aux femmes rurales de venir partciper à la formation de deux jours tenue à Bukavu du 15 au 16 Novembre 2013 sur la nouvelle technologie de l'informatique,
C'est une nouvelle matière très importante qui peut ouvrir une connexion avec d'autres femmes à travers le monde extéreur.
A travers cette formation, j'ai conclu que je fais un grand travail sur terrain avec les femmes mais je ne me fais pas connaître dans le monde.
C'est ainsi que j'ai appris à me connecter sur WORLD PULSE et avec la pratique que Mme Neema nous a montré, je commence ma première expérience pour poster mon journal.
En effet je travaille pour l'ONG Locale AMCAV qui est basée en Territoire d'Uvira situé au Sud Sud de la ville de Bukavu à 128 km/
Vu l'importance de cette nouvelle Technologie à travers cette formation, nous recommandons à Mme Neema de nous aider à installer le centre à Uvira par le canal de World Pulse.
English translation by community member PilarAlbisu
Taking Part in the Training Session on the Use of New Technology Offered by Maman Shujaa in Partnership
My name is Bernadette NTUMBA from the NGO, AMCAV, whose head office is in Uvira, with 05 antennas in the Ruzizi Plain.
I would like to thank the Maman Shujaa Media Centre for having welcomed rural woman to participate in the two-day training session on digital literacy that took place in Bukavu from November 15-16, 2013.
It is a new and very important matter that can connect us with other women around the world.
Through this training, I have come to realize that I work hard with women in the field, but that I am not making myself known around the world.
This is why I've learned to connect on WORLD PULSE, and with the tips given to us by Mme Neema, I am posting my first journal.
I work for the local NGO, AMCAV, which is based in Uvira Territory, located 128 km south of the city of Bukavu.
Having seen the importance of this new technology through the training, we ask Mme Neema to help us set up a centre in Uvira through the World Pulse channel.
Technology
Gender-based Violence