Political junkies don't want symbolize their power with woman.
---
---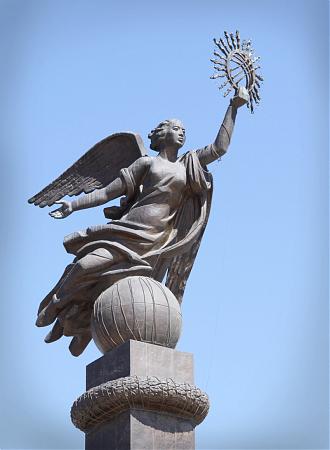 In Bishkek the capital of Kyrgyz Republic on the central square stands monument which symbolizes Liberty / "Erkendic" it was set in 1999 in stead of Lenin monument. Monument is 12 meters height. There is a woman who is handling "tunduk" ,it symbolizes Kyrgyz government. ("tunduk" it is the top of "yurt", "yurt" is the Kyrgyz self made house, like tent which is made of wood and wool) .
I can suppose that this monument is the Kyrgyz variant of "Liberty Statue" in USA.
Although, some representatives' from political parties made tries to destroy it because they dont want to associate their power, government of Kyrgyzstan with woman. They listed some reasons;
The hairdo of monuments woman is the same as the temporary head of government has (Otumbaeva)
Also, there is kyrgyz superstitious saying " wish your wife rise up "tunduk" it means unhappiness and disaster.
So, you can see how the male part of politicians " ready" for giving access to women politicians 
They trying to find reasons and excuses to justify their mistakes. I don't believe that statue influences on situation in government , people do that.
Any way, combination of all listed reasons and political PR game doesn't give them right to take away our choice.