Popular Education Conference
---
---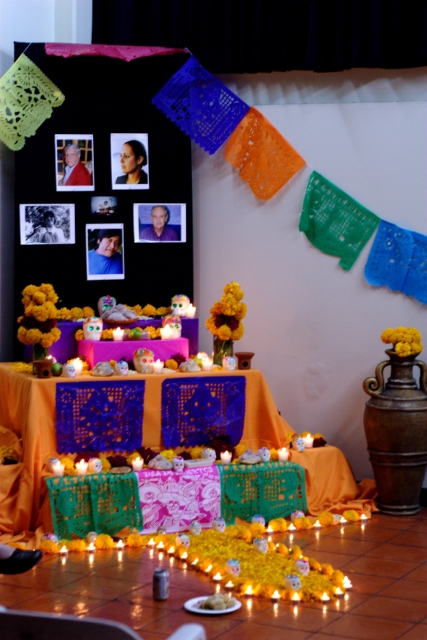 IMDEC (Mexican Institute of Community Development) hosted a Latin American wide popular education conference this weekend to mark their 45th anniversary as an organization. It was an incredibly rich and hopeful conference, and also an exhausting experience for us to film and listen to Spanish for 12 hours a day. Popular education leaders from Cuba, Costa Rica, Panama, Paraguay, El Salvador, Colombia, and many states within Mexico came to present, listen, and engage.
The warmth, dedication, and down to earth nature of the popular education leaders made the field of popular education even more exciting. The conference ended with a Día de los Muertos influenced celebration at IMDEC's headquarters (check out the beautiful altar we got to help make to the left), and included a deeply touching Mayan Día de los Muertos ceremony, musical and dance performances by conference participants, and two live bands with lots of fabulous dancing. In case there were any doubts - popular educators definitely know how to get down.
It's impossible to accurately cover the whole conference, so here are some of the highlights. The Centro de Estudios y Publicaciones (Center for Studies and Publications), based in Costa Rica, gave a great presentation on systematization. We were very interested in their use of video as a form of systematization. Systematization is the organization and classification of information and experiences for historical knowledge. This field appears rather complex, and we're attending a conference hosted by IMDEC next week on the methodology of systematization. Hopefully we can flush this out more in the next few weeks, and better understand how or if we can apply systematization to our video project.
The term educomunicación (think edu-communication) was omnipresent at the conference. Educomunicador is a term created by the popular education theorist Argentinian/Uruguayan Mario Kaplún. The term describes someone who merges education and communication in a participatory and collaborative approach, employing new technologies as tools in this pursuit.
A major theme of popular education is to promote and facilitate horizontal conversations. Horizontal conversations suggest that everyone is on the same level, and power dynamics are diminished in the conversation (as much as possible). IMDEC incorporated this theory in their conference design - each presentation had open seats for conference attendees to come up and dialogue with the presenters and provided ample time to express their opinions or ask questions. There were also round table discussions scheduled during two of the days. Arthur and I were blown away by the participation and articulation of the youth attending the conference.
Awareness of ourselves and our collective whole were discussed at length, as were methods to influence and cultivate the construction of a collective consciousness. Security and safety, big themes in Mexico these days, were reappropriated. Stella Maris Cacace of the Plataforma Interamericana de Derechos Humanos Democracía y Desarallo (PIDHDD) of Paraguay shared (translated), "Security is when you hear a knock on the door at six in the morning and you're sure it's the milkman." In these changing times, it can't be taken as literally, but remains true: security is when you feel safe and trust an arriving visitor is welcome. As Rosie of IMDEC said, "security is not a larger police and military presence."
The end of the conference was incredibly emotional and powerful. Complete with songs and poems and tears. A few final remarks to share: We are the system. Stop waiting to for it to change before you do. Lets work on bringing the sentiment and spirit of the campo (countryside) to the city. Don't fragment the movement. Work on collaboration and support of other people and organizations. We can simultaneously enjoy ourselves and do profound work. Other worlds are possible. Let's work on creating one world where many worlds are possible.
It would be unfitting to end this post with any thing but a Paulo Friere quote, the father of Popular Education. Paolo Friere quotes, verbatim and lengthy, were flitting around the conference room all weekend. The roots of the movement are strong and it was evident in the reverence for its founder.
"some may think that to affirm dialogue—the encounter of women and men in the world in order to transform the world—is naively and subjectively idealistic. there is nothing, however, more real or concrete than people in the world and with the world, than humans with other humans."
-Paulo Friere