Rhetoric to Reality: The Untold Tales of Women in Park
---
---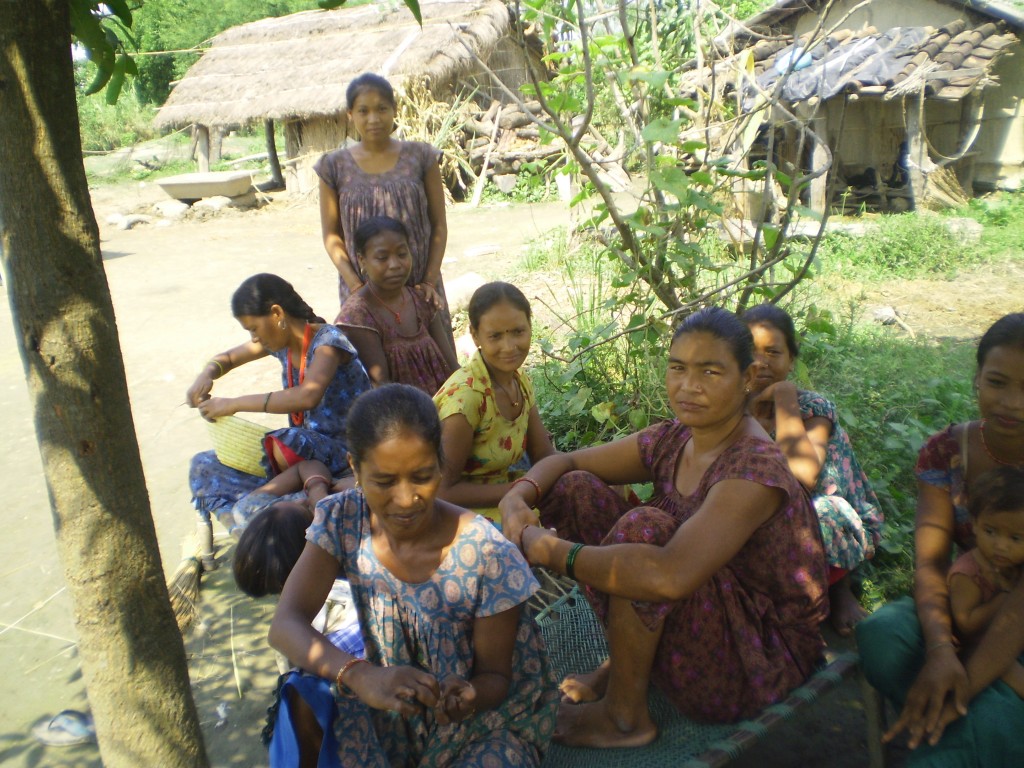 Few days ago, I travelled to some of the remote Tarai villages of Mid-Western Nepal. The places I had been to were buffer zones of Bardiya National Park (BNP). One couldn't stop thinking about the simple and joyous lives of people living in the lap of nature. Unfortunately, the real story is quite different than what an outsider could imagine from a short glimpse of the serene village. The people especially women suffer from silent trauma and face hardships. 'Ever since the designation of park, our place is never the same again' recalled an old gentleman from Patabhar VDC of Bardiya as he sits on the ground tired and reflecting, ''One day all of a sudden we heard that our village and lands were designated as buffer zones and that we no longer could go to the park areas. We are restricted to go fishing. Our daughters and women can't go for gold-panning (their traditional occupation). We are often threatened and tortured if they (security personnel) caught us in the forest and rivers, and punish us randomly. How on earth are we then supposed to survive?''
"We used to stroll around freely or would collect fire woods, wild fruits and vegetables and cut enough grass to nourish our cattle, but alas, now we are not even allowed to enter our own fields, let alone the park area" lamented an old lady in Gola VDC, Bardiya. Similar plight was experienced by another woman in Patabhar who said that they were deprived of their right to cultural identity which included gold panning and fishing, while their human rights also got violated at all times by inflicting prohibition to enter the protected area. Death and destruction done by the wildlife is not properly compensated although the legal provision exists. Every village located in buffer zones of BNP is facing almost the same fate.
Women and men in these remote villages are deprived of their access and use of natural resources on which they have traditionally been dependent for their daily livelihood. Some communities are so intimately connected with the forests, rivers and wilderness that they can't survive if they are isolated from it. Since 90% rural households in Nepal use firewood gathered by women, use 75% of their labour in transplanting and weeding, and 60% in harvesting; women are the main victims of such curtailments posed by the conservation policies. They no longer can use their own sacred forests and rivers. Their sense of ownership has now been taken over and substituted by a fear of being tortured, threatened, raped or even killed by security personnel patrolling throughout.
Another issue is of women's participation and control in the management and use of resources. After meeting rural women, I found that they were involved as mere representations in the meetings of user's groups, the smallest unit of buffer zone management body at the local level. It was yet more disappointing to find that there were no women in the buffer zone management committee (of BNP), which is supposed to manage the resource use and access in a participatory manner. Although there is legal provision of including at least 33% women at all levels to make any intervention inclusive and participatory, no such practice has been realised at the local level. The legal and regulatory system doesn't include the democratic and inclusive ethics in its governance. Besides, the legal provisions haven't fully obligated the international norms, conventions and mechanisms relating to women and biodiversity. Consequently, there is a huge gap between policy rhetoric and everyday practice.
Having no or very less women members in the decision making level, therefore, can be identified as a huge deficiency of the policy's practical side. The mechanisms and regulations to oblige the implementation of existing national conservation policies have been almost dysfunctional due to the unstable political environment. The conservation policy needs to be more participatory and inclusive, respecting the sentiments of international policies that emphasize gender equity, respect for the human rights of women and their participation and recognition of their contribution in natural resource management. As a signatory of such women related International Conventions and regulations and as a member State of UN, Nepal has an important mandate to ensure its compliance and proper implementation of those policies and conventions at domestic level.
Although it is just a glimpse of the reality existing at bottom, there is still hope if we act now to make policy makers and other stakeholders more conscious of and accountable towards the grassroots problems and consequently move forward to make the domestic policies more equitable. Change doesn't occur in isolation, there are yet many more aspects to be considered, but we should act together in synergy to make it a reality that is almost here waiting to be explored, accepted and celebrated with open heart.