SECURITY TO THE SENIOR CITIZENS SHOULD BE DIGNIFIED BY PROVIDING THEM WITH FOOD, HEALTHY AND SHELTER
---
---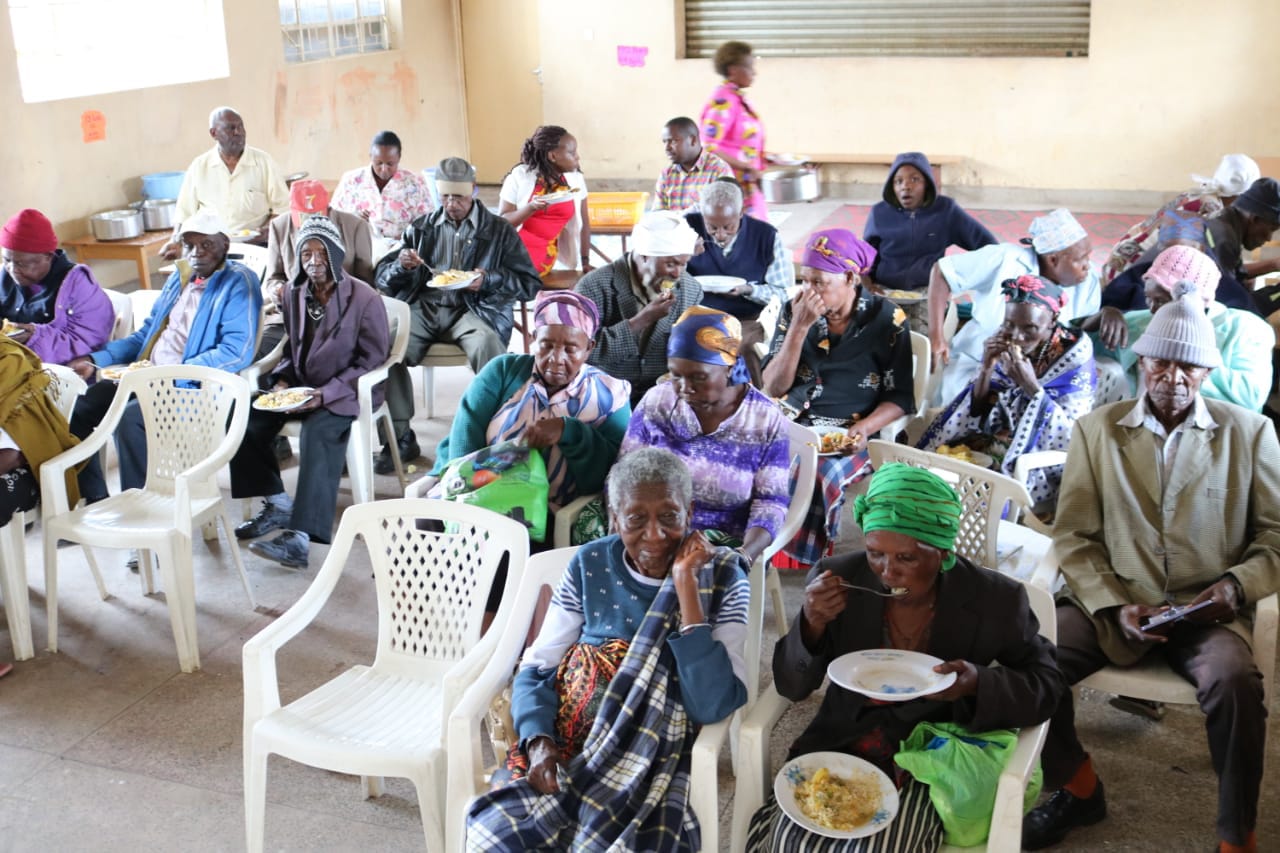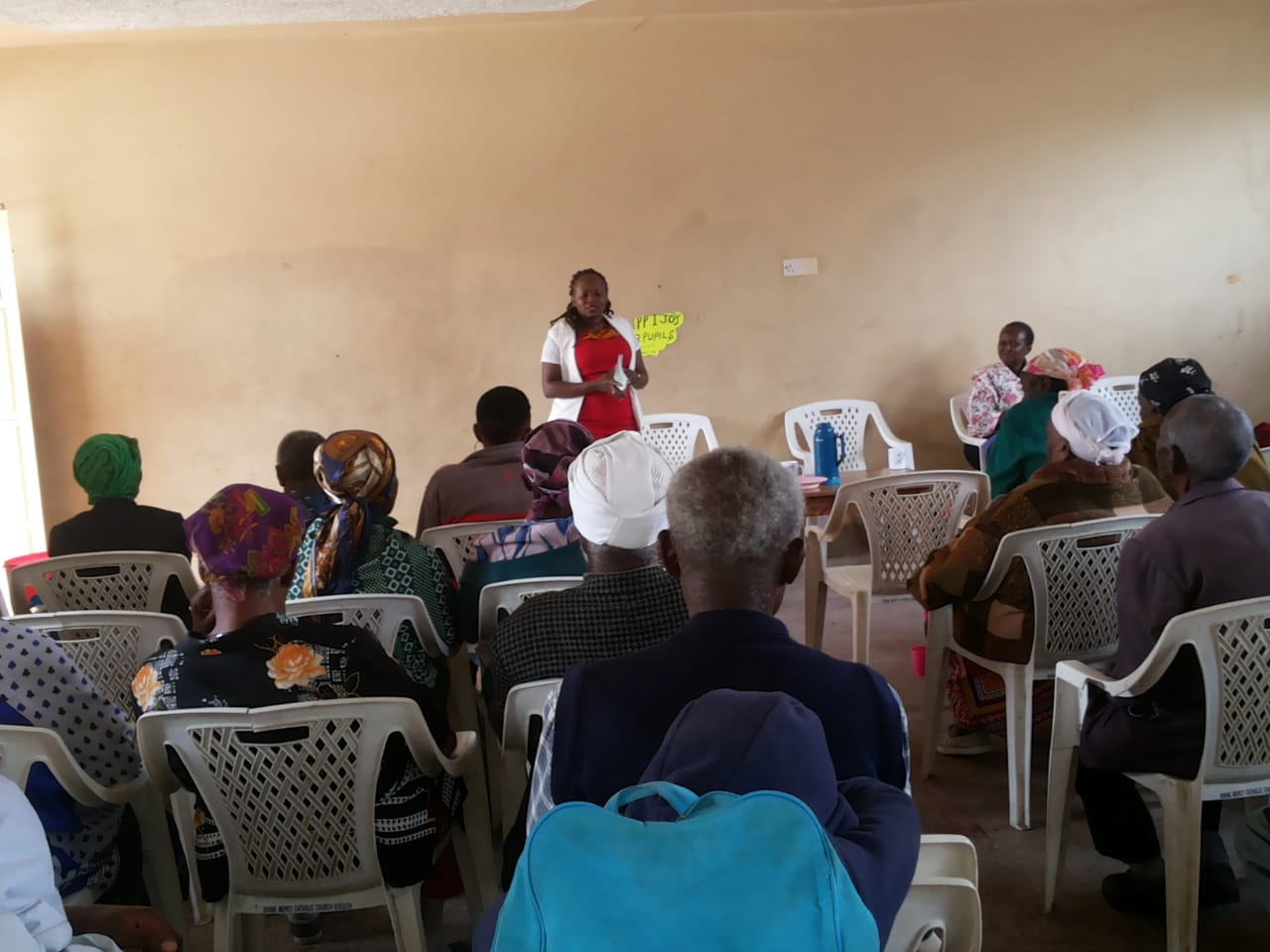 It was in the year 2009, when Government official from the District Office visited our Area locational chiefs office. The then Area Chief called me, introduced me to the officer. The Officer has come because the Government has introduced A CASH TRANSFER PROGRAMM whereby to start with  they will target few most Vulnerable older Persons in the Community at Location level
He told me that the Officer was looking for a Volunteer in our Location and other Locations in their Area of Jurisdiction  to assist in identifying the older Persons and Persons with severe disability. He told me he had informed the Officers that, Teresia is  the only person he knew who assists as a volunteer in social work. The Chief informed the Officer that, whenever they get relieve food from the Gpvernment, the Chief requests Teresia because she knows where they live in the slums and she brings them to the chiefs and distributes food to those most vulnerable in this Location,  He said he was going to leave me with the Officer I give him my stand,
The Officer confirmed to me it was exactly what the Chief has reported that is the person they are looking for.  He said a Volunteer because the Government does not have that provision of paying the Volunteers as yet. The Officer asked me whether I will assist in Volunteering.
I agreed and told him i would love to assist the Vulnerable older persons because majority of them are sick, no money to go to hospital, food, shelter etc. I told the Officer while targeting the disabled I would like us to start with a lady who gave birth to a disabled girl who was born with a wound at the back of her spine and a big head. she was put a shant in the neck from the head to take water to the bladder. While the mother was discharged from the Hospital the husband told the wife she should not try to take home that'"thing"" so the wife went home and the husband disappeared from that house in the slum, The mother had other 3 children. so i talked to the well wishers. she was assisted in rent, food etc..
As we were talking outside the chiefs Office, a lady carrying a baby on her back came smiling at me, I looked at her, GOD, what a coincidence'? it was the lady I was telling the Official about. I asked the lady to sit down and get out the child, I showed the Officer the back of the child, the Officer had never seen such a thing before. i showed him the Shant, The Officer said it is true you a volunteer if you have been doing this,
The Officer said am going to register this lady just now, she was asked whether she has a an Identification card, fortunately she had carried it with her. She started getting the Cash. she has not been growing up, Unfortunately early this year, the girl child got sick was admitted in a government Hospital but she died while on treatment. The mother called me to give me the sad news. It was so sad she was jolly and loving.
All in all as i have observed all those years the Older persons are the most affected Healthy wise, loneliness, Shelter, food. You find most of them their relatives are less concerned.
I visit them at home so you assist where you can and the rest you leave to GOD.
These are real life experience i have dealt with for years.
I saw Peter while i was going out of the Church service. he was in the same service. He looked weary, and old coat had a lot of repeated amendments it was so tight due to those amendments. I took him aside, introduced myself to him, I asked him whether he has ever had of Government Money for the elderly. He said he don;t know, so I explained to him and I asked him whether he would like to benefit. He agreed. It was back in 2013.
I targeted him as a beneficiary of the Government Cash Transfer, They get cash after either 2 months or so. So, the Officer calls me or text me and others to inform the beneficiaries to get their money from the bank/Agent, The money was not enough for his needs for that duration. Every time we met he was ever hungry.   So, I thought i should introduce him to another home of the old age not far from where we live. So, every day he would go for lunch, no supper until the next day. We met often and so we would spend some time informing me of his woos. Whenever we met I had some money I would buy him a cup of soup and something to eat.  He never told me about his relatives all that time,
So, one day he called me on phone.  His voice was faint, He asked me where are you? I informed him I was a bit far. He asked me to try my best and go to where he was he directed me. He told me he was beside the road a Hit and Run Motorbike has hit him and he was lying for sometime . He was trying to wake up but could not.
So, I went to where he directed, I did not find him, i asked the shoe makers by the roadside whether they had seen an elderly man who was hit by motorbike they said they had not.  i tried to call his Phone No, he responded and told me a good samaritan has taken him to hospital. He requested me to go to that hospital to see him and told me he has no relatives to look after him. While i was asking him in which ward he was admitted, the phone went off.
I tried day by day trying to call him the phone was off . I went to the Home of the Old aged
to  enquire  whether they have seen him they told me they have not seen him for a while. I wondered where he could be, he never missed for lunch since i introduced him there.
When I was called from the Officers to inform them to go get their cash the phone could not answer. I went to check on the payroll whether he has gone to receive his cash, For months since the last time we talked the money had accumulated was still there.
I went to check on a friend who had a shop in the slums, I found him and asked him of the where about of our friend, At first he could not disclose, he bit about the bush by asking me when we met last with him. He then disclosed and informed me our friend Peter died in hospital. I felt bad so bad.
He informed me that he had a daughter who has money, who is rich he owns a house and a vehicle and she never bothered with the father. Imagine, a father who educated her could not take care of  her dad.
Another Older person Agnes has no children never gave birth,  So she decided to adopt a girl , she educated her.   When then the girl was informed that the old woman was not her real mum. She left her all a lone.  The old woman due to stress is suffering from so many ailments. she is in clutches, she is turning deaf. if you want her to hear what you are saying you go near her ears and shout what you want to tell her. 
She has a good neighbor who takes care of her but according to how she was talking she is tired of taking care of her.
In our Catholic Church, i talked to our Father in charge and has been giving them 2 packets of maize flour.
A few months back we planned for them a Forum where the Father In Charge read the bible, prayed for them. my daughter had called for a facilitator who talked to them showed them love in his talk.
The Organization for the Older persons is known as SENIOR CITIZENS DIGNIFIED
The Father In Charge had provided Rice, meat, peas. We prepared and they enjoyed so much.
My daughter Philomena assisted me in distributing to them packets of Maize meal, Rice, Sugar. Tissue papers to take home.
The Older Persons are so many but that day we had called a number of them.
In order to make the SECURITY of the OLDER PERSONS (SENIOR CITIZENS) successful and to make their last days on earth secure peaceful, Healthy, Food, Shelter we need to join hands, sponsors/ Well wishers come to the poor of the poorest aid.
Please. let us give our SENIOR CITIZENS a dignified Life.
N.B. The following photos were taken during the FORUM OF SENIOR CITIZENS 
Economic Power

Environment

Health

Human Rights
Future of Security Is Women