The favela speaks to the world.
---
---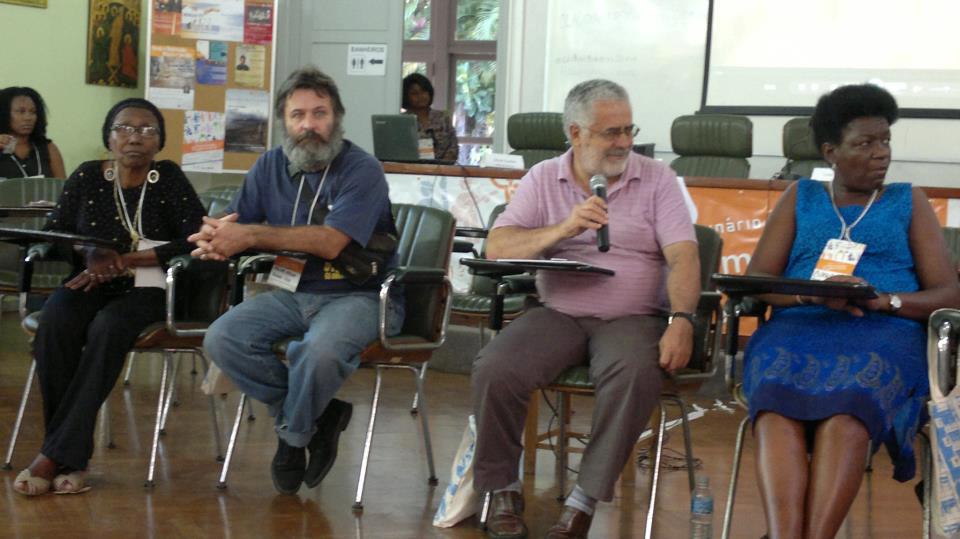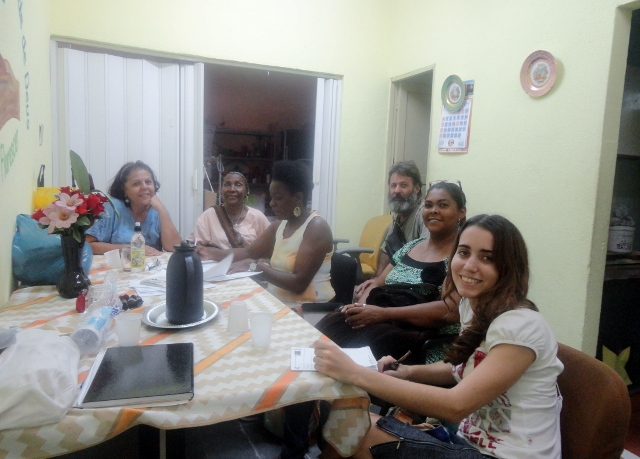 Rio de Janeiro, Brazil, place where there are natural beauties inserted into the visible division of classes. The relations of power penetrates our homes through the media, media administered by the few and wealthy families. In the existing traditional state media outlets, the news is interpreted to strengthen the social stereotypes, where people in situations of poverty are responsible for stray bullets, and are not accurately portrayed as protagonists of the news.
Feeling themselves hostages of the opinions of the traditional media, the residents of the favela have been developing for decades the resources to expand communication it is various contexts. They learned from slaves that were brought to Brazil during colonialism, in the year 1500, who spoke various dialects from different tribes, were spread out by the colonizers through various regions, mixing the tribes. The Africans who had been brought to the Brazilian homeland used all of their creativity to etch into history the creative resources to preserve their culture, identity, faith, and to survive with some power.
Most of the people that live in the favelas are from negroes that migrated from the various regions of the country and, like their ancestors, created ways to contribute to the local development.
How did a muzzled people evolved? Fear is a muzzle!
The communities, feeling the need to be heard or to reveal the truth about their community, created the community media. As comunidades por sentirem necessidade de serem ouvidas e ou de mostrar a verdade sobre sua população criam as mídias comunitárias.
The favela residents did not feel represented by the traditional media and opted to create inside their own communities spaces to discuss themes of local interest, like basic sanitary needs, education, violence, treatment by the police, health; difficult subjects or issues that needed to be publicized.
How to talk about local issues? With whom to speak about these problems?
Through surveys, new forms of communication emerged within these communities. In this way, by the need to speak, as a result of not feeling represented in mainstream media, favela residents themselves created community-based communication.
What is community-based media? What is changing in the state in relation to community-based media? What is the impact of Community-Based Media on communities in Rio de Janeiro? These questions were tackled in the heat of the discussion of the First Seminar on Community-Based Media, organized by the Universidade Estadual do Rio de Janeiro (State University of Rio de Janeiro) and by Universidade Pontifícia Católica do Rio de Janeiro (Pontifícia Catholic University of Rio de Janeiro) between the 16th and 19th of October. The idea for the Seminar began with two students that shared a strong commitment to give the favela a voice and felt uncomfortable within their own areas of study, in Social Communication and Journalism.
Thirteen years ago, Gizele Martins, journalism student at PUC, learned about community-based communication through her direct contact with the community-based newspaper O Cidadão (The Citizen), her local newspaper. A reader since the first edition of the newspaper, Gisele decided as an adolescent to become an active participant in the newspaper.
Gizele is one of the organizers of the Seminar that brought together representative in the area of communication in the Southeast Region of Brazil, and in particular Rio de Janeiro, to discuss community-based communication, including the challenges the groups overcame in order to continue to raise awareness about it.
The favela where she lives is located near the airport Antônio Carlos Jobim in the north zone. Composed of 16 favelas, it is a complex of 132 thousand inhabitants, (Censo2000/Instituto Brasileiro de Geografia e Estatística).
For Gizele Martins, community-based media has the role of mobilizing and helping residents mobilize to intervene in issues ranging from potholes to larger-scale events. When a community has access to a community-based radio, a blog, a newspaper that participates in local social networks, the community is strengthened.
"A Community-Based Newspaper can provide a service to the community, going to the Residents' Association, to city hall, listening to elected officials, and documenting major events. In the Maré, we suffered two assassinations; the police killed a child and an adolescent. The newspaper O Cidadão made the complaint and made sure that these murders did not remain unexposed, hidden like so many others are."
We are the ones who write the editorials, we assert that this is not just one more killing, it is a real person, one more communicator, one more poor, black "favelado," one more who lives here and whom we need to defend. We defend life, human rights, and the right to free speech. We need to search for answers about these murders, or rather, we search for answers about small problems like potholes and we cover larger problems like these. We also want to show our happiness, our cultural identity, our "churrasco" on the terrace, our Funk, our "forró," our "pagode," all the cultural identity that we were denied by society and by the mainstream media.
In our society, poverty has been criminalized, and the objective is always to make us seem less worthy, to individualize us. Community-based communication does the opposite.
In my life, Community-Based Communication serves as a life source. It is through community-based communication that I defend my identity, that I defend my crinkly hair, my skin color, my way of being. Community-based communication moves me; it is wasn't for this I don't know if I would participate in any other social movement."
Community-based media brings together three important elements in order for community-based communication to happen. Its objective is to circulate information in that place, to speak with everyone about being considerate of differences, and to broaden our strategies in order to reach a larger number of participants in this process.
The elements used are our voice, community-based radios, social networks, blogs, local events, and community-based newspapers. Through these, the message is spread irrespective of the residents' ability to read.
Community-based newspapers should have a simple language, little text and many photos, should have a clear message in both the articles and in the images, which should strengthen and represent that community. They should address a range of issues, such as health, education, food, entertainment, cultural and social values of the environment. The resident should feel represented by that form of communication. The resident can and should suggest topics and participate as a communicator.
Helcimar Lopes is a resident of the favela complex of Alemão, a community composed of 12 favelas that surround five neighborhoods in the North Zone, and has a population of 200 thousand people according to data from IGBE (2010). He is a cultural producer who worked as an administrator in his own community in the non-profit organization Raízes e Movimentos (Roots and Social Movements): "With a simple phrase, you can communicate, heed a warning. It has to be a very simple article so that the people understand."
Helcimar said that in the Complexo do Alemão there is a great deal of communication through social networks. The community has O Jordan Voz da Comunidade (The Voice of the Community Newspaper); the Rádio Mulher (Women's Radio), which, in addition to discussing themes specifically about women, also prioritizes issues of general interest. According to Helcimar, in 2010, a youth of only 17 years of age, Rene Silva, resident of Morro do Adeus, one of the favelas in the Complexo do Alemão, helped to found the newspaper when he was only 11 years old. He tweeted in real time about the invasion of the police in the favela, and on the 27th of November, 2010, the newspaper's twitter following grew from 180 to 20 thousand people.
Rene succeeded in bringing traditional media into the favela and shone the mainstream media's spotlight on the favela in real time, passing information into the national news networks.
The faveala Cidade de Deus (City of God), located in the west zone of Rio de Janeiro is composed of approximately 38 thousand residents, according to IBASE (Instituto Brasileiro de Análises Sociais e Econômicas 2010). In 2010, the community founded a newspaper created and run by its own residents following a course offered by the Núcleo de Solidariedade Técnica da Universidade Federal do Rio de Janeiro (Nucleus of Technical Solidarity at the Federal University of Rio de Janeiro). Since then, SOLTEC/UFRJ has been following the development of the newspaper A Notícia por Quem Vive (The News for Those Who Live). According to Marília Gonçalvez, journalist and representative of SOLTEC/UFRJ, and one of the founders of the newspaper, "we decided that we had a grave problem, which we discussed at the Seminar, which is one of lack of representation."
"There is a large concentration over the ownership of the means of communication in the hands of few people in the same family talking about a large number of people, and this has been the case for a long time. The problem is getting worse now because these few people, the few means of privatized communication, still want to appropriate community-based issues. Let the community residents speak, and say what they want to be said."
"In order for this to happen, it is very important to create opportunities for community-based communication, to create spaces where people say what they think needs to be said. Only they know what they should say. When I go to Cidade de Deus and participate in the creation of the newspaper I can't decide what is going to be said. I need to support the newspaper's autonomy, so that they can make their own choices about their editorials. It should have as much autonomy as possible. It gives me great pride to know that the newspaper was created, that people discuss it, and that even though it is only printed every three months due to the lack of funds, people are meeting, discussing, and deciding together."
"It is a process of the construction of autonomy, which is larger than journalism, and that is the most important part of social communication."
According to the writer and professor at PUC and UERJ, Prof. Adair Rocha, one of the facilitators of the Seminar on Community-Based Education, "Of course Community-Based Communication has local importance within the space where it is speaking, be it a physical, identity, or territorial space in the larger meaning of the City.
"There are spaces that need much more articulation, organization. In these spaces, of community-based radio, newspapers, and social networks, we find today new venues to keep the city in check. And not just in these spaces. In this way, we have the vision of pragmatism, starting in the place where we are reporting or announcing, the news begins to have a much greater importance, as people are awakened to their capacity to analyze, to reverse these processes. As a result, not only the spaces where the issues happen, but the entire city begins to experience changes. Community-based communication is an expression of a space that interferes with diverse systems in its country."
The greatest beauty in a city, in a country, is its people, with all its differences in race, religious beliefs, social, educational, and cultural differences; only a people that recognizes its rights and its obligations will be able to fight for the space it inhabits and feel part of it. The people compose the scenery of life, of history, and it is our responsibility, through both our speak and our silence, for when our efforts are curtailed,
manipulated out of our right to expression or to insert ourselves in the development of our species, we, the people, whatever nation we are from, feel weakened, discriminated against, impotent to resolve our own problems, perhaps from our community, municipality, state, or country, and will not be capable of utilizing with knowledge our right to vote, thus permitting the monopolization of power.
A people that discusses, that interacts in its community context, is capable of helping to advance the local development, as well as its own autonomy. Community-based media is a means to give a voice to the minority, its tools can be socialized by those who are already in this process, and it can enter our homes and bring the good news about education, health, human rights, and duties of the people. Community-based communication is the form in which the favelas of Rio de Janeiro are searching and finding the freedom of expression and exercising the demand for their rights, as well as fulfilling its responsibility to respect difference, without agreeing with social inequalities. Rio de Janeiro, with 6,320,446 inhabitants, of whom 1,393,314 live in favelas, how can it not hear the voices of so many people? What is the minority? Are the 763 favelas in the city of Rio de Janeiro, here represented by the Complexo Alemão with 12 favelas, by the complex of 16 favelas in the Maré, and by 20 favelas that comprise the Cidade de Deus, representing 190 thousand people, there are other favels like Morroo de Santa Marta with a wonderful work on a community-based radio ringing in the ears of 165,125 people. This is the favela telling the world that it wants to be heard and to change its destiny.
Valéria Barbosa
Translation by : Anjuli Ferreira Fahlberg
http://www.cidadededeus.org.br/
Economic Power
Leadership
Technology
Latin America and the Caribbean