---
---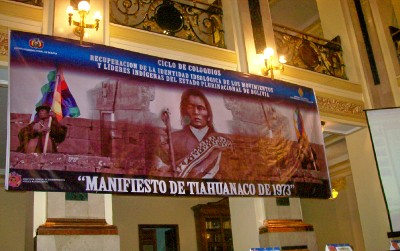 Last July 31th. it was developed the seminar called "Tiwanaku Manifesto" at the Vicepresidency Hall in La Paz, Bolivia. This event is part of a "Program of retrieval of ideological identity of indigenous leader and movements" within the frame of the decolonization process.
On July 30, 1973 a group of indigenous organizations such as Tupak Katari Peasants Center, Bolivian peasant students nationa association, Teachers association and many others signed this important documento, "Tiwanaku Manifesto", as an historic public event, through which they refused openly the imposition of a rural education. They didn´t accept that type of education because that didn´t take into account the ancestral valures. This document was not only related with education but also with other aspects related with cultural, political and economical situation in that decade.
Its publication generated a lot of reactions through the press and the comments from politicians and the society. That time, Bolivia was being ruled by a dictator, but, in spite of that indigenous peoples decided to set up their demands.
This has been an important event within the historical process of indigenous peoples and about three decades later, it was remembered through a seminar. Last July31, President of the biggest female indigenous organization "Bartolina Sisa", branch La Paz, Ximena Leonardo, was one of the speakers, together with the Decolonization Viceminister.
Latin America and the Caribbean