Ukraine. Beautifully Yours
---
---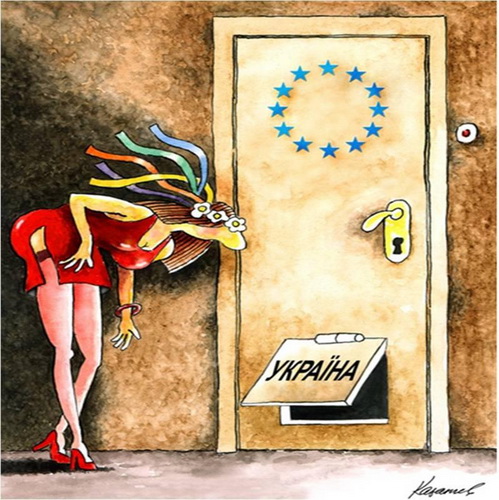 In late August, Ukraine celebrated its 22nd anniversary of independence. I know the number because it's written on a billboard near my office. Two other sides of the billboard were occupied by girls. One of them in a transparent dress was advertising tile and the second one modeling topless on the background of some coffee brand logo. I agree that a naked body attracts attention, but the billboard is located on the corner of a busy city avenue as a reminder of one of the biggest problems of Ukraine: the image of the country as a five-star destination for international sex tourists. According to the sociological investigation carried out by La Strada Ukraine in cooperation with the FEMEN group, 70% of the students questioned said they had been offered money for sex by foreigners (Kyiv Sociological Institute).
OK, OK, but let's be fair, sex tourism is not the only thing connected with Ukraine. We have also: rich ethnic and geographic diversity, a cheerful and hospitable spirit, high education standards, and historical milestones of Kievan Rus, Austria-Hungary, and the USSR. At the same time, this land is the cradle of great artists and revolutionaries such as Nikolai Gogol, Kazimir Malevich, Lev Trotsky, and even Andy Warhol had his original name in Ukrainian – Andrej Varhola. All of them enliven the image of our country.
Unfortunately, most of the information about Ukraine that you can find on the Internet and in foreign mass media speak more often about the Chernobyl disaster, the imprisonment of former Prime Minister Yulia Tymoshenko, topless FEMEN protests, gas affairs with Russia, overall alcoholism, fights in parliament, corruption, poverty, mafia and yes, tons of marriage agencies for foreigners, proposals for dating and easy sex with beautiful Ukrainian girls.
Honestly, not the best image of our country, no?
Trying to save the positive perception of the "Mother of Slavic Nations" in July, the Cabinet of Ministers approved changes to the law about the international image of Ukraine. They include installing monuments abroad, several conferences "to promote external politics of Ukraine" and positive publications in foreign newspapers.
In my opinion, pre-paid publications will not change significantly the perception of Ukraine. It's like a cosmetic repair: outside the house is painted, but inside everything is crumbling. Also, connections with international mass media must be based on long-term relationships; journalists should receive information about interesting events regularly. Any good promotional plan first of all needs a well-written strategy. It does not mean a set of sporadic actions like installing monuments and prepaid articles. It means a set of actions united with the common idea of focusing on promoting not just "a positive image of Ukraine", but the image of Ukraine as a country rich with historical and cultural traditions.
We need to refute the stereotype of Ukraine as the country of sex tourism and create the image of the country that is a home to talented, self-sufficient and successful women. And first, we should be proud of our country because when we respect our country and ourselves then the rest of the world will also respect us.
I want Ukrainian women to remember and be proud that we are not only beautiful, but also that we are smart, well-educated, hospitable housekeepers, caring wives and mothers, successful business women, writers, scientists, actresses. Ukraine gave to the world such amazing women as world known actresses Milla Jovovich, Olga Kurylenko, Mila Kunis, Olympic champions Liliya Podkopayeva, Yana Klochkova, unique village folk art painter Maria Pryimachenko and others. These women achieved worldwide recognition. It means each of us can do this too.
Sometimes we have to fight for a place in the sun, so that the world sees the humanity in us and not women of easy virtue from a third world country. I'm ready because I want respect for myself and for my daughter. Not despite the fact we are Ukrainians, but because we are Ukrainians.
This article is part of a writing assignment for Voices of Our Future a program of World Pulse that provides rigorous digital empowerment and citizen journalism training for grassroots women leaders. World Pulse lifts and unites the voices of women from some of the most unheard regions of the world.