What I Learned During My First Half Marathon
---
---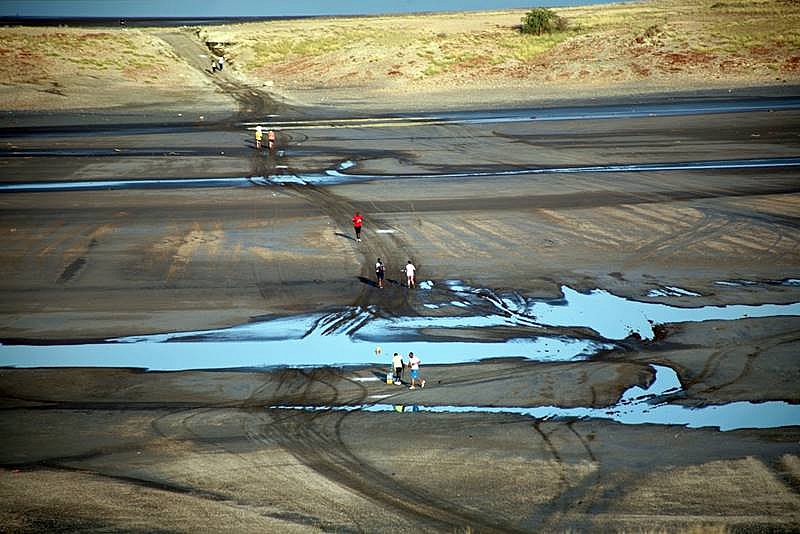 On March 19th, 2016 I finally left home to take part in my first marathon during the Shompole Wildlife Marathon.Having gone through a minor surgery at the back of my neck 15 days before, I was thinking about running 10K instead of 20K. I still had stitches sticking from my neck and the skin around them was still raw.
After my wife had dropped me at Galleria, I joined a group of other runners in tour van was to take us to Lake Magadi and the wildlife conservancy where we would run the following morning. It was inside the van that everything changed.
"Are you also a triathlete?" a lady I was sitting next to asked, when she saw me readChris McCormack'sI'm Here to Win."Talk to my husband," she continued, pointing to a guy seated with the driver, in the front. "Honey, Ouma here likes triathlon and I think you guys have a lot in common."
"Hey, my name is Lee," he said in a thick British accent, holding my hand in a firm grip. "I'll be taking part in triathlon in Holland this year with two other buddies of mine. One is from South Africa, aged 49 while the other one is in Britain, aged 50, just like me."
"Wow!" I said, speechless and awestruck.
"Which distance are running tomorrow?" he asked.
"10K," I replied.
"There's no we are going to allow you to run 10K!" he said.
"I had surgery 15 days ago and changed from 20K which I had originally signed up for," I explained.
"No way mate, you're not doing 10K!" he said. "We'll talk more about triathlon when we reach camp, and there is no way you're going to do a 10K, okay?"
All I could do was nod and turn my attention to readingI'm Here to Win.
A Baptism of Fire
I woke up at 5 am, called my wife and had a conversation that lasted 5 minutes. After getting a much needed pep talk from her it was done to business of preparing for the marathon. I took a shower, read my Bible and wrote in my journal. I joined hundreds of runners 15 minutes to 6 am. Everyone was stretching and warming up. I didn't know what to do. I simply stood there, soaking it in. Meanwhile, my heart was beating so hard and so fast I was afraid it could be hard a kilometre away.
Lee and had handed Eduson and I two energy drinks each. I had left one and come with the other to the starting point. I had planned on drinking it at the 15K mark. I didn't this at the beginning, but I was soon going to surrender my energy drink to a woman on the way and asking her to give it to her son. When the race started it took me about two minutes to set my audio player and find the right music. I was among the last people to leave the starting point when I eventually started running while listening to AStar's songs.
I begun running a fast pace - 3 minutes per kilometre - and soon, I was overtaking other runners. When I saw one of the ladies carrying the 5K mark banner, I heard Lee's voice in my head (You're not running 1oK, mate!) and found myself going past the point where those doing 5K were supposed to turn at and go back. By the time I hit the lake, I was feeling pain.
By this time, going back to do 5K was out of the question. I continued running in spite of the pain I felt as my mind shouted for me to stop running and walk. I knew my whole system would collapse and I wouldn't be able to resume running if I started walking. Instead, I kept running at a much lower pace. I felt relief when I saw the turning point for 20K and saw other runners continue for the 30K race.
I had been told, and already knew, that beyond 10+K, the mind starts playing tricks on you and you feel 'imaginary pains' set in. My pains were not imaginary. I felt the sun hit my raw neck and felt it twitch with every step I took towards the finish line. As a result of wearing the wrong kind of shorts, my thighs were on fire from friction.
Why Am I Doing This?
That is when doubt set into my mind. I suddenly felt I couldn't keep running. I wanted to, just, collapse.Why am I doing this, I kept asking myself, over and over again. It was then that I remembered to pray then Philippians 4:13,"I can do all things through Christ which strengtheneth me," came to my mind.
I prayed for myself, my marriage, Lifesong Kenya and every boy and girl I had met through my work. I prayed for the children I had sewed buttons for in Baragoi, the children Eunice and I had met during our week-long mission in Maralal. I prayed for the children at Kibera Pride, Five Star Academy, Dagoretti Girls Rehab and Pillars of Hope. Then I prayed for everyone who had been walking with me since I begun working with children in 2010. I realized I had much more to thank God for in terms of my wife, Cynthia and numerous friends who had encouraged me a long the way.
Though I had set out to run in order to raise money for Lifesong Kenya, my running had stopped being a way of raising funds. I was running for my life, my marriage and the children and young people I had met throughLifesong Kenya. There was a long stretch during the run, where I was all alone. No one passed me and I passed no one. The heat from the sun had become too hot to bear, I was finding it hard to balance the white handkerchief preventing direct sunlight from hitting my neck where I had had surgery. My steps were becoming heavier while my breath became more laboured as the 20K distance turned into something longer due to the mud, water, rolling hills and rocks.
Finishing Strong
The moment I saw the electric poles and lines, I knew I was nearing the end. I ran through the shopping centre and saw three runners walking. When I saw the finish the line, I found myself running a bit faster and wanted to pass the three guys. I didn't know how I did it, or where I got the energy from, I heard cheers when I passed the three guys and run past the finish line. I placed my shaking hands on the table where medals were and whispered that I had done the 20K instead of 10K.
Trust me, having the medal around my neck felt good. It was worth the pain I had gone through, both during the marathon and in the course of my work. I learned a lot of things, especially fromVincent Ochieng, who had organized the run. His sincerity and humility taught me a lot. As I embarked on my journey back home, I reflected on the lessons I had learned during my first marathon. I knew, deep inside my heart - that win or lose, whether or not I will achieve my goal of raising funds - I have started becoming a better man with a purpose, a better husband to my lovely wife and a better mentor to the growing number of children and young people who look up to me.
Marathons run so far:Shompole Wildlife Marathon
Marathon distance so far:21K
Next marathon and distance:Lukenya Trail Marathon, 20K, May 15th 2016
Nationality of contributors so far: Kenya, Netherlands and USA
Funds raised so far:Kshs. 19,079 ($190.79)
Targeted amount to raise:Kshs. 400,000 ($4,000)
Economic Power
Leadership
Education