'Witches' of India: women without defense
---
---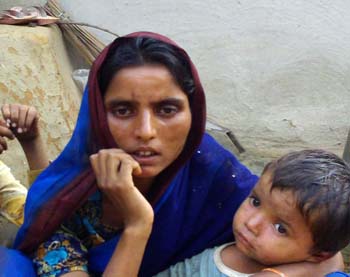 On February 13 this year, a senior defense ministry official of India said that the country was ready to test-fire, and become the 6th nation in the world to have a 5,000 km range Inter-Continental Ballistic Missile (ICBM). Named Agni-5, the missile would be a huge leap towards strengthening India's defense, said the official. Even as he was speaking, elsewhere in Eastern India, two women, accused of being 'witches', were burnt alive by their neighbors and relatives. Elderly, poor and utterly defenseless, the women died without even a policeman to protect them.
The shocking juxtaposition of this rapid modernization and amazing technological progress with superstition and practices befitting the medieval era is endemic in today's India and it's the women who are bearing the brunt of it. According to data available from the National Crime Record Bureau, more than 2,500 women suspected of practicing witchcraft have been killed in India over the last 15 years.
Witch hunting: murder most foul
Witchcraft, which is as old as sex work (sex workers prefer this term over the derogatory term prostitution), is known by different names such as 'Banamati', 'Chetabadi', Chillangi 'Hawa' or 'evil eye' or 'Halka', 'daini ', 'Dayan', 'Chudail' 'Bhootni', 'Chilavan', 'Opri' and so on, in different Indian languages. The names may be different, but the practice is the same: it is murder of women after causing them acute physical pain.
The descriptions of the killings are hair-raising and horrifying to the point of insanity. In most cases women are beaten until they fall unconscious and forced to eat their own excreta or drink urine before being burnt alive. In some places they are also stripped and paraded naked.
Rubiya Bibi, a 38-year old Muslim woman in Devgarh district of Jharkhand, a state in northern India recalls the horror of the day in 2009 when her husband's brother and other male neighbors called her a witch. Rubiya's body is crisscrossed with marks of beatings, inflicted by her tormentors.'First, they said I had performed black magic to make my husband mad, although he was sick for quite some time. Then, a cow died and my husband's brother said that I was the reason. Every day, he would abuse and beat me in front of my children. Then one day, he and a few of his friends dragged me out of my house. They pulled my hair, slapped and kicked me and made me eat my own excreta saying it was the only way to treat a witch. Finally, they beat me unconscious. When I regained consciousness, I found myself on the road with my children crying beside me. With great difficulty, managed to flee and reach my father's house here in Bara village (10 KM from her husband's house) with them.' Rubiya recalls in horror.
Since Rubiya's father Azad Sheikh, 64, is a rickshaw-puller who earns too little to support Rubiya and her 4 children, the woman is now forced to beg for a living.
Like Rubiya's father, Kaleem Ansari is also a poor Muslim rickshaw puller in Pattharghatia village in Jharkhand. 2 years ago, Kaleem's 70-year-old mother, Gulnoor Bibi was called a witch by a group of men from their village and beaten up. The same group then attacked his 80 year-old aunt, Sagiran Bibi, his brother's middle-aged wife, Sakeena and another disabled woman called Sushila Devi, accusing all of them of practicing witchcraft. The men stripped and paraded the women outside their home and like Rubiya, they too were forced to drink urine. When Ansari tried to protest, the mob hit him, tied him to a pole and threatened to kill him if he went to the police.
In similar fashion, women are treated with barbaric cruelty all across India when branded a witch.
A power game
For long, witchcraft killing was seen as a mere act of superstition. But studies and observations by activists, legal experts and social campaigners have pointed out that such killings are more often perpetrated by men on women whom they identify as 'rebels': women who either ask for, or refuse to give up their rights. For example, a 2010 report by the Cornell Law School, US following a study it conducted on witch hunt in Jharkhand, notes, 'several causes motivate witch hunting. Sometimes, the victim is thought to have caused illness, death or a bad harvest. In other cases, she is being punished for refusing sexual advances or challenging the authority of the community elders.'
Of late, it has also been observed that most killings have a common pattern: the victims are always poor, mostly from marginalized communities and own some property. The killings occur when women try to resist attempts to grab their property, or refuse sexual favors demanded by men who have dominant position in the community. The brutality that follows, therefore, is an act of 'punishment' to the women for being rebellious.
Says Prabha Jaisawal of Free Legal Committee (FLAC) – an NGO based in Jamshedpur, Jharkhand that provides legal aid to witchcraft victims, 'in many cases, a woman who inherits land from her deceased husband is asked to disown the land by her husband's family or other men. If she resists, they approach the Ojhas (traditional village doctors) and bribe them to brand her a witch. At other times, the strategy of branding a woman a witch is used against women who spurn the sexual advances of the powerful men in the community.'
FLAC's campaign against witch-hunting includes legal support to the victims, awareness and legal literacy through street-plays and publications, raising the issue at legal and human rights forum and the formulation of laws and amendments.
Kartik Navayan, a Dalit (an extremely marginalized community officially termed as Scheduled Caste) opinion leader in Hyderabad says that most of the victims are from the socially weaker segments such as Dalits and they are often punished by the "upper castes" for defending their rights to land. Navayan cites several examples where Dalit women have been called witches and murdered after they refused to sell their land to non-Dalit (considered to have a 'superior' status in the society) families at a throw-away prices that were offered.
Political participation leads to witch branding
In 2008, a Dalit woman called Lata Sahu was stripped and paraded in Bijli, a village in the central Indian state of Madhya Pradesh. Her crime: daring to contest against a non-Dalit woman in the Gram Panchayat (village council) elections. According to Brinda Karat, president of All India Democratic Women's Association, a political organization, cases of 'witch hunt' are on the rise in areas where women are participating in grass root politics. In fact in the last two years 147 such murders had taken place, Karat says. 'The only women active in politics among the tribal people are those aligned with the Left movement. Instead of calling them Communists they call them witches. That is the only difference,' she recently stated.
Dismal rate of conviction
In India, at least 5 states, namely, Jharkhand, Bihar, Chhattisgarh, Rajasthan and West Bengal have a law against witchcraft killing. However, activists have described the acts as legislation without teeth. Here is an example of that: for all the torture that a woman suffers on being branded a witch, the Act recommends imprisonment for a term that may extend to three months or a fine of Rs 1,000 (US$1 = Rs 45.6) or both for the wrongdoer.
The Rural Litigation and Entitlement Kendra (RLEK), a voluntary organization based in Dehradun (the capital of Uttarakhand, a north Indian state) committed to putting an end to witch hunting crimes, has reported that in most cases, the accused is not arrested even after years. The Bihar Women's Network (BWN), another NGO, has pointed out that there 177 pending cases under the Prevention of Witch Practices Act in Bihar state alone.
Taking cognizance of the report by BWN, recently, the Bihar Human Rights Commission (BHRC) member justice (retired) Rajendra Prasad ordered the police to expedite the cases pertaining to witch-hunting. Calling such killing as "the worst form of human rights violation," justice Prasad said there was a necessity of spreading human rights literacy among various sections of society.
But what leads to police inaction against witch hunters? According to Aparna Dwivedi, a Human Rights lawyer based in New Delhi, the basic problem of implementing laws against witch hunts is that since the crime is usually committed by a group of people, it's difficult to pinpoint the blame. 'Also, if the police take action, the victim cannot go back to the community which has stigmatized her. So rehabilitating her is another challenge,' she says.
Rubiya Bibi, the victim from Jharkhand is an example. Soon after she was tortured and thrown out of her husband's home, Rubiya had filed a police case against those who tortured her. But 3 years later, nothing has happened. "My children do not go out to play because other children call them 'children of a witch'. I have to live with this shame forever," says a distraught Rubiya.
Media reports undermine the gravity
Witch-hunting is just another grave crime against women that involves physical violence, often amounting to murder. Unfortunately though, in the media, the issue is often projected as a 'tribal only" subject: something that happens only in a tribal community. After the killing of 60-year old Dharmasree Tripura on 13th February in southern Tripura came to light, a leading news daily in this state reported it this way: 'black magic, witchcraft and superstitious beliefs have been part of the tribal customs. Many people, mostly women, have been killed every year in the northeastern states for allegedly practicing sorcery and witchcraft, mostly in tribal-dominated areas...'
The truth, however, is that branding of women as witches and subjecting them to acute physical pain, humiliation and murder exists in several other communities. Cases of women like Rubiya bibi, Sakeena and Lata Sahu are just a few examples; there are dozens of such examples elsewhere in the country where the victim is from a non-tribal community.
In this light, media's projection of witchcraft killing as a 'tribal only' subject not only marginalizes the problem, but also lightens the pressure on the central government to see it as a grave national problem.
National problem needs national legislation
Despite a visible increase in the number of women being killed as witches, the central government of India is not willing to bring in a national law to prevent witch hunting. The government is of the opinion that witchcraft killings are being committed at village level and therefore the states should deal with them. However, social activists say that the issue of witch hunting is too widely prevalent in the country to be seen as a regional problem. To put things into perspective, out of 29 states of India, at least 12 states — Jharkhand, Haryana, Chhattisgarh, Orissa, West Bengal, Madhya Pradesh, Rajasthan, Andhra Pradesh, Gujarat, Maharashtra, Assam and Bihar — are recognized as areas where witch hunts are rampant today.
"Law alone cannot bring real change"
However, as Prabha Jaisawal says, 'only legislation cannot bring real change. The real change must begin at the community level.' Therefore, there is also an urgent need for the government to launch a continuous, nationwide campaign against witch hunting, just like it has an ongoing campaign against domestic violence. However, this can be actualized only if people and government, with a strong political will, work together. Says Karthik Navayan, 'the states of Jharkhand, West Bengal, Chhattisgarh and Andhra Pradesh where the rate of witchcraft killing is alarmingly high, are also the states that have strong presence of the Maoist guerillas - usually seen as ultra-atheist revolutionaries with progressive thinking. Clearly, the Maoist's fight for "social justice" has eluded poor and weaker women who have continued to be victims of killings and atrocities in the name of sorcery.'
Some activists also suggest that every government must have a mechanism to provide proper monetary compensation and rehabilitation to women victimized by witch hunt. This, coupled with an effective law and political determination to prevent witchcraft, is the only way forward.
Without that, it is most likely that the poorest and weakest of women of India will continue to be defenseless and cases of witch-killing and persecution of women will continue to rise, no matter how many ICBMs are added to the country's arsenal.
This article is part of a writing assignment for Voices of Our Future a program of World Pulse that provides rigorous new media and citizen journalism training for grassroots women leaders. World Pulse lifts and unites the voices of women from some of the most unheard regions of the world.
Leadership
Gender-based Violence