---
---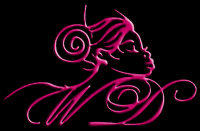 How does one grow up to be one of the WORLD'S MOST ADMIRED WOMEN? How does one set a course from humble beginnings to find one's self on a platform of impact and achievement regarding issues that matter in their generation, for the sake of their generation and generations to come? Obviously it's not a course you set; it's a place you find yourself sometime down the road of life, having followed DESTINY's unquenchable and undeniable passion.
As a 39 year old Congolese woman, I'm finding myself down Destiny's road a ways. And my sights are NOT set on being one of the world's most admired women, but to CHANGE FOREVER THE FUTURE FOR WOMEN IN MY COUNTRY. I've founded a company that will own and operate a nationwide Broadcast Television and Internet Services business in this mostly unconnected nation of 70,000,000 people. My company has been granted licensing for three TV channels and all manner of Internet Services, including VoIP telephony, IP-TV, etc. I have an internationally renowned technology provider partnering with me. And while that may be impressive to some, it means little to me unless these powerful mediums can be leveraged to reach THE GOAL.
And having become a member of the World Pulse SOLUTION network, I have an idea: What if my company partnered with World Pulse to develop a strategy to address the plight of women in this nation? What if in collaboration with the visionary solutionists of World Pulse we began to develop programming content that gives GRAPHIC VOICE to the violence perpetrated against women in acts of war, in our tribal cultures, and in mainstream society. What if we began to give graphic voice to the dehumanization of handicapped women and girls and the horrific violence perpetrated against them? What if we began to do documentaries on the fact that there are tens of thousands of reported yet uninvestigated, therefore unprosecuted rape cases? And then followed up on the Justice Department's inevitable response as cases are worked through 'the system'?
What if we did pieces on 'women in government' and 'women in the work place', profiling their numbers, their positions, their voice in those positions, their salaries, and THEIR PERSONAL STORIES?
What if WE began to give national voice to the women of this country, their ideas, their contributions, their SOLUTIONS? Would that change the Pulse of DRC? What impact would that have on the World Pulse?
When the book is written, they may include for texture the fact that I contracted polio at the age of two and so used a stick to pole-vault my way through the hardships of life here until finally graduating with my second Accounting degree, that I served my country in many roles including Chief Advisor to the nation's Minister of Gender and Family. But I can tell you that all balloting aside, in the end, the only thing that will have mattered is how WE MATTERED for women in my country, and yours.