7 Country Inspiration Tour Empowering Women
---
---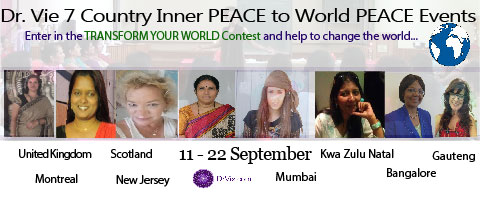 When life throws you challenges, how do you respond? Do you hide in depression? Do you drown in alcohol or drugs or pain meds? Do you become violent? How about angry? Or do you feel weak, helpless and lost?

Join me, me as I take you to 7 countries over ten days to share special stories of women with personal challenges from oppression, domestic abuse, rural stereotypes, illness, and more. Hear how they have overcome their challenges and meet others who are still facing their challenges..head on. You will be inspired for sure…
This is all free just for you so please sign up now and benefit..as we travel to India, Africa, UK, Scotland, USA, Canada...Malayasia, Jamaica...
You can interact, ask questions and be inspired to develop self- confidence, self-trust and self respect.
Lots of love
Dr. Vie
http://drvie.com/inspirational-empowerment-events
https://www.youtube.com/watch?v=YHDpaf2ccGU
https://www.youtube.com/watch?v=f22sjh5qwt4
Leadership
Gender-based Violence
Human Rights