---
---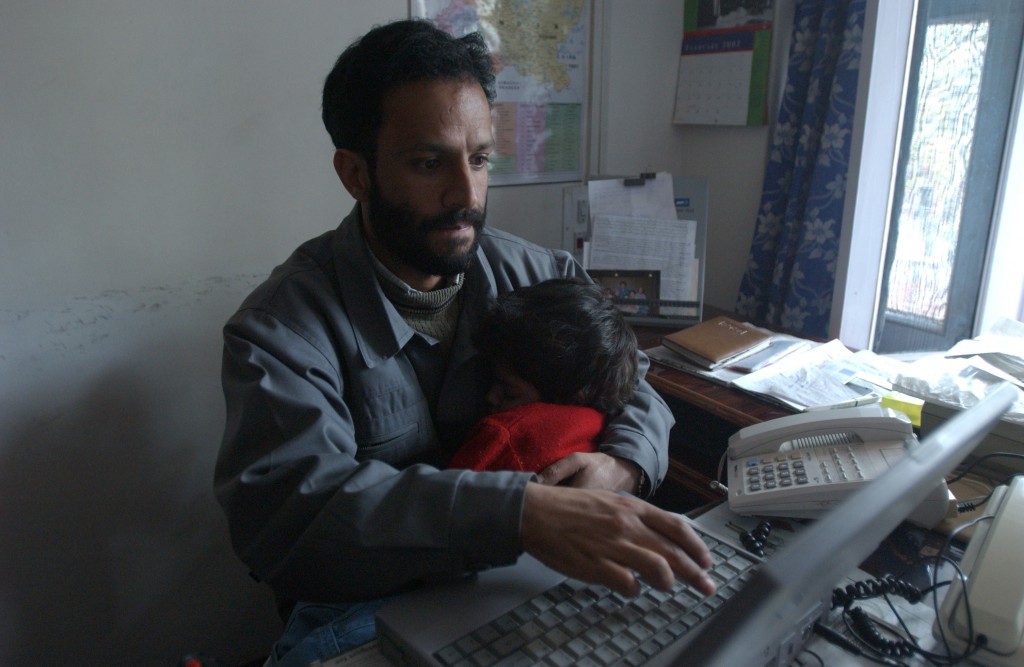 Aliya Bashir
It was 3.20 p.m that I faced Tanveer's silence and some tears in the background on the cell phone. Before I could ask him anything, he quickly said in a choked voice, "Izhar Sahab left us." Without saying anything, I just hung up the phone. I don't know where from I found strength, but I didn't cry. I just squeezed my eyes shut, a bit more tightly. And shut, with the same motion, everything else in me. Everything. I was never the same Aliya after the incident.
Tanveer Bhat was like an elder brother and friend who was working with Izhar Bhai at AFP office. He was very close to him and a favourite due to his simplicity and straight-forwardness.
My Elder brother, Izhar Wani, was heading the Jammu and Kashmir Bureau of Agence France-Presse (AFP) since June 1991. After completing his post-graduation from the Media Education Research Centre (MERC) of the University of Kashmir in 1990, he had joined a weekly Submission.
He breathed his last on April 4, after battling Colon Cancer for a year. He was an inspiration for all budding journalists due to his soft-spoken nature and sense of humour. He was more of a friend and brother without being bossy.
Everybody who knew him directly or indirectly was dumbstruck by his death. Apart from the journalistic fraternity, his loss was mourned by people from all walks of life. The consolations and sharing of grief swelled on Facebook and other social networking sites at an unprecedented rate. Solidarity. Huge loss. Shattered. Devastated. Tears. Adieu. RIP. These were some of the words that gained much popularity on social networking sites soon after the news of his death spread. Within no time, fan pages were created on Facebook with condolences pouring in from across the globe to pray for his departed soul in different genres- prose, poetry, wallpapers, pictures, quotations, articles and updates to share the grief of his loss.
Since you left us, things have changed their course for ever. It seemed as if we have lost our whole world in a single blow. The scene was so deep and painful as if God himself had put a dagger in our hearts. We were shattered. The commotion draped over every sense, as it was never to leave. There was no point in consoling anyone. The wounds were so deep and open, that anybody's consolation would act as a catalyst to add salt to them. We just wanted to endure pain up to the extent that it may lose its worth and reach a point where there is no pain.
I still remember how you used to share your experience for hours with all youngsters in the media, who were reluctant to work in Kashmir. Brother, I know how courageously you had escaped death for more than six times while working for AFP. But, this time you couldn't win the fight to live.
Izhar has also contributed to many international media organisations, including the Guardian News, The Wall Street Journal, Time Magazine and Dutch Radio. He was awarded as the best correspondent by AFP in the year 1996-97. He has covered Kashmir conflict in most turbulent times while maintaining impartiality along with breaking some major news stories and scoops - the Kargil War in 1999. He was also a POL IVP nominee in 2004 and in the same year, he was sent on special assignment to United States by AFP.
He also substituted Yusuf Jameel for over one year in 1996-97, when he was out of state for his treatment in London .In that period, he secured 250 by-lines. He has the distinction of being the only journalist who has four by-lines articles in a single issue.
Born on June 11, 1965, he is survived by his wife and two daughters. He was living with his parents and elder brother Israar Wani in Zafraan Colony, Sempora, Srinagar, who now craves his absence and says, "Bhai, why you left me shattered. You were not only my brother but you were YOU my father, guardian and a friend. You will always live in my heart. God bless your soul. I am feeling so lonely. Mom is searching for you in all the rooms at home and calling you time and again. How will she live? Dad is broken. We all will miss you forever. Your daughters, Saira, 12 and Saba, 7 are waiting for you to return. How will I handle all the family members? I am not so strong, like you."
Losing someone close to death is never easy. All kinds of death have their own set of issues with wide range of emotions. Depression. Intense sorrow. Lethargy. Loss of appetite. Hopelessness. Extensive crying. Brother, your death not only brought pain but some of the harshest lessons of life.