A sister that I will meet in heaven. Part 2
---
---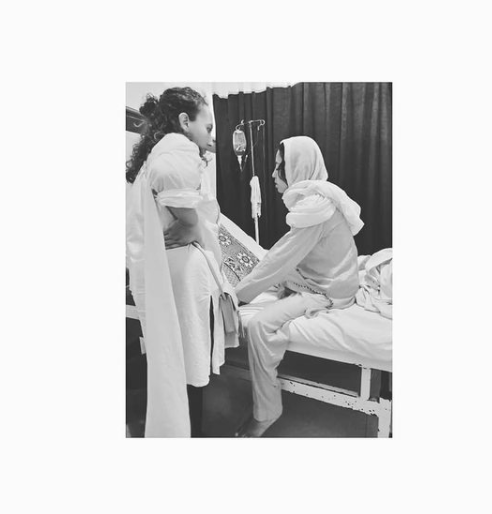 Thank you to everyone who donated for her health. It will help her body reach the motherland and be buried. There she shall rest in peace. We lost Zahira this morning to death, that is the ultimate reality, but we tried, we tried hard to save her. Perhaps one can't compete with death. Our last moments with Zahira were changing her clothes, making her wear a fresh and clean dress, supporting her in and out of the washroom, a comforting hug, one hand to hold. The very least I could do, sigh! 
If we didn't go with her to the washroom, we wouldn't have known the urgent need of changing her clothes due to excessive bleeding. Here is the role where nurses are to be held accountable for! She couldn't walk to the washroom and come back, she couldn't clean after her, but till the very end, she did. I don't know how and from how many days, was she bleeding excessive, her trouser was full of blood.  The discomfort she had been through. Not only this, even at the hospital, every now and then she would be in pain, so I would go after the doctor in the ward, not just once twice or thrice, but many times to check on her, but they would be so late. Sometimes, you wouldn't find them because they would be serving some other patients. This was so painful, dealing with patients as only dying objects. 
in the washroom, the moment I pulled her trouser up, I was touched with a cold gaze and stare of helplessness, perhaps knowing her death is near she gave me the cold disappointment.  At that very moment, I froze and almost wanted to give up hope, but, then I had to rush to find her clean trousers and shirts.  That was the last moment of me and Zahira together. 
But, the nurses of the nation have disappointed me to the core here in HMC, there in Shifa hospital during my surgery, and other reasons I was admitted, I never saw compassion in them. It might not be in the case with other hospital nurses, but so far what I have experienced, never seen good nurses except if they are your relatives the story is different.  Is their job only limited to injecting syringes, checking fluid pass via canola? Only this is caring you are paid for? In my three days of stay with a serious patient, I did not see any support worth the praise of our salutes to them as front line workers during covid. At least, I am taking my praise to them back, here today.
This is only just one story that I happen to witness and I don't know how many more Zahira's are left unchecked, unheard! Rest in peace little soul! Until I see you again!
PS: 
To this story, I heard many criticisms like I have attacked the profession of nurses and that I am generalizing. Well, no,  I am not generalizing, you can deny opinion, but not an experience, a real-life-based experience can never de denied off. If I was a nurse who came through this post, I would apologize for my profession not been represented well enough. This post would ache my heart for my profession and the way it has given unpleasant experiences to someone instead of commenting " this post is mere generalization", "writing about it on social media can not do anything ". Such lame comments show that how far behind we are from compassion.
Leadership
Health
Gender-based Violence