A Young Girl Kona Bapari's Story, Bangladesh
---
---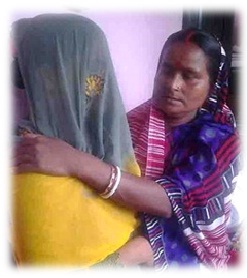 Chandan Sarkar
Kona Rani Bepari (18) father of Bikash Chandra bapari and Mother of Renu rani, Village Shingra Bunia, Patharghata, Barguna. When the Kona Rani is coming back from her college the perpetrator Dost Mohammed 45 kidnapped her and put into a microbus and flown away an unknown destination.
The real fact is that Dost Mohammed (45 years) is a married and has two children. He was a friend of Kona's maternal uncle. The friend of uncle that why he has free access to enter the house. Due to easy and free access, he takes advantage of Kona Rani and after that, the relation was broken. On the day of 19.04.2015 when she returned from her college, Dost Mohammed and gangs forcefully took her and forcefully put into a Miro bus and flown away an unknown destination. To reduce the girl the police did not do anything for the beginning.
After a long 1 month 9 days when kept the pressure to the law and order authority they rescued that girl. But very interestingly to avoid the arrest the perpetrator Md Mohammed did a affidavit to change her name and showing that Kona her wife because he went a Kazi office give some money to them they allow to Nikah with Kona Rani without her concerned. At this period of time, she is pregnant. Kona is now staying with her family and maybe she has two options right now either she is going for suicide or again return back to the culprit Dost Mohammed who has already one wife and two children.
Writer: Chairman, Researchand Empowerment Organization
Contact: Email: chandan@reobd.org, www.reobd.org
Girl Power

Gender-based Violence

Human Rights