---
---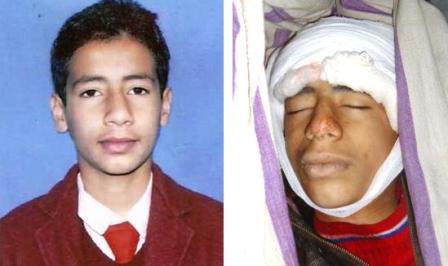 I managed to reach home safely that day. But then the evening promised that the next day will be full of tension. People all over the valley were enraged over the innocent killing. Even though so many people have got killed here especially over the last two decades nothing can get one used to the spilling of blood. People had taken to streets in different parts of the valley over the next few days protesting the death of the teenager. The authorities responded by imposing curfew in various parts of the city confining people to their homes.
I found another connection with the deceased teenager Wamiq Farooq. He was studying in the same high school that I had been a student of. His parents said he had left home to play cricket. When he didn't return, the frantic search of his family ended in the mortuary of the local hospital. People say that the smoke canister was fired without any need or provocation. So many things happen in Kashmir without any need or provocation.
The government promptly suspended the erring official. We all know nothing is going to come out of it. The guilty won't be punished and more importantly no step will be taken in the direction that no such incident is repeated. They will continue to fire the smoke canisters meant for military combat on protesting civilians especially young boys. They will continue to aim these at their head to make them fatal. They won't change their tactics of controlling the protestors like adopting other means of controlling the protestors used world over like the water cannons.
Here I would like to clarify one thing. Stone pelting occurs in parts of Kashmir usually involving young and angry blood. This is not the main means of our protest. We usually protest nowadays by coming out on streets and taking out processions, peaceful processions. But the fact remains we are not allowed to do so. The government panics.
The government announced a cash compensation of two lakh rupees for the family of Wamiq which they refused. His mother responded by saying that she will give the Chief Minister (the head of the state) a cash compensation of ten lakh when his son dies in a similar incident.
Among protests Wamiq was buried with the cricket ball in his pocket, the ball he had left home to play with.
As per our customs, there are certain days which are important when we mourn our dead. The fourth day is important. On this day all the friends, relatives, neighbours, in fact every connection of the family visit them to mourn with them. The men pray for the dead in the graveyard. In the evening 'Quran Khani '(reciting of Quran and other things) takes place in the name of the dead. If a family is unable to do this ceremony on that day it can be postponed to Friday.
No one was allowed to visit the family on that day. It is important to give a proper closure to the dead. It somehow lays them to rest at least in our minds. I have seen this when I met various people whose kin have disappeared over the years.
A woman who had lost three sons one of whom was disappeared while the other two were killed told me "what did I give my two sons (the killed ones) a proper burial that is all I could do. I want to know if my other one is dead as well. I want the authorities to tell me if he is no more so that I can carry out his last rites. That is all I can do for him as well and I owe him this. I want to do this before I die".
The family of Wamiq was denied this and had to wait till the authorities decide to give them the chance.
My brother was of the opinion that only bad weather can disrupt the protests. So it happened that we started to have a lot of rain and snow. We have had a very dry winter till now. But things were turned for worse. On 05.02.10 Zahid Farooq left the mosque after Friday prayers in the afternoon with his friends. They went to check out their cricket field which they found wet. A security vehicle stopped hurling abuses and ask them to run off. When the kids ran for their lives,Zahid unable to bear the humiliation turned and shouted back why are they being abused. Still running they were fired upon killing the 16 year old on the spot. He had just cleared his high school last month. Just five days after Wamiq Kashmir lost another son. The only son of a woman who seemed to have never ending fainting fits. Her picture in the newspapers crushed ones heart and soul.
I remember so many incidents where people were stopped by police then asked to go only to be fired upon and killed. They also did the same to arrested people, which worked like this, take them to a place, tell me they are free and when they walk they were murdered only to claim that they were liked in an encounter as they were militants. The security agencies are never short of firearms, which they can claim to recover from the deceased.
There is no way the deceased can get there name cleared. Even if there families decide to fight there is no way they can achieve it. The armed forces in Kashmir by virtue of a special law get immunity from prosecution. There are so many cases pending in courts because of this.
What could the people of Kashmir have done other than mourn its sons. The authorities responded by curfew and restrictions. Separatist leaders called for a procession to the UN office here to submit a memorandum (the govt always foils it). It meant a day of curfew.
Life returns to a normal after a week. I am back at work. We have been given two days after that the protests are going to start again.
Initially the government declined to accept that it was the work of a security official. The government claims to have indentified the solider now but say it was an accident.
Tomorrow we are yet again going on strike as it is the death anniversary of Maqbool Butt, Kashmir's first dreamer for an independent Kashmir who was hanged by India on 11 February 1984.
Maqbool Bhat had said "My only crime is that I have rebelled against, slavery, oppression, poverty, ignorance and exploitation of my people" "For us, Azadi (independence) means not just getting rid of foreign occupation of our beloved motherland but also to remove hunger, poverty, ignorance and disease and to overcome economic and social deprivation. One day, we shall achieve that Azadi"
For his words still ring true today and the tragedy of Kashmir is reflected by his mother. Summed up by a recent issue of a local news Magazine
MOTHER OF A MOVEMENT
One son hanged; another disappeared; yet another died fighting. One more died in accident. The only surviving son incarcerated.
In contrast to this a police informer, involved in hundreds of killings, many rapes, extortion and timber smuggling has got a high government honor from the Indian government for PUBLIC SERVICE. What is interesting is that more than 100 police officers are needed to protect this public servant and he is asking for more security. I wonder from whom he needs protection. Yes it is probably the people he 'helped'.