---
---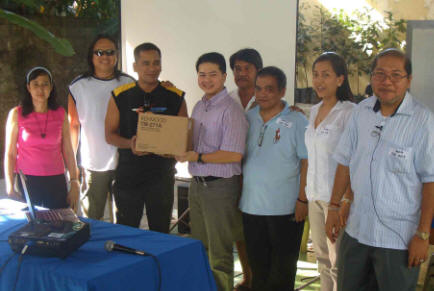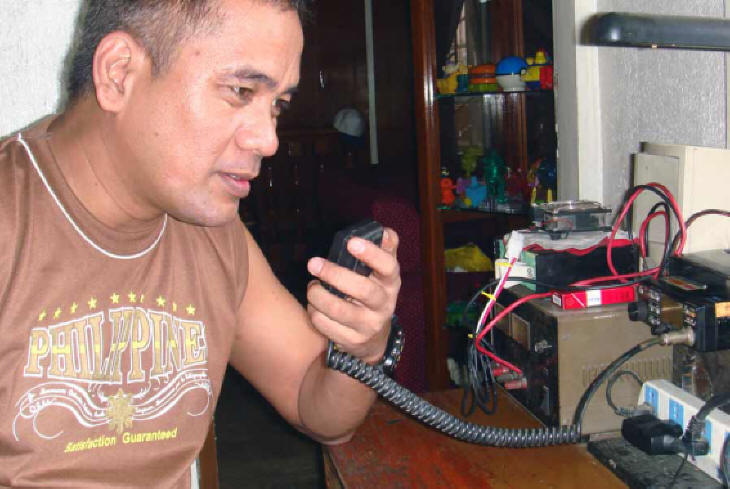 I am re-posting an entry by one of my colleague in my province. I asked his permission if he would allow it and he agreed.
My friend is Arthrur Letim, he's an amateur radio enthusiast and been introducing this form of communication to many people with disabilities who only stays at home as a hobby and much more. It helped him boost his morale and motivated him to push forward in spite of his failing vision.
Now, he is trying to encourage other people to pick up a hobby in radio communication. The skills required to use a radio is minimal and the benefits can be big plus it is useful during disasters which is very common in the Philippines when cellular transmission and or city power is down. There are many possibilities -- one just need to grab it and make it work for them just like what Art did.
This post is 6 years old but the issues he faces is still very relevant to this present time ... please enjoy reading.
Blind Transmission
by Arthur Letim, DV1VLU
Disabled people have, ever since ham radio came into being, been active in amateur radio. Disabilities come in many forms, inability to use limbs, blindness and/or deafness are the most common. Even so, these problems are treated as challenges and mostly overcome by many of our disabled ham friends. This is the story of Arthur Letim, DV1VLU, who as you can see by the callsign has already progressed to a Class B license and is busy studying for the final step to Class A. He is overcoming the difficulties thrown at him, and with the help of his new friends in ham radio is embarking on a journey into the world of amateur radio.
His disability is Retinitis Pigmentosa, a degenerative disease of the eyes which will eventually rob him of his sight completely. His vision is already severely impaired but he manages to use a computer with the aid of special software which reads out the screen contents to him. His story is told in his own words below....
I am Arthur Letim, 42 years of age, born in Sampaloc, Manila on 11th of November, 1966. I'm presently residing in Las Piñas City, Philippines. I'm a father of four wonderful children, namely Robin Anthony, Ralph Andrew, Regine Aby and Ryah Agatha and for the past three years since September of 2006 they have been living with their mother and American stepfather in California, U.S.A. I have been separated from my wife for 7 years since 2002 and have never re-married.
My life has been blessed, and I have been happy and successful in my business career before my marriage broke down. Since then I tried to recover from my misfortune and get out of my depression and started to remedy it by meeting new friends, and that was when I got into communications with the aid of the radio on the 2 meter ham band. I never thought of getting hooked on it and I enjoyed it very much. I had no idea of how to use the radio the proper way, the amateur way, until I met some amateurs who were willing to extend helping hands to assist and guide me properly.
Amateurs like DV1RXE, DU1IVT and DU1UGZ never got tired of advising me how and what to do, and with their help I finally managed to pass the Technician and General Class examinations with flying colors and got my radio station license and radio operator's certificate. I am very proud to say that I have a registered DV1VLU call sign and now I am looking forward to taking the Advanced Class exam.
I am now a proud member of the Pyramid Radio Society, Inc., an affiliate club of the Philippine Amateur Radio Association, and am member of a group of people who are very supportive and understanding friends. As part of my humble contribution I am also the Net Control Coordinator of our group. I have learned so much about amateur radio and I'm still craving for a deeper and wider knowledge about the world of amateurs. I intend to gain more friends domestic and international wherein I can utilize my communication skills and public relationship with other amateurs. This is one of my means to travel to other places alone, without a guide or a cane rather than staying in my room.
Travelling around is difficult because of my visual impairment, for I am living in a world of darkness. I have been blind since 1992 because of the eye disease known as Retinitis Pigmentosa, where the retina becomes damaged with pigments growing on it, impairing normal vision and narrowing the peripheral vision. This has deprived me of reading, mobility and also denied me employment. The world of radio communications helps me forget my misfortunes and motivates me to move on positively with my life and face challenges that come my way.
Now that I am part of the amateur radio world, I feel secure and confident that I am somewhat useful, and I have many things to try and apply what I have learned. That is, I will not be afraid of trying and failing. For me, a person who never failed is a person who never tried. Change is an essence of plight, it is not what you become because of it, it is what you have become despite it, by fighting difficulties.
I would like to give my gratitude to all the amateurs who helped and gave their advice and undying support for me. I'm also grateful for the trust that they have shown to me, especially The Board of Directors and members of the Pyramid Radio Society Incorporated. Thank you and God bless and good luck in your future endeavors in life. 73 and 88.
Special thanks also to my soul mate.
Arthur Letim
DV1VLU
Arthur was present at the Ham Seminar held by ACER and PARA at the Boy Scouts HQ in Manila, last February 22nd. He is shown here, receiving a Kenwood TM-271A vhf transceiver, donated by Paolo, IZ3LCE. He was quite surprised and touched by this kind act. Paolo is a good friend of Thelma, DU1IVT, as well as a friend of the PARL group.
Picture reference:



Arthur's acceptance speech....it was almost dark by the time he finished!




Arthur being presented with the TM-271A by PARA President, Joey Panganiban, DU1BP, together with some of his PRS co-members




Arthur is pictured here using the transceiver to good effect during the clubs net call.



The software Arthur uses to read out from his computer is called JAWS, (an acronym for Job Access With Speech) It is a screen reader software program for visually impaired users, produced by the Blind and Low Vision Group at Freedom Scientific of St. Petersburg, Florida, USA. Its purpose is to make personal computers using Microsoft Windows accessible to blind and visually impaired users. It accomplishes this by providing the user with access to the information displayed on the screen via text-to-speech or by means of a Braille display and allows for comprehensive keyboard interaction with the computer.
You can also access this post in http://www.para.org.ph/legacy/membersarticles/Disability/index.htm
Thank you.