CAMPAIGNING THROUGH COVIYEAR 2020
---
---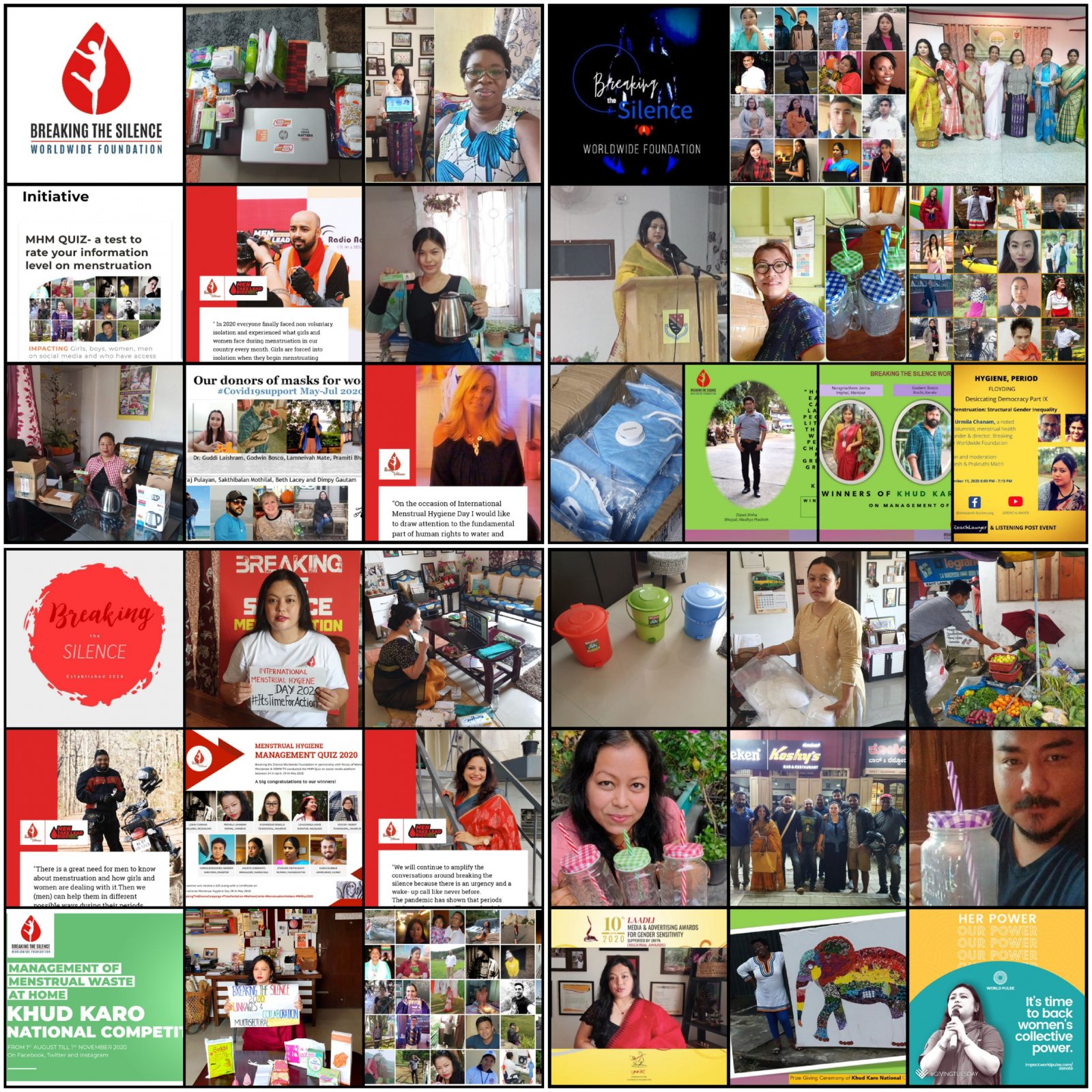 Breaking the Silence Worldwide Foundation, a non-profit based in Bangalore and Imphal in India, works on menstrual hygiene management, women's health, and women's empowerment since 2014 with focus on rural regions, villages and isolated and marginalised communities across India and in several countries in Asia and Africa.
With over 10.5 million people infected with Covid-19 and 152K mortalities, India became the second worst hit country in the world. By March 2020, the government clamped a complete lockdown intermittent with curfews and other restrictions across the nation to contain the infection and reduce mortalities. Understandably, our programs were impacted because field activities and events could not be organised; we focussed on using technology and media to mobilize people and spread awareness.
International Menstrual Hygiene Day 28thMay 2020
A social media splash on Facebook, Twitter, Instagram and YouTube composed of videos, infographics and posters to commemorate MH Day 2020 was conducted with the help of and participated by partners Voices of Women Worldwide & VOWW TV, World Pulse, Radio Active CR 90.4 MHz, India Bull Riders (IBR) and IRSP Pakistan, stakeholders, professionals, friends and followers who have supported our programs over the years. The aim was to spread awareness on a range of issues like the need to make reusable and eco-friendly menstrual products available and affordable, managing menstruation during the pandemic, men's involvement as key in ensuring facilities and sanitary product for girls and women at home, MHM as self- care for menstruators. The theme for MH Day 2020 globally was #ItsTimeForAction.
Our website and new logo – breakingthesilencereddroplets.com
Our website designed by Binapani Ningombam from New Delhi and new logo designed by Ajas Anjillath from Bengaluru were launched on International Menstrual Hygiene Day.
MHM Quiz -
A quiz was organised on social media from 24th April to 24th May 2020 for all genders and age groups to test knowledge levels on women's reproductive system, menstruation, hygiene and disposal of sanitary waste. A total of 83 individuals hailing from different corners of India participated, female participation being 60% and male participation 40%. Of the 9 winners who won prizes and certificates co-signed by Breaking the Silence Worldwide Foundation and Voices of Women Worldwide (VOWW), 6 were women and 3 men. If MHM programs engage and involve boys and men, it can serve to develop collaborations between genders and address gender inequality.
Khud Karo National Competition on Menstrual Waste Management at Household Level –
A competition on the correct method of segregating soiled menstrual waste from household waste, its temporary storage and disposal was conducted from 1st August to 1stOctober 2020 on social media mobilizing participation through video demonstrations, newspaper articles,notifications to education institutions and civil society organizations. The award function conducted online on 2nd October was hosted by Founder and Director, Urmila Chanam and Olutosin Oladosu Adebowale, Founder of Tosin Turns Trash to Treasure, a social enterprise recycling fabric waste in Nigeria where winners received attractive prizes, a three-bin wooden memento and certificates. A social media campaign on solid waste management and the Bengaluru model run by BBMP and partners ran parallel to the national competition and two waste champions, Purnima from New Delhi and Susheela Nair from Bengaluru were featured.
The competitions were participated by individuals from all corners of India, north, south, west and east. Even though many people from outside of India would have participated too, the plan to send them prizes by Amazon would not have been possible so we did not let them participate. Regional representation was satisfactory.
A milestone to be celebrated is the impact of our work since 2014 with boys and men and the value of engaging them in MHM and other programs on women issues, the result being their high participation in all the national competitions conducted in 2020, in MHM Quiz 40% and in SWM Competition 50%. This is an indicator that with an inclusive program strategy and implementation, the participation of boys and men will follow.
Articles written on MHM and allied domain –
· Menstrual Hygiene Management sector through the years (The People's Chronicle, 21st April 2020)
· Has anything changed in the way India talks about periods over the years? (Youth Ki Awaaz, 22nd April 2020)
· Results of the social media driven national quiz on menstrual hygiene management (The Morning Bell, 18thJune 2020)
· Management of menstrual waste at home (The Morning Bell, 7th August 2020)
· Breaking the silence- management of menstrual waste at home (The Imphal Free Press, 7th August 2020)
· Mahatma Gandhi's do it yourself principle the central theme for a campaign on menstrual waste management (The Morning Bell, 29th October 2020)
Research, Development and Induction of New Programs –
Going forward, we will be working in the areas of training and advocacy on solid waste management, family planning, digital skills training and introduction to the World Pulse program as means to achieve women's empowerment.
Human Rights and Menstruation with Reach Lawyer –
Human rights violations in the way access to water, toilets, soap, menstrual absorbents and home space is denied and menstruators are isolated and discriminated against in different parts of India were presented by Urmila Chanam with case studies on Reach Lawyer's Friday Talk Show "Floyding: Desiccating Democracy", a space dedicated to eminent lawyers, human rights activists and citizens on 11th December 2020 hosted by noted lawyer and human rights activist B.T Venkatesh.
Covid-19 Relief Work for Women –
During the pandemic the government and health ministry guidelines made it mandatory for people to wear masks. Under our woman health and safety program, we mobilized and distributed high grade N95 masks for women working as frontline workers in faith- based organization and in the market selling vegetables and fruits in Bangalore (Karnataka) and Imphal (Manipur) between June to October 2020. Our humanitarian donors include Beth Lacey, Dupindera Sandhu, Neeraj Gopalan Pulayan, Gijo, Saktibalan Rani Mothilal, Dimpy Buragohain Puri, Sunil Thiyam, Godwin Bosco, Pramiti Bhargava, Dr. Guddi Laishram and Lamneivah Mate.
Awards received –
· World Pulse Spirit Awards for Sisterhood 2020
· Laadli Media and Advertising Awards for Gender Sensitivity 2020
· Felicitated on Women's Day by United Theological College, Bengaluru, Department of Women Studies.
Our numbers for the year–
· Persons sensitized through programs- 407
· Organizations collaborated with -11
· Number of social media posts - 1058
· Likes on social media posts- 49, 607
· Comments and shares on social media posts- 1733
· Number of MHM articles published-6
· Number of educative videos developed -6
· Number of donors- 18
· Awards and recognition-3
Gratitude to Binapani Ningombam, Ajas Anjillath, Nujo John, Akthar Sharif, Koppira Darshan, Sharon Mather, Olutosin Oladoshau Adebowale, Pinky Chandran, Renniesh Philip, Manish Gupta, Susheela Nair, Purnima Ch, Shah Nasir Khisro, Shazia Khan for all your help and involvement. Thanks a lot to all our donors Keshav Agarwal, Anne Seery, Madhuri Sinha and followers, too.
The campaign concludes with effect from 19th January 2021 and we will be back with our new campaign, brand new annual theme and a new national competition- all on 1st April 2021!
                                                      * * * *        * * * *        * * * *      * * * *       * * * *
Leadership
Girl Power
Health
Human Rights