Christmas Carols in the Philippines
---
---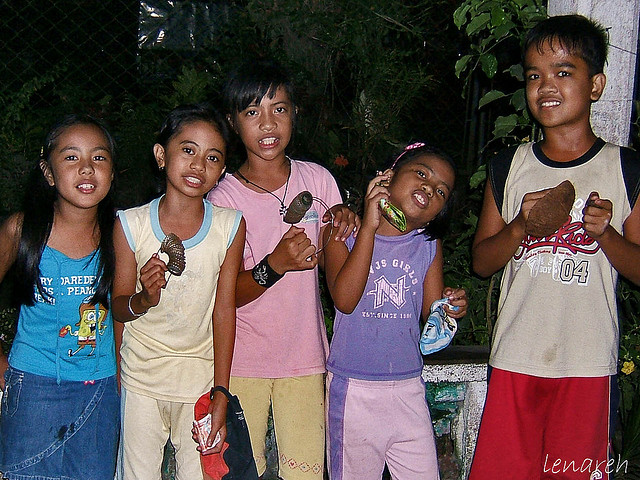 Christmas Carols in the Philippines is part of the traditions. Filipinos called it "Caroling." Once Simbang Gabi starts, the children carolers or even church choirs will be singing Christmas carols hopping from house to house. It is the signal that Christmas is just around the corner.
The carolers sings the traditional English Christmas carols such as Jingle Bells and Silent Night. While, some of them also sings the traditional Filipino Christmas songs. Such favorites are Ang Pasko ay Sumapit and Pasko na Naman.
They have their handmade musical instrument from recycled materials. One is made out of metal bottle caps flattened and put a hole that the caps will be as their tambourine. Another is the used tin cans with plastic secured with rubber band as a drum. Hoping that they will be given some chained coins from generous people in the house.
And they will sing whole heartedly . . . "Thank you, thank you, thank you very much ... Thank you..."
Unfortunately, some of the children of today do not know how to sing anymore our Christmas Carols. One time, my Mama being a catechist upon teaching the word of the Lord as one of her services to the Legion of Mary told me this story. She attended the Veritas having to have the high school Christmas party. In this game, Christmas theme, two groups in having the most number of Christmas songs. Sad to say that they do know the songs and how to sing it. Upon hearing this, the teachers in Veritas told the volunteers of the Legion of Mary, students does not have the guidance of their OFW or Overseas Filipino Workers parents, do not listen to the Christmas songs in radios or malls and worst is that they are always into computer internet games. Thus, they are not aware of their surroundings anymore.
Being a music teacher is sad to hear this because it is the teacher's obligation to teach music that ranges from the national or patriotic songs, Filipino folk songs, popular updated songs or songs through the years to Christmas songs.
There is still hope when I hear children or choirs particularly in our village during this Christmas season that they are singing Christmas Carols. Hoping that the next generations will learn how to listen to the Filipino Christmas traditions that since we can remember.
"Thank you, thank you, thank you very much ... Thank you..."