Citizenship comes at a price
---
---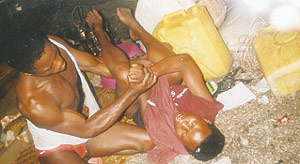 IN Uganda, one can acquire citizenship by birth, registration or naturalisation. One can also be presumed to be a citizen by birth if she or he is a child of not more than five years found in Uganda but whose parents are not known.
Citizenship is also acquired by adoption if one is a child under the age of 18. Citizenship can also take on a local, regional or global perspective. Currently, the regional perspective of citizenship is through the East African Community taking root in various countries having been founded upon the same geographical location and similar culture.
The integration of the East African Community (EAC) is a process, which is gradual and has clear milestones in form of a customs union, a common market, a common currency and eventually a political federation. These are clear indicators that the EAC is systematically moving towards the creation of East African citizens.
One visible aspect is at some airports in the East African region which have an entry signpost that reads: East African Citizens Only. This entry sign is a significant and clear indicator of the move towards a regional political bloc.
Privileges attributed to being identified as an East African Citizen impute certain duties and responsibilities. Principles of duties and responsibilities of a citizen are captured in our laws, for example the Uganda Constitution states that the exercise and enjoyment of rights and freedoms is inseparable from the performance of duties and obligations. The duty of every citizen is to:
Be patriotic and loyal to the nation and to promote its wellbeing;
Engage in gainful work for the good of that citizen, the family and the common good and to contribute to national development;
To contribute to the wellbeing of the community where that citizen lives;
To promote responsible parenthood;
To foster national unity and live in harmony with others;
To promote democracy and the rule of law;
To acquaint himself or herself with the provisions of the Constitution and to uphold and defend it and the law.
During this election period in Uganda, some people are quick to declare that they are not keen on politics, they are not registered voters and therefore do not vote! This kind of attitude is not in tandem with the duties of a citizen as provided for in Article 17 of the Uganda Constitution. This Article states that it is the duty of every citizen of Uganda:
To respect the national anthem, flag, coat of arms and currency;
To respect the rights and freedoms of others;
To protect children and vulnerable persons against any form of abuse, harassment or ill-treatment;
To protect and preserve public property;
To defend Uganda and render national service when necessary;
To cooperate with lawful agencies in the maintenance of law and order;
To pay taxes;
To register for electoral and other lawful purposes;
To combat corruption and misuse or wastage of public property;
To create and protect a clean and healthy environment.
Analysis of these duties makes one realise that a citizen is obliged to; for example, protect children and vulnerable persons against any form of abuse, harassment or ill-treatment.
There are several cases where neighbours and some community leaders have reported abuse of children by parents and guardians. This intervention has in some instances saved lives. There is need to do more especially with regard to abuse of persons with disabilities and women embroiled in domestic violence.
Abuse of persons with disabilities and other vulnerable people should not be perpetrated under the guise that these are private matters. These are matters in which every citizen has a duty to intervene.
Of interest is that fact that it is the duty of all able-bodied citizens to undergo military training for the defence of the Constitution and the protection of the territorial integrity of Uganda whenever called upon to do so.
This obligation may come as a surprise to many and serves to emphasize the point that one cannot just freely enjoy privileges of being a citizen without taking responsibility to preserve those rights and freedoms.
The duty to pay taxes is one which is not cherished by many. This duty is cardinal. Facilities and services such as roads and payment of security organs such as the Police are essential to our wellbeing.
It is therefore worthwhile for us to internalise and perform our duties as citizens in order for us to fully exercise and enjoy our rights and freedoms.
Citizens have a duty to be patriotic. One such time when we all feel patriotic is when we are cheering the Uganda Cranes in a football match against another team. At that point there are no divisions and our emotions are intertwined and focused on only victory for our football team.
It is our duty to sustain this united spirit in order to develop our national states and the East African region as East African citizens.
In order to foster a spirit of responsible citizens we need to embark on creation of awareness on duties of a citizen through formal and informal mechanisms such as schools, places of worship as well as the media.