CULTIVATING SUCCESS THROUGH WOMEN SELF HELP GROUP
---
---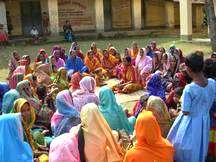 A CASE STUDY PRESENTED BY ARM, BALIAPAL
Name of the group:Bholasankar Mahila Sangathan
Name of the village: Pardipa
Block: Baliapal
Date of Formation: 01.06.1996
Total Member: 17
Total savings: Rs.49, 220
Cumulative loan received from Bank:Rs. 5,22,000
U
nity, they say, brings strength and lays a strong foundation for development. Women possess tremendous will-power but sustainable support and co operative effort are only what they need to translate it into shining success.
Pardipa village in Baliapal block is one of the remotest and most underdeveloped rural areas of coastal Balasore district. Poverty, illiteracy and traditional mindset of these villagers had virtually made their lives miserable. Agriculture was the mainstay of their livelihood. Their women counterparts had to be confined in the four walls of the house cursing their existing cruel destiny. Getting two square meals a day was a matter of struggle and hardship for these BPL families, let alone lead a civic life. Thanks to ARM's timely intervention, these poor women began to see light at the end of the tunnel. They accepted ARM's idea of forming a Self- help Group (SHG) in their own village. On 1st June 1996, seventeen of them sat in one place and decided to form an SHG which they christened as Bholasankar . With ARM's assurance off all possible financial and technical support they started their own enterprises. All the members showed interest in cultivating paddy, ground nuts and seasonal vegetables. Under its Integrated Community Development Program (ICDP), the first installment of loan amounting Rs.20,000 was released to Bholasankar SHG. Subsequent installments of Rs. 1000/-, Rs.20,000 , Rs.5,000 ,Rs.22500, Rs.25,000 , Rs.10,000 , Rs.20,000 , Rs. 37,000 and Rs.40,000 were disbursed to the group in different stages of their progress. More importantly, Bholasankar SHG was also entitled to get bank loan for their self help activities. All the members of the SHG were sincere enough to pay off their loan in time. So, there were no hiccups for the bank authorities to release subsequent loans to these women entrepreneurs. In fact, the group initially got the bank loan of Rs.8000 to set their activities in motion. Later the bank provided Rs.20,000, Rs.24,000 , Rs.70,000 , Rs.1,00,000 and Rs.1,00,000 in different installments after its conditions were properly met. Every month the members of Bholasankar gathered in a meeting to discuss the progress and problems of their actions. ARM's representatives attended these meetings and suggested them the ways to go ahead successfully. On account of cooperation, good understanding and sincere effort of these women members Bholasankar S H G has an outstanding of Rs.1, 00,000 on Bank. Their ICDP balance at present shows Rs.65, 000. By September 2008 their A/C balance recorded Rs.69, 220. Just before some years the women had nothing of their own. They had to depend on their male brethren for everything they needed. They could not send their sons and daughters to schools and colleges for want of money. They were to struggle for purchasing medicines, vegetables and other numerous essential commodities. These have become a matter of past. Their struggle for survival is now over. Both quantitative and qualitative changes are apparent. They face no problem in marketing their products.
Their ignorant and backward outlook has been changed significantly. They have realized that cooperative effort yields better result. One can expect that they will no more find faults with their bad luck; they know that they are the master of themselves. Now they proudly attend pallisabha in the village and raise their voice for old age pension, widow pension, and other Govt. facilities for genuine persons. They are now self sufficient to take independent decisions along with their male counterparts.
Yet, these women see dreams like other successful fighters. A colorful future of happiness, love, humanity and all-round prosperity is their ultimate goal. They have found the magic formula and want to put it for furthering their wheel of progress. To conclude, the SHG mantras have bloomed smiles on their faces and make ARM write the yet again another SHG's success story to its credit.
RAJENDRA KUMAR RANA
ARM,BALIAPAL,INDIA