Educated but Unemployed, India's Young Women Suffer Silently
---
---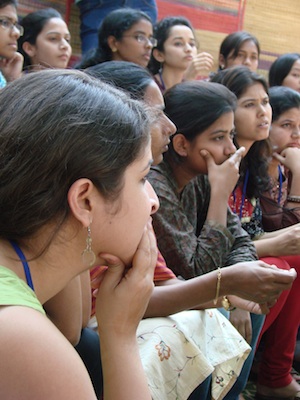 Rekha, a 29-year-old girl from a village in the state of Goa in Western India, reflects the sorry condition of young educated women in India. "All my friends are graduates but are unemployed and unmarried like me. We got college degrees thinking we would get a job after two years and marry after four years, but all the years went by and nothing happened for us. My parents are worried and think they shouldn't have educated me."
India will soon be the youngest nation in the world. In 2020, the average Indian will be 29 years old, compared to 37 in China and the US, 45 in West Europe and 48 in Japan, according to a government report on unemployment. The population of youth between 15-24 years is estimated to be as high as 240 million this year, according to a census projection report. This surge in the number of working age people is being referred to as a demographic dividend and there has been much discussion about whether India will take advantage of this in the next few decades. The opportunity to fuel the rapidly growing economy with an army of educated youth is huge and can change the face of poverty-stricken India. But although efforts are well intentioned and progress has been made, massive challenges persist and many feel that India is likely to miss the boat.
The main obstacle is an inadequate college system that churns out thousands of graduates without job-oriented skills which renders them unemployable. Young educated women are at a greater disadvantage as unemployment levels are the highest for this demographic. The Financial Express reports, "Even considering the most conservative yardstick used by the government to measure unemployment, young women with secondary or higher secondary education in urban India have an unemployment rate of 77.3% compared to 54.4% for young males with similar education levels."
India's 2009 Millennium Development Goals status report says, "Gender parity in primary and secondary education is likely to be achieved though not in tertiary education. However, share of women in wage employment in the non-agricultural sector can at best be expected to reach a level of about 24 percent by 2015, far short of a parity situation." Academic Vikram Garg writes on his blog, "If India is to realize its demographic dividend, then along with a strong push for skill development in the youth, a comprehensive policy for encouraging job opportunities for women and ensuring income parity and safety seem to be essential. Or Indian men will be left holding up only half the sky."
Trainer and consultant Jyoti Kothari writes that companies find it hard to employ educated youth even though there is a shortage of skilled manpower because they lack communication skills, analytical skills and knowledge of their domains. The South Asian Voice states that, "More small towns in India have degree colleges than perhaps any other developing nation. However, unlike India, other developing nations do not waste precious academic resources on a dead-end degree such as a BA Pass."
India has emerged as a service sector leader in the world, just as China leads the world's manufacturing. Many women-friendly service industries such as Business Process Outsourcing (BPO), IT, banking, retail, telecommunications and entertainment are growing and would employ more young women if they had the requisite skills. Aldina Gomes, a lecturer at the all-women's Carmel College, thinks that the education system needs to change: "There should be standardized college entrance exams, job-specific courses and certificates that can get you jobs."
Young women like Rekha and Ashwina suffer as a result of the current education system. Rekha says that unlike some of her friends, her family couldn't afford to send her to private computer classes, so she couldn't get a job while some of her friends who could afford private classes got employed. Ashwina got her Bachelor's degree from Carmel College and then migrated to Bombay city for a PhD in Industrial Psychology since everyone advised her that the quality of education would be better there. But now she says she is disappointed: "I feel like I could have just done a Bachelor's instead of a Master's degree because there's not much difference in the curriculum, just about one percent." Ashwina thinks that attracting and retaining good faculty makes a big difference. Others feel the education system could be liberalized to allow teachers to contribute their unique skills and internships should be mandatory.
Interestingly, higher education wasn't always this way. Lata Sinha writes in her blog that, "In ancient India, women were given the equal right to education and teaching. Women seers like 'Gayatri' were prominent participants in educational debates and the proceedings of the 'Parishads' (assemblies). The modern education system was brought in by the British rulers. The main purpose of it was to prepare Indian clerks for running local administration. The traditional Indian system of education gradually withered away for lack of official support."
Ashwina's example is just one in a steady stream of rural to urban migration for better education and work opportunities. Dr. K. C. Das
 and Arunananda Murmu write in the Journal of History and Social Sciences that more attention needs to be paid to this feminization of migration and that there is need for more research and policies in this area. Many young women who migrate continue to live in the cities leading to a 'brain drain' and overcrowding of cities. WageIndicator.org states that, "Young women living in cities and trying to make a career rarely can rely on a 'fall-back scenario' in which they can go back to their families living from agriculture."
Lillian grew up in a beautiful village in Goa and worked in the development sector but moved to Bangalore city for better work opportunities. She is now a successful content writer in the IT industry there and says, "I would never move back now… I feel like the government doesn't even care. It could have saved many women the trouble from leaving the state, kept so many families together." Two of the five most populous cities in the world are in India. So more education and work opportunities need to be developed locally.
Many young women also immigrate abroad for better opportunities. A World Bank report placed India third in the world in terms of 'brain drain'. The Youth ki Awaz (Youth Voice) blog reports, "The percentage of Indian immigrants to foreign countries represents more than five per cent of the total graduate population, which in numbers count to millions. The UNDP estimates that India loses $2 billion a year because of the emigration of computer experts to the U.S. Indian students going abroad for their higher studies costs India a foreign exchange outflow of $10 billion annually."
Worse still are concerns around increased human trafficking. The Times of India reports "In a disturbing trend, young Indian women are increasingly migrating overseas -- driven by poverty and abandonment -- almost always through illegal channels. Despite a government ban on migration of unskilled and semi-skilled women under 30 years, a report by the Centre for Social Research on migration in India and Bangladesh revealed that the number of women migrants was steadily increasing."
In fact, unemployed women are exploited in other ways too, such as by middlemen who know they are desperate. Rekha was employed by one such middleman to work for a large telecommunications company. Not only did he undercut her wages but paid only after she pestered him a few times, until she finally quit. She says the elected representatives in her village are all gangsters and were of no help when she approached them. "They bribe people and come to power again and again. There are mahila mandals (women's self-help groups) but they generally help uneducated women. What about educated women?" she asks.
Unemployment also takes a huge toll on the mental health of young women who are already pressured because so many important life decisions happen in their 20s. Studies report an increased incidence of suicide and mental illness among unemployed youth in Goa, the state with the highest number of unemployed youth in India. The Indian Tribune states, "Compounding the problems of the youth is the culture of consumerism. The demand for branded, expensive goods is creating enormous pressure within families, forcing women to work harder and bear more burden." The Goan Observer warns that "If we do not find jobs for the young people who enter the job market, it is likely to cause enormous frustration which in turn will result in serious social unrest, or worse still youth taking to drug trafficking and prostitution in desperation, as it has happened in some countries like Cuba."
An aggressive multi-pronged approach is urgently needed to promote a favourable mindset overall towards working women, beginning with gender sensitisation at the workplace. Lara, a journalist works at a major English newspaper says, "I feel remuneration and appreciation at work is not enough. We need opportunities to grow vertically in the organization, which will help us in our careers. At present there is a kind of glass ceiling as to how much we can aim at." Aglin just graduated with a Master's degree in her field and works as a part-time counselor in two schools but only earns $110 per month (5000 rupees). Uneducated drivers and domestic maids earn as much as she does.
Women workers also feel discriminated against when they experience male colleagues with similar experience getting paid more. India has an average gender pay gap of at least 30% amongst casual workers and as high as 57% in the organized sector, according to Wage Indicator. Shilpa, a community health worker with a leading nonprofit organization says, "A man who has just been hired at my office is already earning as much as it has taken me 10 years to earn. In fact, he's earning more than me but comes to ask me for help."
It becomes more difficult when a young woman gets married and has children. Although India has mandated three-months paid maternity leave, many women get fired when they become pregnant in spite of the fact that 69% of Indian women feel they can balance home and work, according to the Economic Times. Another issue is that many women just don't feel challenged enough by their work. Lillian says, "Women are needed in the service sectors to produce something. There's no intellectual growth. Since people aren't well educated, they are not questioning the status quo." India needs to encourage its young minds to be creative and innovative. There is also a need to identify those with strong leadership potential and mentor them along their paths to greatness. One World South Asia states, "Though more women are now in paid jobs than in 1990, they haven't clinched senior posts."
The Society for Human Resource Management recommends the following ways to create a "women-friendly" organization:
• Senior management commitment to gender issues
• Career development programs for women
• Exposure of women to top management
• Leadership development programs for women
• Job rotation for women
• Recruitment of women at senior-level positions
• Regular surveys of women to assess job satisfaction
• Mentoring programs for women
• Child care facilities at work
Gita Aravamudan, author of 'Unbound – Indian Women at Work,' says that speakers at the Nasscomm IT Women Leadership Summit 2007 were in agreement that "women had to pull themselves out of the rut with their own efforts. The company management could give them a helping hand, but the final effort had to come from them." Presently, there are very few organisations dedicated to cultivating young professional women. There are no nationwide professional networking groups dedicated to young women either. Instilling confidence and assertiveness could go a long way to bolster young women's management aspirations, especially in cultures like ours that expect obedience and subservience from young women.
While there are a few government schemes for women's development, they are not well-publicised and data about their implementation is not easily available. A director of finance in the Department of Women and Child Development wrote, "Resource allocation and public expenditure are important inputs in the empowerment process and thus gender budgeting has a very critical role to play." The National Commission for Women has asked for amendments to several labour laws, which provide crèche facilities, time off for feeding children during working hours, provision of maternity leave and separate toilets for female and male workers near the workplace, amongst others.
Young women are a huge demographic and need to be harnessed to deliver India's potential. While progress has been made as a result of an emphasis on universal primary education, advanced intellectual capacity building has been neglected. Educated Indian women that are given opportunities fare very well. Finally, we would not want to roll back any of the progress achieved for women in the past few decades, as in the case of Rekha whose parents regret sending her to college.
This article is part of a writing assignment for Voices of Our Future, which is providing rigorous web 2.0 and new media training for 30 emerging women leaders. We are speaking out for social change from some of the most unheard regions of the world.