Exercise Your Thinking Muscles
---
---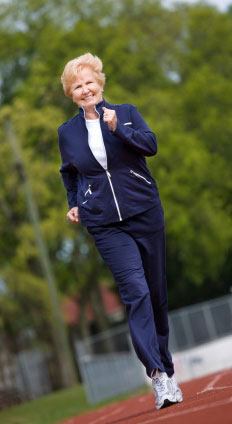 According to researchers in the Netherlands, aerobic exercise can give the 50-and-over crowd a step up in brainpower. And that's just the time of life when we might benefit most from brain-boosting: At around age 50, we begin to experience problems such as memory lapses ("Where did I put those keys?") and reduced ability to pay attention ("Excuse me?").
"We think that reduction in total brain mass, decreased links between nerve cells and neurotransmitters (the chemical messengers between the nerve cells), decreased metabolism and changes in the hormonal status of the brain could explain the loss of cognitive functions," says lead review author Maaike Angevaren of the University of Applied Sciences in Utrecht.
Angevaren and her researchers looked at 11 studies that evaluated cognitive abilities. The majority of these studies showed that among people age 50 and older, aerobic exercise resulted in increased cardiorespiratory fitness and significant improvements in processing speed, visual and auditory attention and motor function. These effects may be due to increased cerebral blood flow and better brain metabolism; more research is needed to verify this theory.