---
---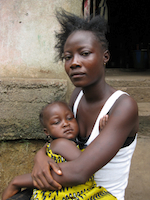 Emerging from a fourteen- year long civil crisis, teenage pregnancy is becoming a societal ill that leaders and stakeholders should tackle. Teenage pregnancy is defined as the early entrance into mother hood by teenagers. These are teenagers who are unprepared and not even capable of bearing children at that tender age. About four out of every ten girls in Liberia will get pregnant by age eighteen.
Save the Children found that, annually, 13 million children are born to women under age 20 worldwide; more than 90% in developing countries .Liberia is one of ten higher risk countries of teenage pregnancy in Sub -Saharan Africa.
According to a report by Save the Children, more than one in six teenage girls between the ages of fifteen and nineteen give birth annually and one in seven babies born to these teenagers die before the age of one. The Liberia Demographic and Health Survey (LDHS) notes that one out of three girls between the ages of fifteen and nineteen have had children. It's a hidden secret that teenage pregnancy is a stumbling block to girls achieving their goals and making their dreams become a reality.
Teen mothers are less likely to complete high school, less likely to get married and the odds are stacked against the children of teen parents from the minute they are born. Their health is poorer, due to lack of proper medical care, their cognitive development is slower, and their behavioral problems are worse than their peers. Teen pregnancy robs teens of their childhood and their future as productive and competent adults. It also serves as hindrance to their children, and their children's children. As teen pregnancy is a cycle and when you get in, it is difficult to get out. Children born to teen mothers are often unattended to and run the higher risk of ending up like their mothers or fathers if not attended to properly.
Poverty, sexual abuse, poor sex education, culture and illiteracy are all correlated to teen pregnancy.
Poverty is believed to be one of the driving forces in the rise teenage pregnancy in Liberia. According to study conducted by the Oxford University and the United Nations under the multi-dimensional poverty index, Liberia is among the ten poorest countries in the world and the fourth poorest country in Africa. The multi-dimensional poverty index includes a traditional focus on income to reflect the deprivations that a poor person faces all at once with respect to education, health and living standard. It assesses poverty at the individual level, with poor people being those who are multi- dimensional deprived, and the extent of their poverty being measured by the range of their deprivations. It is believed that more than half of the population lives on less than one dollar a day in Liberia. Many families are poverty stricken; as a result, teenagers are serving as breadwinners for their families. They are offering sex in exchange of basic needs. Given the circumstances, these young girls are not in the position to negotiate sex and unsafe sex is standard: as a result most girls get pregnant. Because of poverty, most families also result to forcing girls as young as fifteen to get married to rich elderly men in order for these men to take care of their families. Women in Africa in general, get married at much earlier ages than women elsewhere — leading to early pregnancies.
According to recent research, 20 percent of teenage pregnancies are a direct result of rape. Before age 15, a majority of first intercourse experiences among females are reported to be in-voluntary. In the first six months of 2009, the Duport Road SGBV rape statistics indicate that 700 women and children were admitted as victims of sexual assault. The majority, about 40 percent, were girls between 13 and 18 years old.
A counsellor at the Duport Road Clinic, Madame Oritha Brooks, agrees when she tells me most of the rape cases at the clinic are teenagers. She tells me that when a teenager is brought to the clinic they immediately give her a drug to reduce the risk of pregnancy. This practise is helpful, but unfortunately not many young girls find it easy to talk about being sexually violated because of fear of discrimination and so run the risk of getting pregnant.
Illiteracy is also a key factor in the rise in teenage pregnancy in Liberia. Liberia has one of the highest illiteracy rates in the world. More than sixty five percent of people in Liberia are illiterate. Many efforts by non-governmental organizations to eradicate teenage pregnancy have been aimed at literate people through billboards, pamphlets and radio messages. The sad irony is that not many people read or listen to radio to hear these messages because they are very poor and unable to read, they cannot buy a radio for themselves. When girls are educated, they become responsible and more careful with their lives because they have dreams that they are pursuing.
Another key actor linked to the rise in teenage pregnancy can be linked to our cultural orientation. Parents do not discuss sex with their children. Sex is like a forbidden word in most families in Liberia, and as a result most young people do not confide in their parents about issues concerning sex. Instead they confide in their friends who give them wrong advice almost all of the time. As a teenager once I have come across many cases.
Teenage pregnancy does come with serious consequences, not only for the teenagers but also for the country in general. For teenagers we can argue that a high number of children are beginning their lives from disadvantaged stages. There are adverse consequences for the children of teen parents. They are more vulnerable to child abuse and neglect, exhibit poor academic performance, and are susceptible elevated risks of delinquency and crime. Worrisome, is the fact that teen parents are known to start a vicious cycle that is hard to break once it gets started and prevention is the best cure. Annie, pictured above is an example. At 19, she already has two children and there are likelihoods she might get another as she's living with a man to make ends meet.
High levels of psychosocial problems have been attributed to teen pregnancies and child birth, especially among girls. Low self-esteem and mood disorders are also reported to be side effects of teen pregnancy. Teen girls who have children are known to smoke or; use illicit substances such as cocaine and marijuana using them as an escape route from the life around them. Teen parents, especially those who live in the rural sector where inactivity is their lot or those in urban communities (street children and homeless youth), are at-risk for poverty, drug use, and an array of dangerous and unsafe sexual practices; including promiscuity. Among these teen mothers, worries about the basic necessities of life after bearing children often force them to place limited or no value on their sexual safety and health. It is also known that teen pregnancy leads to high dropout rates among girls among girls with ripple effects on career aspirations. The most recent school census revealed that girls accounted for forty- seven percent of students registered at Liberia's public primary school, but only thirty-one percent at public high school between 2007 and 2008. UNICEF maintains that statistics reveal lower enrollment and retention of girls after grade three in Liberia. Consequently, economic effects include low earning potential and unemployment.
There are possible solutions to teenage pregnancy if we focus on the subject and make it a priority.
More funds should be provided to teen outreach programs and comprehensive volunteer services and youth development programs that experts say have greater success rates in preventing teen pregnancy. These programs should also focus on enhancing the competencies of youth at an early age. Most experts say these programs can be gender neutral because teenage boys have to play a pivotal role in the process as well. Most importantly, these teenagers do not have to be overtly focused on traditional family planning interventions (contraceptive methods that make no use of modern science; which includes rhythm method, breast feeding and herbal preparations) because it also not perfectly safe.
Another area that professionals say helps to reverse teen pregnancies and births is strengthening their decision-making capacities. Lapses in judgment have been recognized as a contributing factor to teen pregnancy. School programs that are rooted in equipping youth with core values and "old-fashioned restraints" which is abstinence or reduce poor judgment are also known to reduce teen pregnancy. These should also be accompanied by psychosocial interventions that help youth manage their emotions, particularly bolstering their self-image and preventing negative peer pressure. Programs that place emphasis on education and training, and responsible supportive adult involvement in the life of youth are very important as well. This is because many of these young people lack the psychological strength to resist societal pressures that come from their living conditions.
The government should work hard to ensure enforcement of the rape laws, particularly against adults who engage in sexual conduct with minors, and that is a positive sign. Women's rights are becoming recognized in our society, and these are equally good indicators of increased enlightenment in Liberian society about gender equity. Beyond that, we might just need a government task force devoted exclusively to curbing poverty, but using teen pregnancy and teen child bearing as the programming devises. Meaning using the rise in teen pregnancy as the indirect result of poverty in our country, and that tackling poverty can significantly reduce teen pregnancy.
Ensuring that our curriculum in schools includes components that deal with reproductive health education is a policy matter which could help in the fight against teenage pregnancy.
Another solution to helping to minimize teenage pregnancy is involving teenage girls in the fight. The Girls Alliance for Future Leadership is a teen based girls' organization working to reduce teenage pregnancy in Liberia. This group was organized and founded in June 2010 by teenage girls from high school who thought peer education methodology was the best solution to decrease teen pregnancy. Their campaign has grown, and they now boast of a membership of more than a hundred girls who are impacting their community positively. Kula, a member from a Catholic High School in Monrovia says the organization has helped her a lot in understanding the issue of sex. "I feel comfortable speaking my mind to my age group than older people" she says. The Christian Media Center also supported this idea when they stated that "girls are magnificent tools to work with in reducing teenage pregnancy" according to its director Natty Davies.
With all you have read about, one can say that teenage pregnancy is indeed a challenge in our country. With poverty and illiteracy at the highest rates, there is still more that is needed to be done if our society is to be a better place for all.
This article is part of a writing assignment for Voices of Our Future, which is providing rigorous web 2.0 and new media training for 31 emerging women leaders. We are speaking out for social change from some of the most unheard from corners of the world.