Feminism in India – past, present and future
---
---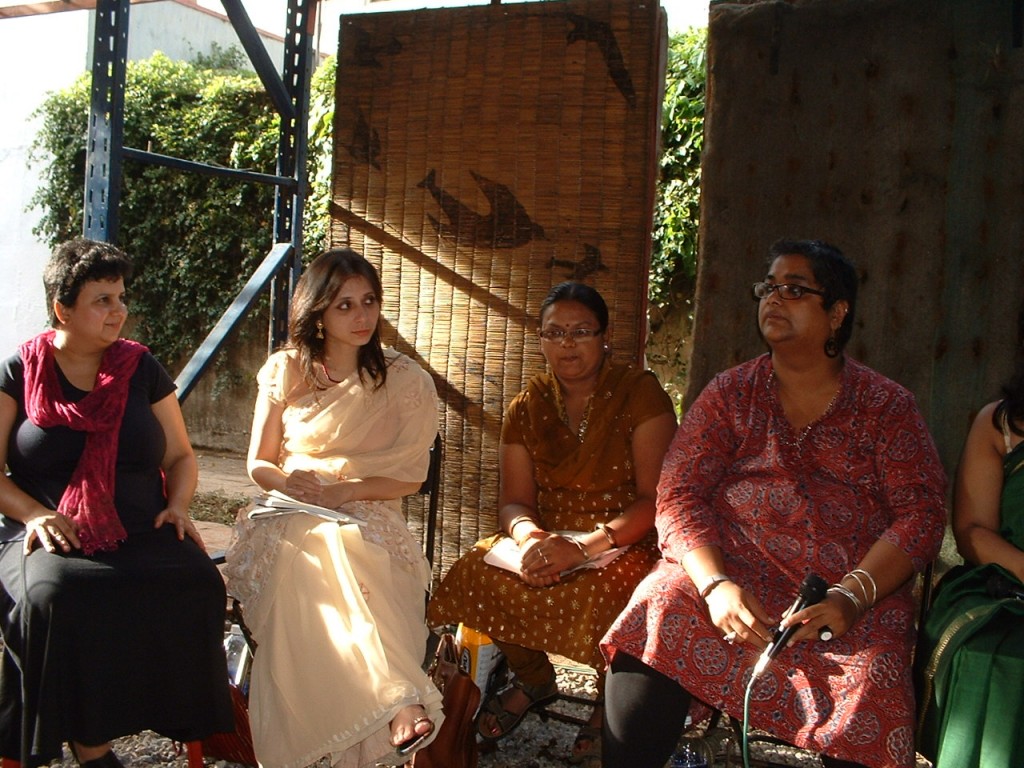 Is being a feminist out of vogue? Or are the young simply uncomfortable with the term feminism even if they are liberal? What challenges do rural and urban women face? These were among the questions that figured in a lively discussion organized to celebrate twenty five years of feminist publishing in India. "Called Cultures of Peace, the event is being held by Zubaan (a renowned Indian publisher) in collaboration with the international NGO Hivos, across the country", said Anita Roy, a senior editor at Young Zubaan. Zubaan (http://www.zubaanbooks.com/) grew out of Kali for Women, the first feminist publishing house in India that Ritu Menon and Urvashi Butalia co-founded. The Bangalore edition of the programme was hosted at Jaaga (http://jaaga.in) on 20th August 2011. Jaaga is a free space for art, dialogue, films and performances created by a motley crew of architects, designers and artists.
Those leading the debate included Meera Jatav, an articulate thirty nine year old newspaper editor from Chitrakoot district in Uttar Pradesh (a state in northern India). Jatav has been with Khabar Lahariya (meaning News Waves) since its launch in 2002; supported by New Delhi based NGO Nirantar (http://www.nirantar.net/). The eight page weekly is printed in Bundelkhandi, a local Hindi dialect. "We go into deep jungles which mainstream correspondents fear. Apparently, we are as bold as the dacoits that we have interviewed sometimes", Jatav revealed of her eighteen women strong trailblazing team. With an edition in Chintamani district of Bihar (another of India's northern states), these young ladies handle everything from reporting and photography to marketing and distribution. Jatav added, "Our current circulation is around 5000 copies. We focus on local news, civic and infrastructure challenges and spread awareness regarding government schemes". (Having heard of Khabar Lahariya off and on over the last few years, meeting Jatav was personally a very delightful experience!)
Speaking about the contemporary and earlier approaches to feminism Shilpa Phadke, from the Centre for Media and Cultural Studies at the Tata Institute of Social Sciences, Mumbai expressed, "When we were growing up, people considered feminism progressive, irrespective of their gender. But nowadays students in my classes squirm at the mention of the word feminist even though they believe that women must have equal rights and status as men." Nisha Susan, a features editor with the weekly magazine Tehelka chipped in with light hearted but realistic illustrations of how issues are sensationalized by the media. A Bangalorean who now lives in the country's capital, Susan had set up the Consortium of Pub Going, Loose and Forward Women on Facebook which morphed into the Pink Chaddi campaign in February 2009. "While I worked on craft and craftspersons, no one bothered to ask me about my background. But when I moved to gender and sexuality rights, everyone wanted to know if I was a lesbian rather than why I was dealing with the subject", observed Pramada Menon. She is the co-founder of CREA (http://web.creaworld.org/), a human rights organization located in New Delhi and also does the stand up performance Fat, Feminist and Free.
At the end of the exchange of ideas, Gowri Jayakumar, a business reporter based in the city, rendered some soulful English numbers while strumming her guitar. When she was told that her music seemed to come straight from her heart, she remarked, "I write what I feel and see. I believe that my lyrics are confessional and fairly decadent".
The enchanting evening concluded with a reading from the The Bad Boys Guide To The Good Indian Girl Or The Good Indian Girl's Guide To Loving, Living And Having Fun. Penned by Annie Zaidi and Smriti Ravindra this work of fiction is published by Zubaan. A journalist, avid blogger and author, Zaidi had earlier talked about her involvement with Blank Noise (http://blog.blanknoise.org/), a campaign against street sexual harassment or "eve teasing" started by Bangalore based artist and photographer Jasmeen Patheja. Zaidi, the other speakers and people present in the audience also aired their views on the Slutwalk or Besharmi Morcha.