Girls are Changing in Rural Pakistan
---
---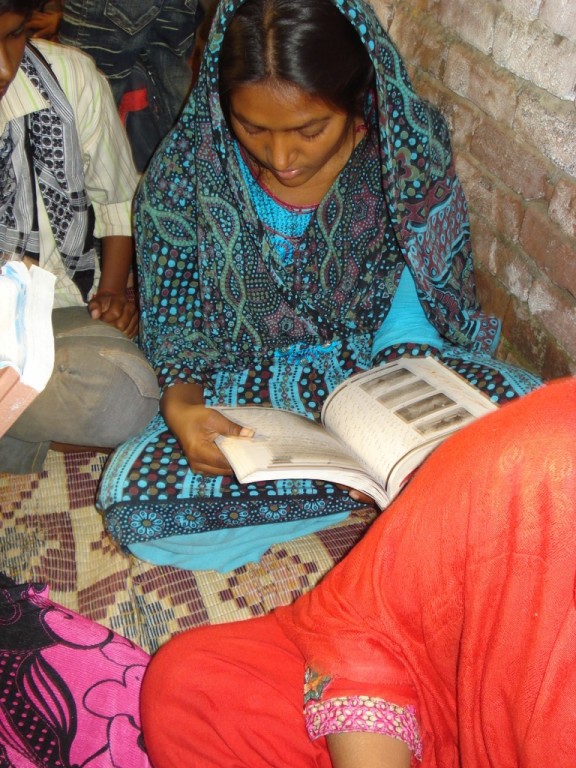 Maryam is an 18 years old girl. She was born in a very poor family, she does not speak much, and she thinks that she is not that much pretty, because her completion is dark. One year before when she joined our center, she was not confident, from the day one; I knew that she was special.
There are some people, who are against our center, so first time when she joined; she had to leave after some time, because her father was miss guided by them.
But soon she came back. This time she took admission at our beauty salon training center and slowly I tried to make her feel that she was very beautiful and she can do anything. So she completed her course of beautician, now she is learning stitching.
I kept her telling during her training that education is very important and without education, we can do nothing, so a few days before she came to me, and said that, she wants to study; it was a big achievement for us, so I immediately bought her books and bag and now she is studying.
I love to look at her when she studies, because her interest in her books is amazing; she is the first one in her family. Who is getting education?
Although she is silent, but I feel that there is a storm of desires in her heart, to tell the people around her, that she is not common. And one day she will prove it to them that, she is the prettiest, because beauty is not our face, but real beauty is our character. Although her face is so much beautiful and innocent
She is learning English in evening class, so she has to live at center all day, she is working so hard.
Now she is a qualified beautician, soon she will be completed her English language course, and stitching course too, she is studying also. And will learn computer, when I will have a computer center, soon.
And you know she will more skilled then me. How amazing it is.
She will be educated as well as skilled. In the beginning her father was not happy for her to do it all, he wanted her to stay at home, because some people miss guided him.
But now he comes to drop her and to picks her himself. I am feeling very happy and proud.