I say NO to STIGMATIZATION !!!
---
---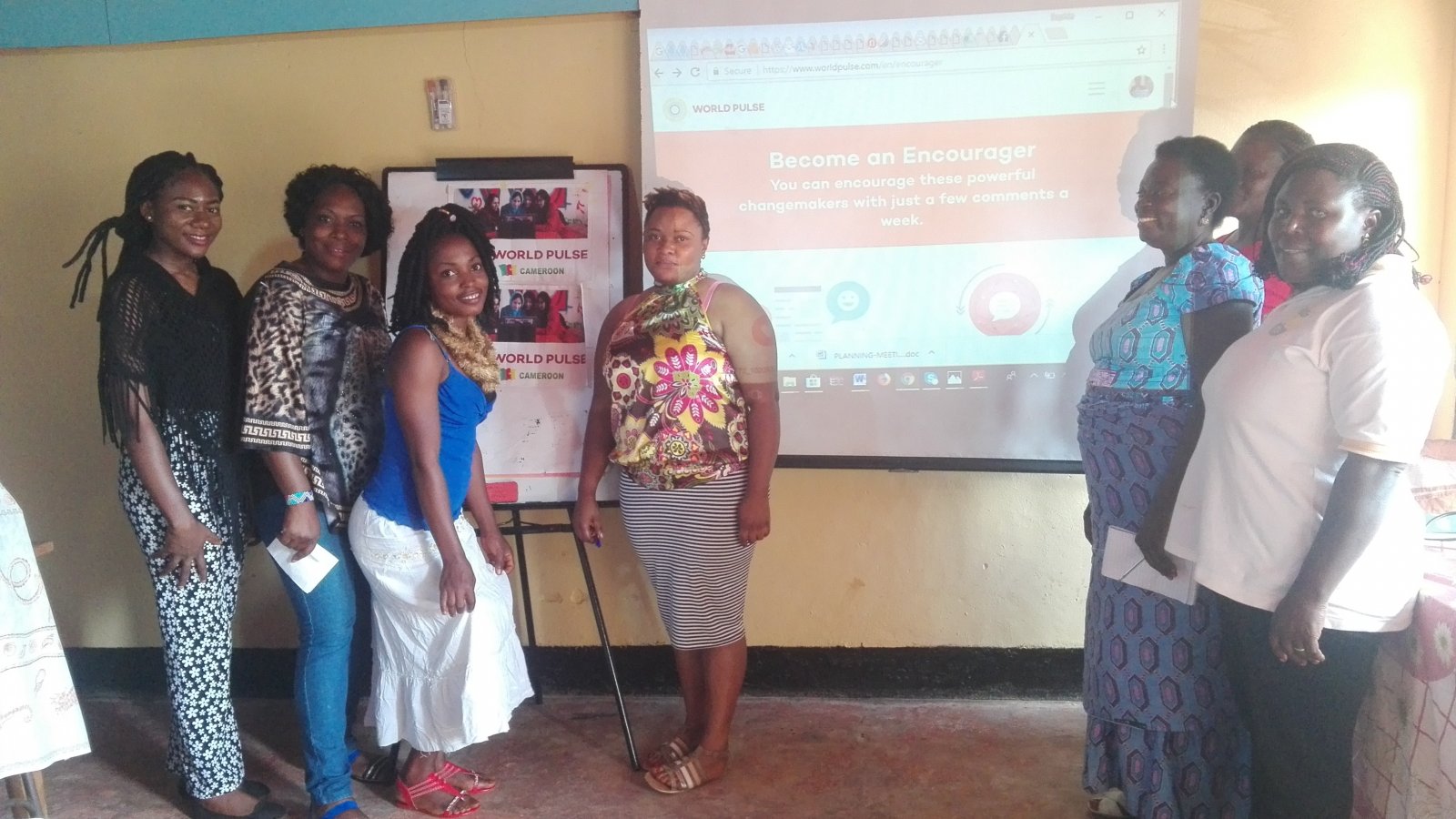 I was born in Banyo a locality found in the Adamawa region of my country but I we migrated to Tibati another locality in the region .I grew up in Tibati, a Muslim dominated part of the country. My dad was a technician and spent most of his time in Nigeria so my mother was a father and mother to me at the same time. My family was not rich we were poor, we could not afford a normal meal so we mostly ate after school and that was all for the day for us all. My mother did some petty trade jobs so we could eat. The only time we ate to our satisfaction was when our father was around because he made money from his trip to Nigeria and bought us good things to eat and put on. My mother's petty trade took her to small bush markets around where she spends two to three nights before coming back home. There are days we spent nights at home without both parents. I had an elder brother and an elder sister and other junior ones.
My dad and mum left us one day and went to various jobs ,my dad in Nigeria while my mum in a bush market .My elder sister was 13 and I was 10 years of age. One night I we slept and when I woke up my stomach was paining so much and I discovered my siblings have all gone to the farm since it was weekend and I was home with my junior one's, my stomach continued paining so I went back to bed thinking that when I will wake up the pains must have gone but unfortunately for me when I woke up, the pains was still there and worst of it I saw clouded blood coming out from my private part.
I now knew that I was really sick ,so I stayed in bed all day and when my elders came back from the farm I told them that I was sick and my stomach was disturbing me and that when mummy will come back she will buy me drugs to take .I was talking still in bed. I spent two days in bed on the same spot bleeding ,the blood stained all the space I was sleeping on and my dresses were equally stained so on the third day ,I woke up bath, remove the mattress and put it outside and washed it especially where I slept where the blood stains where. While I was doing this the blood was still coming out and I left everything I was doing and went to my teachers house .My teacher was a volunteer from the US I loved her so much she is called Carly Clark but we called her Mrs Clark. I told her I wanted some drugs because I was sick so she told me to go in and wait for her, she was outside cleaning her compound .so while I was going in she noticed that I was bleeding and she immediately followed me in and asked me what was wrong so I explained that my stomach has been paining for days now and blood has been coming out of me and it was smelling and very painful. She took me into her bathroom, bath me and gave me some sanitary pad to put on.
when she finished, she lay me on her bed and told me what was going on in me, she told me I was menstruating which was normal for every girl but I could see from her actions and face that it was normal in my case as she asked how old I was and when I said 10 her face changed in a second .She later on told me to be proud that I was menstruating .I left her house calm, when I got home I finished washing my mattress and spread it out for it to get try .I sat out and was reflecting on what Mrs Clark told me ,while reflecting, a friend of mine came and asked me to go and play with her ,I accepted and we went to the playground where we met other children .We joined them in playing sizou and when It was my turn the pad Mrs. Clark put in me felt down ,I don't know how or what happened and in a minutes all my friends gather around me to see .I managed to take it and ran home .The next morning, I saw some of my friends that I played with who were Muslim and I greeted them but they did not respond to my greetings ,I noticed that they were going to our usual place to play so I gently followed behind and was talking to them they were not responding to me but I continued walking behind them . When we arrived the playground many of them did not want to play with me anymore so when I enquired from one she said her mother told her not to play with me because I was very sick and will soon die. I tried to explain to them that I was not sick and I told them what Mrs. Clark told me that it was normal in every girl's life but they said only when you are 13 or 14 and that was what their parents told them and one said I was just 10  , so I was sick .I ran home again in tears and went straight to my elder sister who was 13 and asked her if she was seeing blood coming out of her she said no that it was bad and before she could talk again I ran to the stream where we usually go and do laundry and I stayed there  for the rest of the day. I went home in the evening and my mother called and said she will be back in the morning.
I did not eat and I went straight to bed. The next day blood stopped coming out and my mother came back and I did not tell her because I was afraid she will confirm that I will die or that it was not normal. Monday I went to school and in class I sat on the bench alone because the news of my death had gone viral. I had no one to talk with, none to play with either .That continued for a week and just like that I found myself isolated in everything and from everyone. I accepted that I will soon die .So I gave everyone space, even in church I did not take part in the children choir and it surprised everyone especially my mother because she knew that I loved singing so much. The next month my menses came again and again and again. I did not die and since I was stigmatized and isolated I concentrated on my books and I had the best grades in school, to me menstruating distorted my dreams of becoming a singer and an athlete. It was in secondary school that I heard a teacher talking freely about menstruation in the Biology class. I finally left Tibati to my birth place Banyo where I wanted to further my education. As grew up to maturity I realized that I will never die because I was menstruating .My stigmatization followed me, I had no confidence in people and since I was use to been alone I had no friend.
My only friend was my book and dairy where I wrote and read everything I felt ever since I started menstruating. With all what was going on with me I never told anyone about it. I did my personal research and it was when I was about to write my final year examination GCE ORDINARY LEVEL that I concluded that menstruating was not a sin I committed . So I started telling every girl about menstruation but not my experience because I did not want them to pity me. I succeeded to get into the University of Bamenda where I am reading Literature. I attain workshops that has to do with menstruation and women empowerment but yet I did not break my silence, I was still afraid of reactions when people will hear and say how could a girl of 10 menstruate? I did not want to hear that so I remained silent.
During one of this workshops, the guest speaker talked of breaking the silence and she said they were exceptional cases and that a girl could menstruate at 9 and it was not a crime. She said so many encouraging words and I wept .I Felt so bad but very happy that she point out my fears and I felt as to speak .So I asked the coordinator to give me a chance to say something and she accepted and whole and behold I told them my story and wept unknowingly while talking and my audience felt so bad for me and that was my greatest fear but that day I didn't care I spoke confidently knowing well that I was telling my story and it gave me strength. I told my story and I felt free, the feeling was like a burden was lifted and I was very happy. I was later called by the audience to answer their worries which I did.
Dear sisters it was when I told my story that I felt free and very comfortable when talking about menstruation and how a girl can handle it when it comes at an early age .No girl should be a victim of stigmatization because she menstruate or menstruating at an early age .I am a survivor of social stigmatization because of a natural phenomenon .I believe that there are so many girls out there who are like me, who were stigmatize because there are menstruating whether at an early age or not but that should not instigate fear in us . I am 22 years of age today and I am very happy and proud sharing my story to you.
Girl Power
Health
Gender-based Violence