Keeping Memories... and Dreams Alive
---
---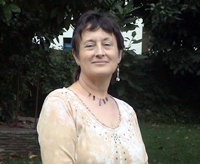 Remembering Lynde Francis (8 November 1947 - 31 March 2009) – One Year On
Martha Tholanah
http://www1.voanews.com/zimbabwe/news/a-13-56-74-2009-03-31-voa54-689790...
http://www.unaids.org/en/KnowledgeCentre/Resources/FeatureStories/archiv...
As we reach a year after the passing of Lynde, I still grieve and mourn, for it seems only yesterday that she left – so the pain of that loss remains still as fresh as the day she passed on. The pain is felt each time as I see our shortcomings in not calling to account the powers that be in terms of delivering a holistic health care service. I feel the pain each time as I realise my shortcomings in not engaging the power within me to work as diligently as Lynde did, engaging those with power over communities, for all people living with HIV, without any fear or favour.
One of the things that have helped me move on was entering Lynde's house again this month, and seeing all the artwork that she so loved. This was an exhibition to raise funds to fulfil her dreams for doing more to serve needy communities. My daughter, Sipho, had so much fun as she participated in the children's art workshop where she made herself a bead necklace and bracelet. It helped her with closure as she had not been in the house since 1 January 2009 when we spent an afternoon chatting with her Gogo Lynde.
I missed Lynde on World AIDS Day 2009, on International Volunteer Day 2009, World TB Day 2010. There were so many issues I would have loved to discuss and consult and plot and strategise with her as we always did.
I yearn for the vibrancy that Lynde instilled in activism, and I miss the love, the guidance, the stabilising effect of her presence, and also always knowing that she was only a phone call away, no matter what time of the day. Now all I have are fond memories of a wonderful woman, who became to me and my daughters – a mother, grandmother, friend, sister, confidante. We have her children, particularly Ondine whom I have interacted with most, to thank for allowing us to share their mother with them, and promise that together we will be there to keep Lynde's memory alive, bring her dreams to fruition, and make a difference for Zimbabwe, Africa, and the whole world. Lynde had a big heart, and definitely accommodated many more than my family in her embrace. Today, I resolve, my mourning period has officially ended, and I am picking up her passions and resolve, and hoping my heart grows as big as hers before my turn comes to leave this earth. My advocacy work will be done in memory of this heroine. May her dear soul rest in peace...