LET STOP CHILD MINERS IN GHANA
---
---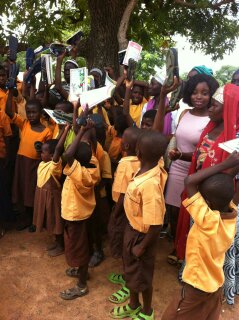 LET STOP CHILD MINERS IN GHANA
As many as 186 million children aged from five to 17years are child labourers, 85 millions in Hazardous work. Children who work are often separated from their families, exposed to dangerous substance, harsh working conditions and higher risk of mistreatment. Many never go to school or drop.
Labour is a primary factor of production. The size of a nation's labour force is determined by the size of it adults either population or the extent to which the adult are either working or are prepared to offer their labour for wages.
Interview and research carry on parent , why their children are allow to do certain work which might be term as child labour most parent complain of the economic hardship in the country but under the Children Act 1998 (Act 560) , it talk about promoting and protecting the rights of the Ghanaian child. Here our constitution clearly state that children should be protected from performing work that is hazardous or interfere with their education or harmful to their health, physical, mental, spiritual, moral or social development. It is there not advisable for children to work in the mining sector since it is hazardous to their health.
In Ghana, Gold industry employs between a half millions and one million people in 2014 and the sector produced about 40tonnes of Gold worth $1.7billions each year but the use of children in the mining sector is dangerous and not acceptable by the international labour organisation and upon this backdrop that Dolly Foundation seek grant from Global Green Grant Funds to undertake community for a and teaching to educate parent, chiefs and communities members about the negative health effect of children working at the mining sector.
Children who work at the mining sector develop spinal cord problem due to the carrying of clay at the mining site, there is often report of death at the mining site due to collapse of a pit and also children falling into the dug holes in the site. There is a serious issues with respect to the mercury used in the mining sector to separate the gold. The continued use of the mercury attack the central nervous system and in the future cause brain damage.
Throughout our program, we identify few cause which has cause a rise in child labour in Ghana thus high teenage pregnancy, lack of job thus there the economy is not favoring parent to work or get jobs to do. Lack of role model in the rural communities for parent to know the importance of education, there is a weak law enforcement, high rate of literacy and also how parent in the community see and define child labour. The program took place at Awisam, Asaman Sienchem, Nyaduwamo and other communities.
Through the grant given to Dolly Foundation by Global Green Grant Fund, these were the recommendation communities, chiefs , parent and the NGO came up with as a mean to help reduce high child Labour. We Proposed intensive education to change our cultural mindset, during reintegration, proper teaching support should be offer to the children especially those with learning disabilities. Free quality education to produce good leaders, lack of education increases the risk of child marriage. Girls who marry too receive little or no education and are at higher risk of domestic violence and HIV. They often have children very young and 70,000 die in labour each year. Job creation thus decentralization example mechanized farms to help increase farmers income. Again there should be law enforcement and institutions should report issues of child labour. Under Article 270 of the constitution gives right and mandate to chiefs to implement certain bylaws which can help protect the dignity of their community members. We think that such right could help chief to propose certain bylaws to help fight and stop child labour.
Recent press report release on 13th of July 2016 by the US ambassador Jackson outline more disturbing information that currently 100, 000 people are living in modern slavery in Ghana and of cause child Labour contribute to the rise in the number. Ghana is ranked Tier 2 and also indication is pointing to the fact that if Ghana does not make immediate effort to reduce the number , then by next year 2017, Ghana would be ranked Tier 3 which mean as a country nothing is done about modern slavery. We believe that with such funding from Global Green Grant Funds the activities carried out in Assin Municipality would reduce the number of child miners. We hope to continue this education knowing that behavioral change is not a short term intervention but rather a long term program to help to fully reduce child Labour problem in the mining sector.