---
---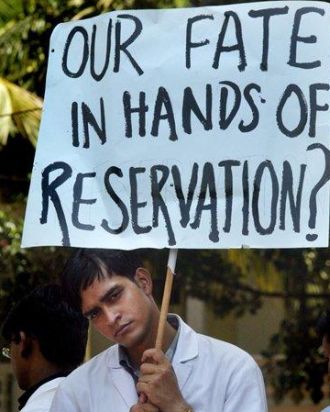 Aliya Bashir
Huzaifa Khan, 22, had been waiting in the long queue at the University of Kashmir since the morning, excited to get her admission form. She was surprised to see girls making another line in the opposite direction, and boldly asked them, "Why are you making another line?" In unison, several answered, "We are Reserved Category."
With a little annoyance, she couldn't muster the courage to further carry on the conversation, so she kept silent. But she couldn't stop the mad race of thoughts running through her head, and asked herself, "Would I be denied the basic rights, as I am not lucky enough like these girls, who don't need to compete with me on the basis of merit, as they are reserved!"
Huzaifa belongs to the 'open merit' category, and cannot benefit from the reservation quota, neither in education nor in employment. She belongs to the 'General Category' who has to compete on the basis of high merit, without any concession.
Providing a reservation quota on the basis of caste and not on merit has deterred many educated and deserving students like Huzaifa, who say that there should be no exploitation of differences to take away the genuine rights of others.
"I am not against reservations, but I don't think that the deserving persons actually avail the facilities of these quotas. We should strive for an equal share in socio-economic development and at other educational fronts. The weaker sections should be protected from social injustice," Huzaifa says.
What is shocking to see is that instead of coming up with alternative innovative ideas to make sure that there is no discrimination on the basis of caste, creed and colour, the state government had recently declared 37 villages in the state as "Backward Areas."Interestingly, over the past several years, there has been no elimination of any village from the Residents of Backwards Areas (RBA) list nor any measures taken by the government for the equal representation of people to make the caste system irrelevant.
But contrary to developmental trends, those profiting from the reservation system are increasingly people taking steps to get declared as "backwards," which takes away benefits meant for the poor.
"The reality on the ground is that people from economically sound and educated backgrounds make the most use of the reserved seats, thus counteracting the spirit of reservations," says Hamid Tantray, a government school teacher.
The majority of people in the valley who take the privilege of reservation quotas are already quite advanced in terms of educational and economic backgrounds. But because they still possess land in the so-called backwards areas, they are qualified for the reserved status.
On the basis of caste, area or profession, the Jammu and Kashmir government has categorised various reservations. The Schedule Tribe (ST) category has been also identified with their caste which includes Gujjars and Bakerwals, and the entire Schedule Cast (SC) population falls in the reserved category due to their poor economical conditions. Similarly, residents of backwards areas are assigned categories, owing to their geographical placement in various areas.
Overall, the state has 26 social castes, who each recieve 2% reservation under Other Backward Classes/Other Social Castes (OBC/OSC), which includes Haniji, Bhangi, Khakrob, Bhand, Barber (rural) Dambli /Faqir, Doom, Gada, Garati, Jheewar, Kulfiqar, Kumhar, Madari/Bazigar, Mirasi, Sansi, Shakhsaz, Shoe repairers, Shupri watal, Sikilighar, Teeli, Dhobi, Lohar and Tarkhan. These communities have been given reserved categories due to their professions and social castes.
The Jammu and Kashmir Reservation Act of 2004 provides reservation in appointment and admission in professional institutions for the members of Scheduled Castes, Scheduled Tribes and other socially and educationally "backward" groups. These groups receive 50% of the openings for education and employment opportunities, while the other 50% is left for open merit.
The Act clearly explains that the government may, on the recommendation of the State Backward Classes Commission, make inclusions in, and exclusions from the reserved categories. "Any person who obtains a certificate under the Act by misrepresentation, fraud or concealment of any material fact or impersonation shall, in addition to prosecution under the law for the time being in force, be liable to cancellation of the certificate and forfeiture of benefit, removal or dismissal from service; and fine of not less than ten thousand rupees".
In 2009, a number of amendments were made to the Act, and a decision was made to not provide income to those who had completed their entire school education from an area identified as "backward" or within the Line of Control (the Line of Control (LOC) runs 742km (460 miles) dividing Indian- and Pakistan-controlled Kashmir, and acts as part of the de facto border between the two countries. The military frontline, which runs through inhospitable terrain, has separated hundreds of families and even divided villages and mountains. The LOC has been a flashpoint between the two nuclear-armed countries since its foundation. Their forces have exchanged gunfire across the line for years.). If schooling is not available in these areas, the person is required to move to the nearest adjoining area to pursue their education. This was a change from the previous ruling, which said that if the annual income of a person, from all sources, exceeded Rs 3 lacs (USD 6,030), they would be excluded from the category of socially and educationally "backward" classes.
In 1997, the state government passed the State Commission for Backward Classes Act, which is represented by a number of individuals from villages and social castes as listed in the commission under Section 8(2) of the Constitution. It has the same powers as that of a civil court and can call for evidence from any person to record and document evidence to grant reservation status, and consists of 53 indicators which are sent to the revenue authorities of the different districts of the state in order to receive the proper information, before granting the designation.
In order to recommend a village to be included in the category of "backward," the Commission prepares a report from the relevant revenue authorities and determines their qualification. "The beneficiaries of the reservation are backed by revenue records which shows their properties and residential houses in the area which falls in the list of backward area. They belong to crème level who are mostly politicians, bureaucrats, police officers, businessmen and other high rank officers and are presently living in posh areas of the city," says an officer at the State Commission for Backward Classes (SCBC). They then receive spots at schools and universities, as well as employment opportunities not based on their merits.
The officer also says that the unfortunate fact is that those people who benefit from the categorization flood the office with requests, and already have the necessary educational and financial conditions to succeed in life.
In addition, many of those who do benefit from the categorization, following completion of their education, move to cities, and thus leave behind those villages which gave them the status. They do not contribute back to the economic or social conditions of their communities. "The elite class whose ancestors basically are from villages mostly avail the category and their status never changes as the category status passes on and on to their future generations without any break. This exercise of reservation is totally futile and specifically oriented to trample over other's genuine rights," says Deeba Ashraf, a lecturer in a private college.
The government has put no barriers between the rich and poor of the same caste. While one enjoys the status due to their caste, the other suffers. There have been some instances where fraud has been identified and those found in violation have had degrees or jobs removed. However, there is no proper monitoring body to ensure that the system benefits only those who it should.
Due to this generalized discriminatory reservation system in the state, more and more people with lesser qualifications are preferred over those with merit. This process of nepotism paves the path to corruption and incompetently educated youth.
Many argue that instead of looking at reservations from a caste or backward point of view, it is better that to see it in the sense of helping those who are in need of actual help based on social and financial constraints. "We should not create barriers for the fundamental right of equality. Our efforts should be oriented to come out with resolutions and facts where we can have equal respect, status, opportunities and compete purely on the basis of our calibre and talent not to the section, community or class we belong to!" says Farmaan Javed, a practising doctor.
Apart from the discrimination that the people face both in terms of education and employability, there is an increasing rural and urban divide, where more and more youngsters feel that the urban populations unfairly enjoy the benefits of the reservations, while the rural people continue to feel looked down upon.
One solution lies in bridging the gap between these two groups – urban and rural - where both walk hand in hand not as enemies. Power cannot be concentrated in the hands of a few, but must be shared. This will only happen when the same kinds of facilities and opportunities are available in the rural areas, who can then compete more fairly.
Instead of encouraging more and more people to use these reservations, the government must work towards eliminating these reservation benefits provided to Schedule Castes, Schedule Tribes and Other Backwards Castes (SC/ST & OBCs). Educators and other experts view this system as an obstacle to positive development and growth, and say it leads to both discrimination as well as corruption.
While the path to abolishing this practice is still long, as caste systems are embedded in society and create many divides, in the meantime, the government must ensure that only those who legitimately qualify for and need this special assistance are those that receive it. This requires not only ending discrimination, but ensuring that the services that will allow all citizens of Kashmir to succeed on their own merits.
Huzaifa, after waiting for hours, collected the form without paying attention to the reserved category candidates, who were also waited patiently. "Merit needs to be the prime yardstick in any selection. A lack of sound economical background and other resources should not deter deserving persons from working their way up the ladder. For this, we need to discourage the caste system by becoming truly secular and abolishing all reservations in any form," she said, before she left the campus.
Unfortunately, the caste-based reservations have taken such deep roots in the state that it would be political suicide for politicians to utter a word against it. After all, they also benefit from it. But if this issue is not dealt with now, then the policy of favouring a few on the basis of their birth will pave the way for a more biased state, which should be avoided under all circumstances. Already there is tension, and the possibility of conflict, due to anger and frustration on both sides.
People like Huzaifa, who have worked hard, must not be disadvantaged.
Reservations in any form need to be abolished in order for the state to truly prosper. Instead of encouraging more reservations, there is a need to devise a system where a bright, yet economically weak classes or individuals can compete fairly with others. Those that need extra assistance should be provided with educational opportunities – scholarships, books, even food – to give any students – not just those belonging to specific groups, with the opportunities they need to be able to compete with all.
This article is part of a writing assignment for Voices of Our Future a program of World Pulse that provides rigorous new media and citizen journalism training for grassroots women leaders. World Pulse lifts and unites the voices of women from some of the most unheard regions of the world.
Economic Power
Leadership
Technology