PHREB Imams Movement for Women Rights Network
---
---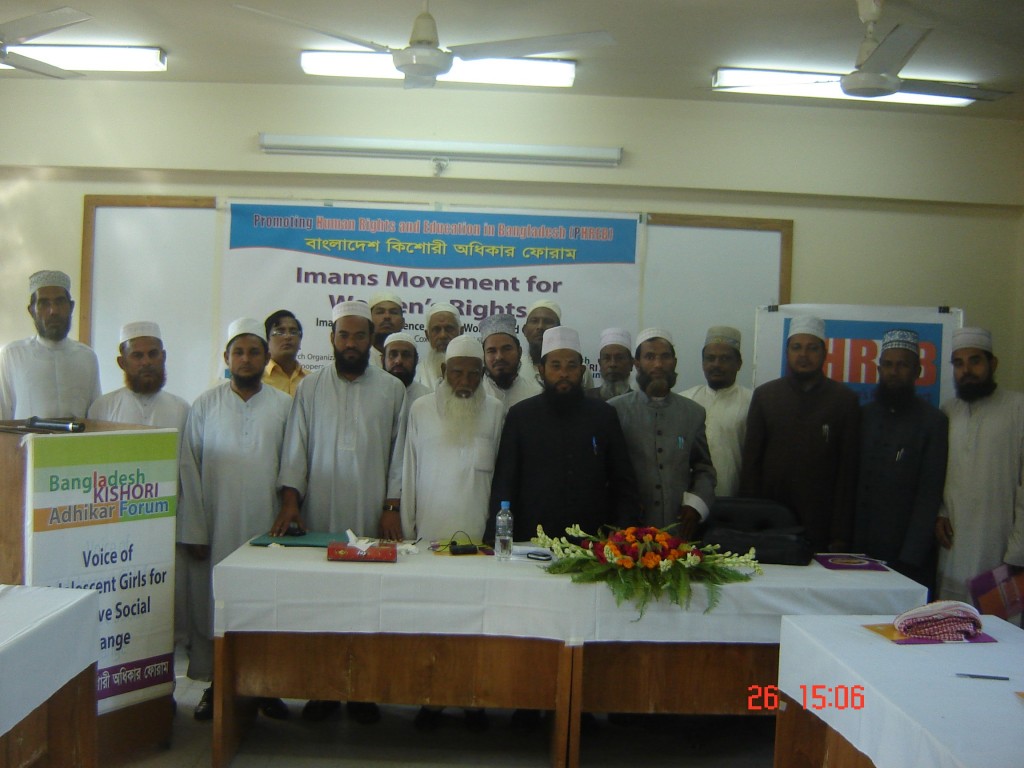 PHREB Imams Movement for Women Rights Network creating public awareness of violence against girls and women and HIV/AIDS in Chittagong and Cox's Bazar Districts
Starting even before they are born and continuing throughout their lives, Bangladeshi women are subjected to violence and exclusion based simply on the fact that they are female. These injustices occur within both private and public spheres, which include families, communities, schools, governance and politics regardless of social status. Domestic violence remains prevalent and is currently the greatest threat to women's human rights. Domestic violence is indiscriminate, it can happen to any woman at anytime and anywhere. Even the most educated and otherwise strong women remain in abusive relationships due to the pressures of family, an unforgiving society and inefficient, corrupt legal and rescue systems.
Sexual abuse and harassment also stems from groups of miscreants that are rampant in Bangladesh. Gangs often lurk in shadows, open fields, in front of schools, colleges, university, workplaces and homes, waiting to humiliate young women and girls. Stories of young girls killing themselves after being subject to such psychological torture and sexual harassment are becoming more and more common. These tragic deaths provide evidence of how Bangladesh has become a fertile land for rape, humiliation and social injustice. The crime of harassing young women to the point of suicide continues unabated as victims and their families are not influential, thus lack any power as many law enforcers can be bribed or easily swayed by political pressure. This tragedy further highlights that there is simply no social justice for repressed young women and girls in Bangladesh since society, in general, is not supportive of the victims. Moreover, unfortunately many stories are not even reported for fear of retribution attacks or shame bought to the families' reputation.
Promoting Human Rights and Education in Bangladesh (PHREB) was founded on 10 December 2004 to make Women's Rights a Reality in Bangladesh and End all forms of violence against women and girls. Fighting Violence against Adolescent Girls is the major concern for PHREB. Since its inception PHREB has developed and implemented a number of programs, campaigns and projects dedicated to preventing the cycle of violence against women and girls from continuing.
Imams Movement for Women Rights:
PHREB is an outcome of an intensive study on violence against women and girls conducted by four young students Faridul Alam - Bangladesh, Peter Arnold Das - Netherlands, Sandra Wendlandt - Australia and Graham Edward Bradley - Canada.
Through detailed fieldwork surveys in both rural and urban areas surrounding the Chittagong region, information was gathered regarding the types of violence, accessibility to social justice and information, causes of abuse and its impact on both women and girls in society. The fieldwork involved groups of women from a diverse range of religions and social statuses, whereby both formal and informal methods (ranging from school workshop for students of classes VIII to X, college and university level workshops and discussion forums to integrated workshop participation) were used to determine their wishes, wants and desired outcome. Consequently, these observations allowed the team to ascertain the real conditions of young women and girls facing violence in addition to their limited access to decision-making mechanisms.
The research found that if we can change the mindset of today's children and youth, we can make a difference in the present culture of violence against women. The research found that Mullahs (Islamic Leaders) and Patriarchal Society use Islam as a tool to subjugate women. Mullahs and Patriarchy stand together to determine women's position under the restrained gaze of its mail counterpart. As a result, a substantial proportion of women remain in the domestic, non-monetary sphere where they continue to be unrecognized as significant contributors to the economic realm and the male remains the powerful authority figurehead.
To interpret Islam correctly for the benefit of women and girls, PHREB started involving enlightened Imams with her STOP Violence against Girls Program in December 2005. On 14 December PHREB organized a Seminar titled Islam and Women Rights. 14 Imams from Chittagong Region Participated in this Seminar to discuss women's right to inherent property, gender equality, women's rights to participation and violence against women. The Imams present in this seminar has agreed to work with PHREB in ending violence against women and girls. Later PHREB and Imams created a network of individual, enlightened Imams titled Imams Movement for Women Rights. Ms. Nellie van der Pasch, ICCO Program Officer for Bangladesh played a key role in establishing Imams Movement for Women Rights Network.
Since its inception, Imams have taken various initiatives to aware their followers about Early Marriage, Domestic Violence, Sexual Abuse, Girls and Children Trafficking, Birth & Marriage Registration, Dowry and women's inherent right to property etc. Currently 140 Imams are involved with this Mosque and community based Religious Campaign for Women Rights and freedom.
Imams Movement for Women Rights Network is increasing day-by-day by with more moderate and intellectual religious leaders in the southern part of Bangladesh. The success of this network is huge. The Imams are standing against all forms of violence against women at home, at school, at work or at street. Imams are creating mass awareness among men and women through mosque based weekly speech (Friday Speech) and Community based religious gathering (waj mahfil). The imams are reaching about 100,000 people every week with their Friday Speeches.
Imams has been playing an important role in promoting birth and marriage registrations and stopping early marriages in 32 Unions of Chakaria, Moheshkhali and Pekua Upazilas of Cox's Bazar District. In Bangladeshi society in villages Imams are regarded as Social Judge. Where Imams have been traditionally standing against women in their verdicts now the Network Imams are standing for oppressed Women and Girl Child. Network Imams are delivering true justice in favor of oppressed women according to holly Quran.
Imams Movement for Women Rights Network members are dedicated to promote women's rights in Bangladesh. It seeks and wishes your support in terms of technical and financial to continue its work for the benefit of Bangladesh women and girls.
For more information on Imams Movement for Women Rights and other PHREB programs/campaigns/projects for stopping violence against girls and women, please contact Ms. Tania Mostari, Program Director, PHREB, e-mail: tania@phreb.org, tel: +880 31 257 1170
Web: www.phreb.org