---
---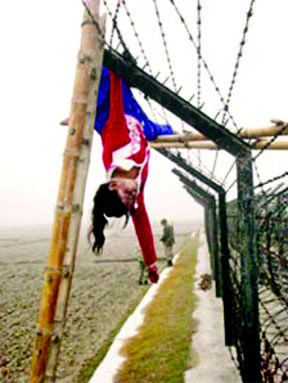 "I can see my village from here. Aha! How beautiful it is. I wish I could go there again. I wish I could meet my friends again. I wish I could meet him again. He was cute. I liked him so much. He was a local boy. I was going to get married with him. What was his name? I can't remember anymore. Many of my dreams had been remained unfulfilled. I used to dream about so many things. I used to dream about my husband and children. A small happy family. I used to dream about my children's education. No, no I should not think about the dreams anymore. No, I should not think about them at all."
"I know I can't go to my village anymore. I can no longer meet my friends and him. I know I can't do anything anymore. I am waiting for someone. My eyes are open, and my body is hanging on the fence of Indian-Bangladesh border in Kurigram. I am waiting for someone. If someone comes, I want to tell them to get my body and give it my parents so that they can bury me. I don't want to be hanged on the fence any longer. I don't want see the living things anymore. I don't want see the faces of the bastards who did not let me make my dream a reality. Ohh God…if only some someone would come."
This part of the writing above is fiction. This is probably I would say if I were Felani and hanged on the fence of the Indian- Bangladesh border. The second half below is the fact.
Felani was a 15 years old girl. She lived in a small village near Indian-Bangladesh border in Kurigram district Bangladesh. Her father Nurul Islam Nuru worked near the border in India. Felani was returning to Bangladesh with her father as her marriage had been settled with a local boy. She was shot dead by BSF (Border Security Force- India) at Anantapur on Jan 7. Nuru, however, managed to cross the barbed-wires with a ladder but Felani's clothes got entangled in the wires. She was hanged on the fence for a long time before the BSF took her body away.
Home mister and some other important government officials visited Felani's home and offered money to her family to stop crying for their girl. And then Fenali's poor father might have been kidnapped or murdered as no one has seen him lately.
Even though there have been many protests in Bangladesh, and some international magazines have written about this issue, the Bangladesh government is still indifferent about the proper justice for this murder.
This part is to Felani.
Please forgive me Felani because I have not done anything for you. I have a 15 years old sister too. I can't imagine her dead body hanging on the fence. I am really upset with the "High Authority" who was supposed to do something for you, but they didn't. Neither did I. I don't want to give any excuse why I have not spoke out for your justice. I just beg forgiveness to you. But Felani, please pray for me so that I frustration and anger have a positive effect in the future; so that I can not only raise my voice against your murders but also have the power to force the "High Authority" for the proper justice. So that I can do something not to let the same thing happen with many of my sisters like you near the Bangladesh-India border. This is my promise to you as well.
Reference
http://www.bdnews24.com/details.php?id=186007&cid=2
http://www.defence.pk/forums/bangladesh-defence/93303-where-felanis-fath...
For more information about the issue
http://www.defence.pk/forums/bangladesh-defence/90942-savage-killing-fel...
http://anonymouse.org/cgi-bin/anon-www.cgi/http://www.guardian.co.uk/com...
http://dpwriters.wordpress.com/2011/01/19/felani%E2%80%99s-hanging-body-...
http://www.odhikar.org/FF/ff2011/BSF2011/English/FF_report_Felani_Kurigr...
You can also Google "border killing in Bangladesh Felani"