Premiere of my first short film! WOMEN'S WORK @ NY Int'l Ind. Film Festival - about women in Afghanistan
---
---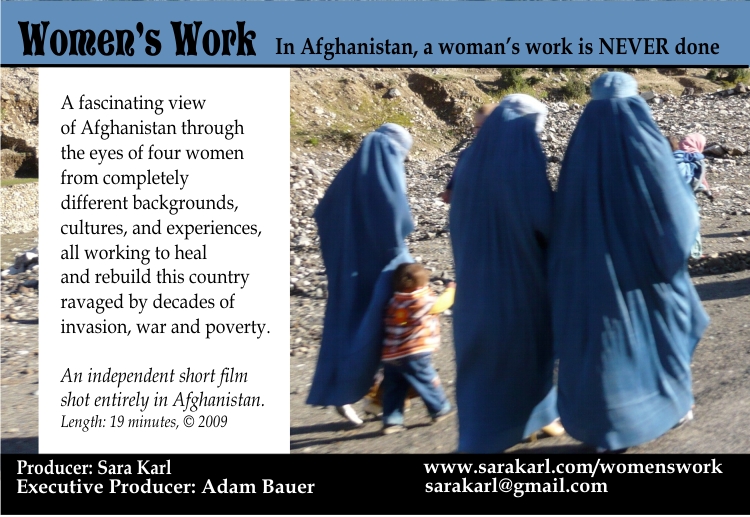 Hooray!
I am delighted to invite you to the world premiere of my first short film, "Women's Work" premiering in NYC this Sunday, October 25th at 4 p.m. in the East Village. I shot it entirely on location in Afghanistan last year - it was an incredible experience, changed my life forever. (And i captured it in hi-def!) This film focuses on three women I met there, each working to rebuild this shattered country in her own way, outside the safety (and politics) of western aid organizations. These women and their stories are amazing!!
I'm excited to share with you a small slice from that epic journey. Please join me in New York for the premiere screening at this internationally-recognized juried film festival!
Film: WOMEN'S WORK
19 mins, copyright 2009
Sara Karl, Producer
Adam Bauer, Executive Producer
Synopsis:
A view of Afghanistan as seen through the eyes of four women from completely different backgrounds, cultures, and experiences, all working to rebuild Afghanistan on their own, outside of the usual systems, often with more success:
Leena: an Afghan woman translating for our hosts, TMF
Betsy: an average American who felt compelled after 9/11 to go to Afghanistan and help the women and children there
Babs: a Dutch lesbian, passing as a man in Afghanistan, working on regenerating Afghan life by nurturing native arts and crafts
Sara: an American producer drawn to tell people's stories through film and new media, and risking her life to do so
Sunday Oct. 25 4 p.m.
Village East Cinema
181 2nd Ave
(at 12th St)
New York, NY 10003
Tickets are $12 and we encourage you to buy early - festival screenings often sell out.
BUY TICKETS HERE - www.nyfilmvideo.com
I hope you can join me at this event, but if you can't be there and know someone who'd like to come - please pass this along!
Sara Karl
www.YouTube.com/sarakarl