Protecting Children and Building Peace in Timor-Leste
---
---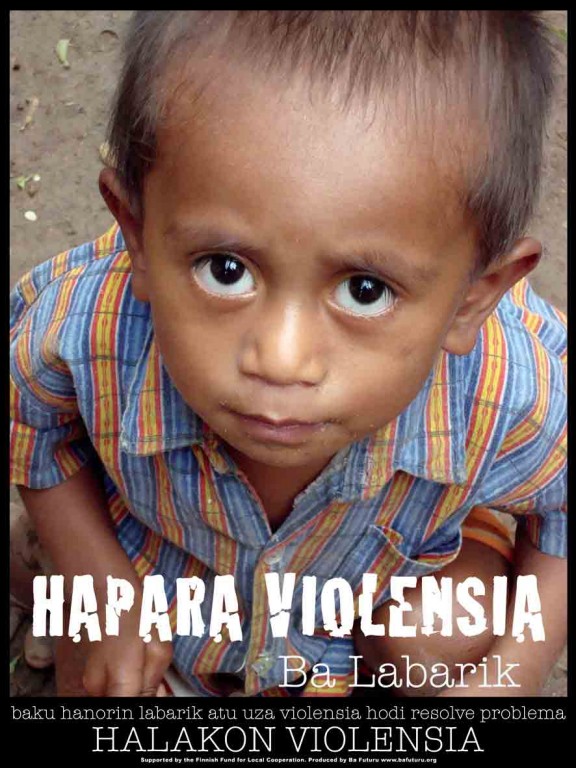 I have worked in Timor-Leste (East Timor) on peace building projects over the last six years. I first came to Timor-Leste as part of my fieldwork for an Applied Conflict Resolution course in 2004, which was part of my graduate degree from the School of International and Public Affairs at Columbia University. After my arrival, I used my spare time to develop a peace education project and then an organization to run it through, which is called Ba Futuru, meaning for the future.
A friend from Australia with human rights expertise and I worked together to develop the Transformative Arts and Human Rights Education (TAHRE) curriculum, which initially used artistic activities as a means to teach children about conflict resolution and human rights, while providing them with psychosocial support activities. Now, years later, Ba Futuru has a developed adult version of the TAHRE curriculum which also includes conflict analysis and transformation modules.
In the beginning we focused mostly on transforming the lives of children who lost family members due to conflict and thus focused our work in orphanages. However, after the crisis of 2006, which continued to cause civil strife until after the President of Timor-Leste, Nobel Peace Prize Winner Dr. Jose Ramos Horta, was shot in February of 2008, we began focusing more on working with at-risk youth and community leaders to develop their skills in the areas of conflict management and prevention. We also do dynamic work in the area of child protection, helping the country to develop a functional child protection system. To accomplish this, we have provided government child protection officers, teachers and various others working with children across Timor-Leste with training on positive discipline and child protection issues and practical skill development.
Ba Futuru's mission is to contribute to peace-building and sustainable human development by facilitating the psychosocial recovery of conflict-affected, vulnerable and at-risk children and youth, and by developing the knowledge, skills and values of community leaders, young people and their caregivers in the areas of human rights, children's rights, child protection and non-violent conflict transformation.
Ba Futuru has grown considerably and today has 25 staff, mostly Timorese. In addition to implementing conflict mitigation projects, Ba Futuru also manages a youth center and runs projects on trauma healing and community recovery, and income generation for empowering rural people through the development of a women's cooperative and eco tourism promotion. Ba Futuru has engaged more than 20,000 individuals since 2004 in building skills for conflict prevention, many of which have had their lives transformed by taking part in Ba Futuru activities.
Joao Paulo S. de Andrade, a Ba Futuru Community Response Team member who is 22 years old, wrote about the change he has experienced:
"Before I liked to be involved in conflict; hitting, kicking, fighting, throwing rocks at people's homes, assaulting them and taking their things. I realized from this training that I seriously needed to change myself. By changing my behavior I could have a positive impact on my family and community. Now I have begun to impact change in my community and particularly amongst the youth of Bidau, many of which were involved in throwing rocks at houses and cars and beating people. Since we provided the TAHRE training [for these youth] they have begun to really understand what conflict is and how can we make positive changes. Ba Futuru's training has not just changed my life but has had far reaching results in the community and I'm proud to be part of it."
Marcelino Martins Belo, a third grade teacher from Baucau District, stated that prior to Ba Futuru's training, he used to beat his wife, his children and his students, but after the training he had stopped completely. He told a community member surprised by the sudden change in his behavior, that he had changed because of the knowledge he gained in the Ba Futuru training.
In a country where many people do not yet realize that there are negative impacts of physical punishment, providing parents, teachers, community leaders and other caregivers of children with information about the negative impacts of physical punishment, while also helping them to build positive discipline skills, is instrumental to stopping the cycle of violence.
Sierra James
Co-Founder & Program Manager
www.bafuturu.org