Religions were made to unite the People
---
---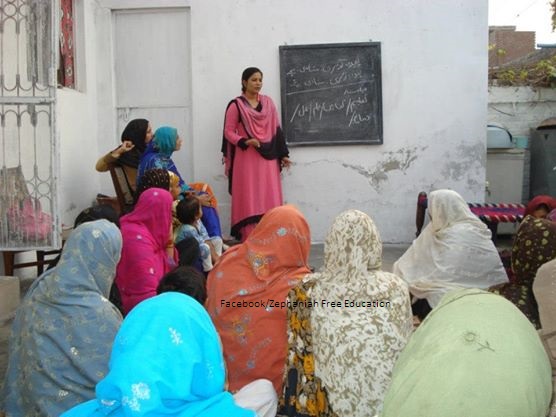 Tahira is a 20 years old girl, she was adopted by the 3rd wife of her father when she was just 2 years old, her father who already had seven children from his other two wives did not take much care of this girl, his other two wives along with their kids were living in a nice house in a big city but Tahira and her mother were sent to our village so they bought a small home and started living here.
She could not get love of a sister, father and brother and saw her mother being insulted for being not able to produce a child.
Tahira did her matriculation after making a lot of efforts and did not attend college for further studies because of financial crises, at very young age she became a beautician and started running her own beauty salon.
Last year it was their religious event. In her street I have a few students, so I was invited by them to attend that Holy event with them, and I went there but that girl did not like my visit because I am a Christian, she was silent during my presence but her face was telling me that how angry she was, it was hurting for me, but I stayed there for my students because I knew they invited me with love and respect.
But when I left, she beat the students who invited me; one girl still has a pain in her arm due to that beating even after one year, she was a relative of those children so nobody stopped her from doing this because it is common in our culture to beat the children.
I was told that she shouted on them and called me ugly and hate able, she tried to spread a rumor among parents that Sister Zeph misuses the photos of their girls to earn money. But I told my students that she does not know me yet that's why her behavior is so. When she will meet me she will be alright and will start loving me as you do.
So six months before when I started new admissions for our English language class, she also came with her mother.
My family treated them with respect and I gave her admission in the class, soon she became a friend of mine and one day bought a gift for me. I never let her feel that I knew all what she had been saying about me.
I never talked about religion, because every religion of this world teaches us to respect and love each other, this is what is common in all religions of our world and I think this is what religions are all about.
So she saw that I do not take pics by focusing the faces of the girls I just capture their activity about education. She saw that I collect pennies to help our students in buying their books and pens; she saw that I never insult anybody; she saw that I have a power of love and I respect all religions equally. She saw that I am a woman of action and not of words.
So on this Christmas she bought a Christmas cake for me and her mother told me that Tahira's dream is to become like you, you are her ideal and I tell her every day to learn to be like Sister Zeph in kindness.
Tahira wants to be an air hostess, now she is doing her intermediate. She is taking a class of Martial arts too.
Sometimes difficulties and insulting behaviors make some people angry so by treating them with positive attitude we can help them to think positive.
Religions were made to unite the people not to fight the people we can make each other understand it by stop keep complaining and through respect and care.