Remembering: Armenian Girl Forced to Wear the Hijab at University in Iraq
---
---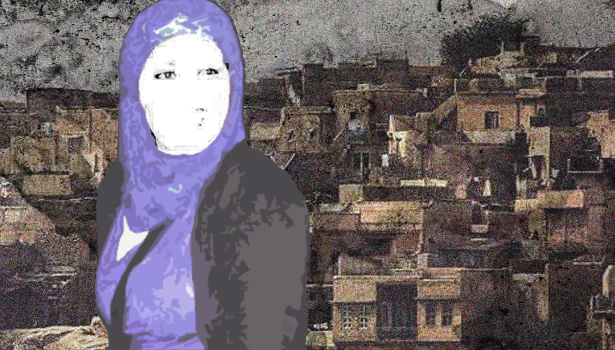 By Nataly Alan
Jul 15, 2010
In 2003, Nura was 22 years old, studying in her first year of the College of Arts, Language Department at Mosul University in Iraq. She expected to fill her college years with creativity and with meeting many friends.
Nura hoped her studies would lead her to a life in academia -- she wanted to be an English professor. Her mother was a teacher and she wanted to follow in her footsteps. But after only three months of school, her hopes were dashed.
She only hoped for safety.
It was a warm summer night in Mosul. Nura's friends were standing beside the bus station, listening to the sounds of bombing, which were very common at the time. Nura came up to them in tears. They asked what was wrong and she started telling her story.
A group of students threatened her and forced her to wear a hejab, despite knowing that she was Armenian. They didn't cover their faces, they were not afraid.
"If I see you tomorrow like that I'll put your head beside your body," one student said. Nura immediately ran to the police to report what had happened, but the policeman responded simply, "then you should put it on tomorrow!"
During that time many girls were killed for the same reason. She had no doubt that the man was serious and really meant what he said.
When she asked her brother Shant to bring her a hijab, he refused and instead forced her to stay home. "Forget your college," he answered.
Nura was very frustrated at this start to her college experience. She was looking forward to having new friends and spending time with them, laughing and studying together. Instead, she stayed home and her brother brought copies of notes for her to study.
After a few weeks, Nura secretly returned to college in order to take her final exams, wearing the hijab as was demanded. As she and her friends returned home from the exam, a person began following Nura's car and tried to stop them by turning in front of the car. The man tried to block their way and yelled "surrender, get out from the car."
Nura's driver wanted to help the girls, whatever it would take. "Either I would die with the girls or no one would die," the driver said. He didn't stop for the people in the other car. Instead, he drove faster until he lost them.
After Nura's brother Shant found out, he forced her to stay home from the next exam. She too was very afraid of what would happen. Shant was very angry. He left his work and took his sister and mother to Baghdad, although Baghdad was not much better.
Nura and many of her friends could not complete their studies because of similar situations that forced them to postpone their exams.
"I dreamed of having a bachelors degree because I'm very intelligent and I would get high marks," she said.
Her mother did not regret their move to Baghdad. "I had to choose between my daughter's life or her degree, and of course I choose my daughter."
The Tiziano Project provides community members in conflict, post-conflict, and underreported regions with the equipment, training, and affiliations necessary to report their stories and improve their lives. Nataly Alan, 27, is a reporter for the Tiziano Project in Erbil, Iraq. "I hope to continue making these videos and reports about violence that will help people know about everything that happens inside this country.."
Read the original post on the Tiziano Project Reports: http://reports.tizianoproject.org/2010/07/remembering-armenian-girl-forc...