RIO+20 UN CONFERENCE SUSTAINABLE DEVELOPMENT (1. ENVIRONMENT 2. POOR WOMEN AND LAND INHERITANCE,
---
---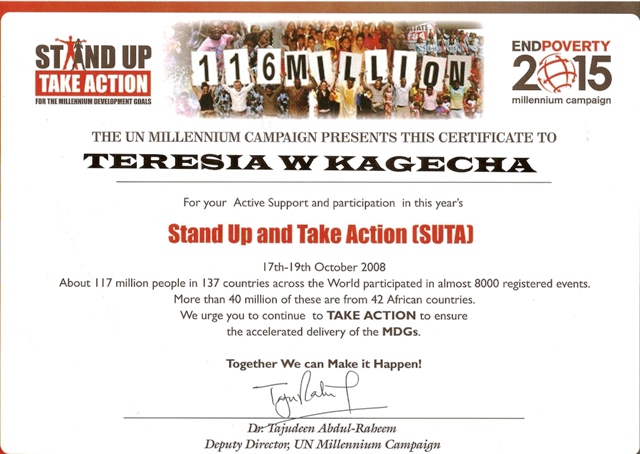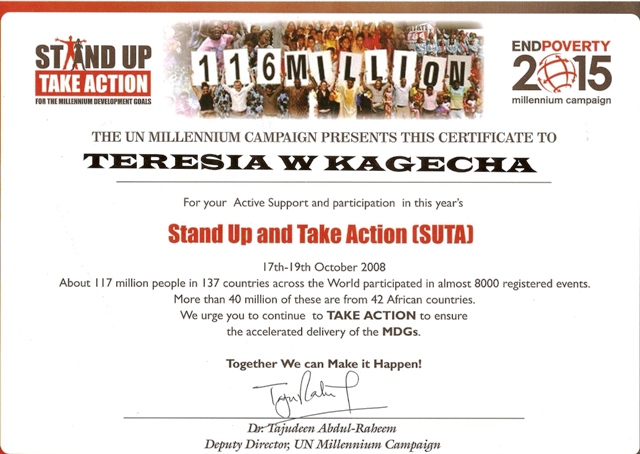 Congratulations!!! and Thanks Madam Breese for your concern on Women and Development of the World at large by involving us Women at the Grassroots Level. As a Leader on PulseWire since 2009 I have e-mailed several Journals on behalf (being the voice of the Voiceless) of my poor Community but no response has been made.
Gender Inequality Rights to Land and Security of Tenure, inheritance are not enjoyed equally by women and men . Gender issues related to land are complicated especially in our Country Kenya. Whereby, most of the tribes (even Culture) in Kenya (families) Girl Child , has no right to inherit their fathers land or properties only boys do inherit. Some tribes , prefer educating educate boys. These days we know if you educate a girl child we are educating not only our families , or clan but the World at large.
GENDER INEQUALITY AND EMPOWEREMENT: Women Rights awareness at the GRASSROOTS Community Level should be done through Workshops. They should train first Women Leaders at Community Level and then they Train the aged and Youth those illiterates (Slums) in their Mother Tongue or their National Language. Women have a right to equal treatment and access same facilities or jobs as Men do.
*A right to own property, to inherit their husbands Wealth. Majority do not know they have thse rights Culture prevent them from enjoying these right. Through Civil Education to inform them of their rights Women World Wide would be rescued from long time suffering.
In some Cultures, the girls should get married and inherit her husband's properties. So if they happen to get children out of wedlock, Girls are chased out of her parent's home by her brothers. Girls from home rural areas went to Urban Areas and because they could not afford the town high standard rental houses, they went to build carton-made houses and that is how slums came to existence in Urban Areas.
FINANCIAL CRISIS: Women, especially in slums, poor Communities are most affected . The continued discrimination women face, denied land and housing, disrespect for their human rights and lack of safety increases these problems.
Despite these obstacles, Women are trying to work together, they face financial challenges . The Merry-go-round they try to contribute and safe (as little as Kshs. 20 or Kshs. 50) they try their best to do small business all in vain. They struggle a lot to bring food home but most of them go for days without food. Their (children) Youth are school-dropouts due to lack of School fees at primary level. When they get out of School as you know idlers mind is a devils Workshop )who are jobless in extreme poverty have no well wishers or donors to train them either Mechanic, ICT, knitting, hairdressing, Driving Schools As I have been requesting in PULSE WIRE that our Community be assisted to have a CYBERCAFE INTERNET CONNECTED where they would learn Computer packages .( I do not have a Computer and I am not INTERNET CONNECTED so I visit a PRIVATE CYBERCAFE in order to make my Community voices be heard ) so Due to lack of informal Sector Programs Girls Youth result to prostitution HIV/Aids, early pregnancy they die early and live Orphaned children. Boys (Youth) become Drug traffickers, ROBBERS, touts, MUNGIKI are shot dead by Police at a very tender age. So the OVC (Orphaned Vulnerable Children) are so many in Slums our Community. But, If there are Donors, Well-wishers, Grants, who are concerned etc. Our Community would not be languishing in extreme Poverty.
NO PROPER SANITATION: In the slums there are no Toilets very few houses have pit Latrines. They relieve themselves in paper bags, and they tie a knot then they throw them during the night anyhowly. This method is known as "FLYING TOILETS".
DANDORA DUMPING SITE ; GARBAGE which are collected from all over Nairobi homes are dumped at the Dandora Dumping Site. It is very unhygienic to the residents within DANDORA, KOROGOCHO Slums. Various diseases are reported at the nearby Catholic Hospital , respiratory complications especially to children who die early due to those complications also air pollution, flies are everywhere, Scavengers. Houses roof (Shanties) were turned brown due to garbage. Residents for Years have reported their grievances to the Government Authority concerned, to shift the dumping site to where there are no people living there, nothing has been done. There are also Poor women and Youth parking boys who either live in that dumping site , they wait for Lorries, trucks that bring garbage and they correct paper bags, broken plastic buckets , bottles, cartons Metals to sell them for money inorder to meet their Basic needs. Some say that the papers could be recycled so they take to industries far away from there recycling.
ADULT EDUCATION: Free Adult Education would be beneficial to the aged whose main aim is to learn how to write their Names, read the BIBLE. The Youth due to lack of School Fees never attended even Nursery School.
TAPPED WATER: In slums settlements the residents do not have tapped water. There are points where they get tapped water far away from their houses. UNHYGIENIC: Most of them cannot afford to buy water so, these results to various body ailments.
MEDICAL FACILITY: For years our Community Kariobang South has suffered a lot without a PUBLIC HEALTH FACILITY . The Community around are jobless, they can't afford a Private Hospital. So, the four roomed Iron-Sheet build structure was turned to a PUBLIC HEALTH CENTRE. It has only one Doctor , a Sister-in-Charge and a nurse. Patients are increasing Day by Day, There is no Laboratory, Maternity Ward , Ambulance no Medicines we borrow from Dandora Facility. There are Volunteer Community Health Workers , I being one of them we assist in referring neighbourhood patients to our Health Centre. We have Volunteered for years, no allowances, even Airtime money.
PROPER HOUSES: Most of them were squatters and they were given plots to build houses, they made either carton make shifts, or ironsheets –walled houses. Due to poverty, and they are supposed to pay Government Land Rates when the rates accumulate they end up selling their only plots to those outsiders who have money. They sell them at a throw away price, to the rich who are now building permanents single rooms for rent. So the poor Women & Men become tenants in the same Slums. But if there could be an Organization caring for the poor who have land built for them and then refund Loan Repayment be reasonable and at 1% .
THE AGED: Homes should be built for the aged whose relatives are no where to be traced, a program to feed even those who are in the slums and no ways of getting food to eat.
I hope you will attend to our needs and our voices at the Grassroots Community Level. The Well-Wishers will find proper ways and to increase capacity to promote Gender EQuality and to eliminate Poverty, to reach to the affected Grassroots Level (slums) through the Pulse Wire Members .
MY OWN STORY OF GENDER INEQUALITY - LAND INHERITANCE
I had a friend Mary W. whom we were married by the same Relatives. My friend and I came from the same Home Area. She had three Children , Her Drunkard husband came home late from 2.00am. He used to wake-up the Children, beat up the wife for no reason. So there was no peace in that house and everyone wished he would not come home. So, the wife could not go home to her parents because the brothers would not allow her to live there.
One day, she had a thorough beating and she was chased away to her parents by the Husband. She went to her parents and left the children with the Husband. She stayed for months in her parents home, the daughter third born was one and a half years when she left. So, at times she used to sneak home to attend the daughter even though the husband had employed a house girl to look after the children. I remember one day when she was late and decided to spend the night at her marital home i accompanied her when the husband came and found us he chased us away with a big iron bar. I accommodated her, she spent the night in my house.
Her parents and the brothers were not happy with their daughter/sister and they forced her to go back to her marital home. So, when the parents from both side met with the daughter and the son to iron out the differences. No-one, even her own Father sided with MY FRIEND, even after complaining of the everyday beatings. So her Parents, ordered her to go back to her marital home, the wife was later taken to the Husbands RURAL home with the Children . She Suffered depression , She was admitted in a hospital and then, the husband never went to visit her in hospital . Her Father was informed of her daughter's illness. He went very early to visit her in hospital. He found that he had died a few minutes a go and the body was still in the Hospital bed. He couldn't believe that the Daughter was dead. He tried to touch her body it was still warm. Her Father cried a lot He was telling me. If he had known after his Daughter going back to the husband , that would be the outcome . He would not have allowed her back to the husband . Her children suffered a lot , after the mothers burial the Father moved to live with his mistress. The Children left their rural home and went to live with their mothers friends back in town. Their father was not bothered by his children's sufferings.
The poor children were left lonely at the hands of sympathizers. The Father was less concerned.
GENDER INEQUALITY : If there Is Gender EQUALITY and Human Rights , the mother could not have died . After, the husband beatings ,She could have gone back to her father and the father would have given her share of property. She could have lived single with her three children.
So, much more we will continue informing you ,when you visit us we still have similar cases whereby so many single ladies with their children suffer extreme poverty in slums. If they had Free Trainings informal Sector , they would now be having small businesses for their livelihood. Attached are Scanned photos of my Community.
NB: In Kenya General Election will be held in 2013, If am empowered financially to be a Women Representative in my Community Life would change. I am a Volunteer in COMMUNITY SOCIAL WORK targeting the Vulnerable ELDERLY, i go for them (slums) and i and the Administration (Area Chief) distribute relief food also the DISABLED i also direct/get them Wheelchairs from the Well-wishers also the Youth i direct them where to get Government Internship. So, i have made a difference in my Community,
I HOPE MY VOICE WILL MAKE A DIFFERENCE AT THE Rio+20 UNITED NATIONS CONFERENCE ON SUSTAINABLE DEVELOPMENT I WISH YOU THE BEST AS YOU SERVE GOD IN THE POOREST OF THE POOR.
MAY GOD BLESS YOU. AMEN.
YOURS
TERESIA WAMBUI N. K.
VOLUNTEER, COMMUNNITY SOCIAL WORK, NJIRU DISTRICT MINISTRY OF GENDER COMMITTEE MEMBER
K/SOUTH
MOBILE NO. +254 733 420 575
NAIROBI. KENYA
Economic Power
Leadership
Gender-based Violence