---
---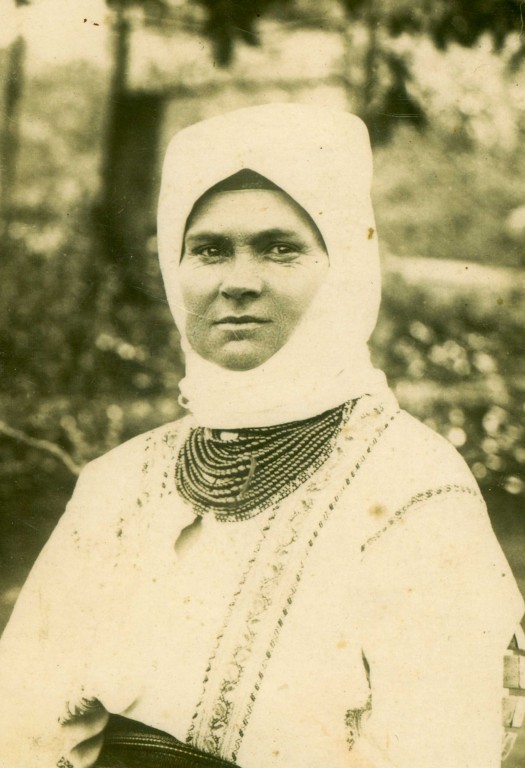 My great-grandparents came to Canada from the Ukraine in the early 1900's in a great wave of immigration with thousands of others seeking a new life with new opportunity.
At that time, Russia owned approximately 80% of the land in the Ukraine, and the people found oppression with little freedom to speak their own language and little opportunity to rise above peasantry.
Most of my ancestors are from the United Kingdom, but since I was a child, my Ukrainian roots have fascinated me because of something more vibrant.
This is the only photo that I have of my great-grandmother. Even my father doesn't know her name as she passed away when he was a toddler in the late 1940's. Her last name was Kalynuick when she arrived, but my Gido (great grandfather) changed it to Kelly. This is about all I know of her. She had four daughters, born in Toronto, Canada, only two of whom I met. My Baba (grandmother) never spoke of her, my estranged great-aunt did nothing but praise her mother as I visited her in a nursing home in the last years of her life. Aunt Katy gave me this photo, the only one she had.
I look at her, and I wish I could sit at her feet and hear her stories of travel, of love, of loss….all I thought I had is this photo.....until I realized that the food that she taught my Baba to cook is part of her. Her traditions came with her. The petaheh (perogies), the holubtsi (cabbage rolls) and borscht. The foods that we ate at Christmas dinner instead of turkey. The trips with my Baba to her friend's house to make psanky (decorated Easter eggs). A part of her has been kept alive through this food, her traditions, and this is what I can pass on to my own children.
I will keep searching for information. I am not very close to my father's side of the family, so I don't know how far I will get. But I want to keep part of her alive, with stories I can share as my daughter and I roll out the dough and boil the potatoes…
Baba's Perogies
Pastry:
5 cups flour
2 cups lukewarm water
Filling:
5 cups potatoes, peeled, cut into chunks and boiled until soft
¾ of 500mL container of cottage cheese
salt & pepper, to taste
Measure 5 cups of flour into large bowl. Add 2 Cups lukewarm water and stir to mix, forming soft dough. Transfer to counter covered lightly with flour. Knead briefly, adding more flour as necessary to make soft dough that is not too sticky. Set aside to rest while you make the filling.
To make the filling, peel and and cut up the potatoes into chunks. Boil and drain. Mash the potatoes, and while still hot add the cottage cheese, salt & pepper to taste.
When the filling is ready, roll out to ¼ inch thick and cut out circles with round cutter (I use a glass) that is approximately 3 inches round. Stretch the dough out a little to make a pocket for the filling. Add about one tablespoon of the potato and cheese filling into the center, and pinch dough together to make a seam around the filling (it helps to put a little flour on your fingers first). Set aside until ready to boil. Put a dusting of flour on the counter top or on a large towel where the uncooked perogies will be until they are going to be boiled. Do NOT let them touch or they will stick together and it will rip the dough (I have learned the hard way…)
When all of the perogies have been made, they can either be frozen on a cookie sheet to be cooked later, or can be boiled all at the same time for a big meal of perogies.
To cook, fill a dutch oven ¾ full of water and place over high heat until boiling. Turn heat to medium-high and add some salt (if desired) into boiling water. Add 5-8 perogies at a time into boiling water. When the perogies are cooked, they will begin to float.
We cut up an onion and cook it slowly in oil in a cast-iron pan, until golden brown. They are delicious and sweet over the perogies. Our family is divided on toppings. Half of us are all about ketchup on them, and my dad thinks we are crazy and won't add anything but onions and sour cream.
If there are any leftovers, they are absolutely delicious when you reheat them in a frying pan with some butter or oil.
Making these has been trial & error for me. I LOVE to cook and try new recipes, but I am no cookbook author, so I hope these instructions are okay!!! You can never have enough flour around to make sure they don't stick to things, because a perogie that opens up when you are cooking it is just way too disappointing! Play with the ingredients- you may want more cottage cheese, and my Baba used to add crumbled up bacon sometimes to the mixture. Enjoy.
Coming soon: borscht and holubtsi (cabbage rolls)