---
---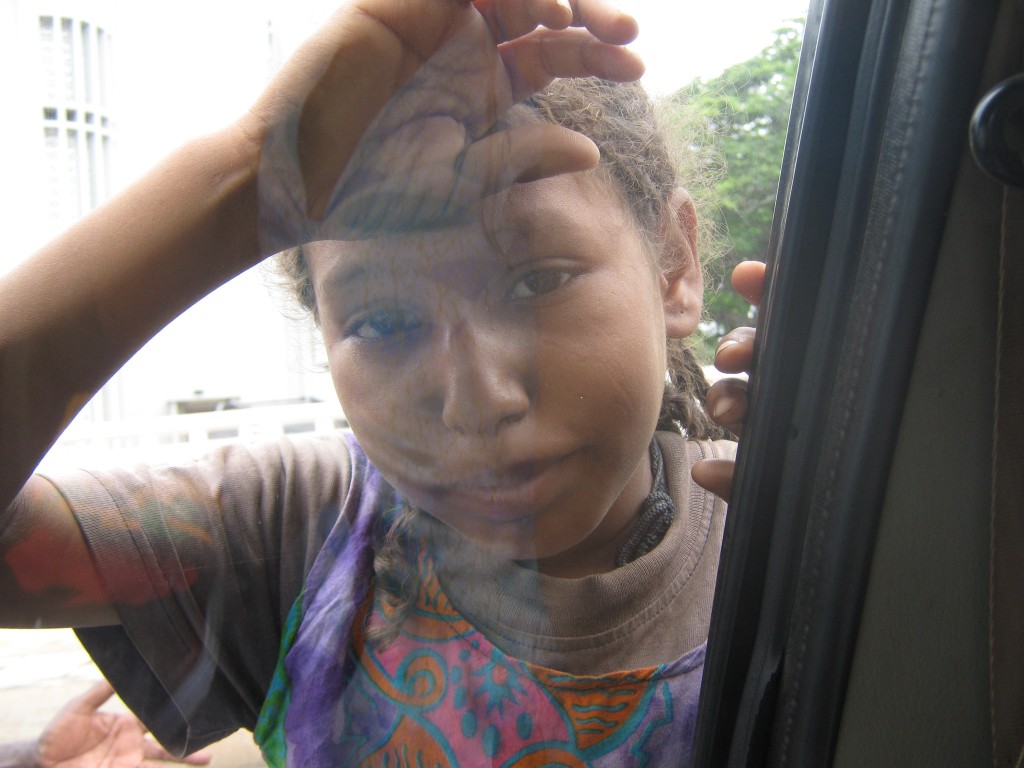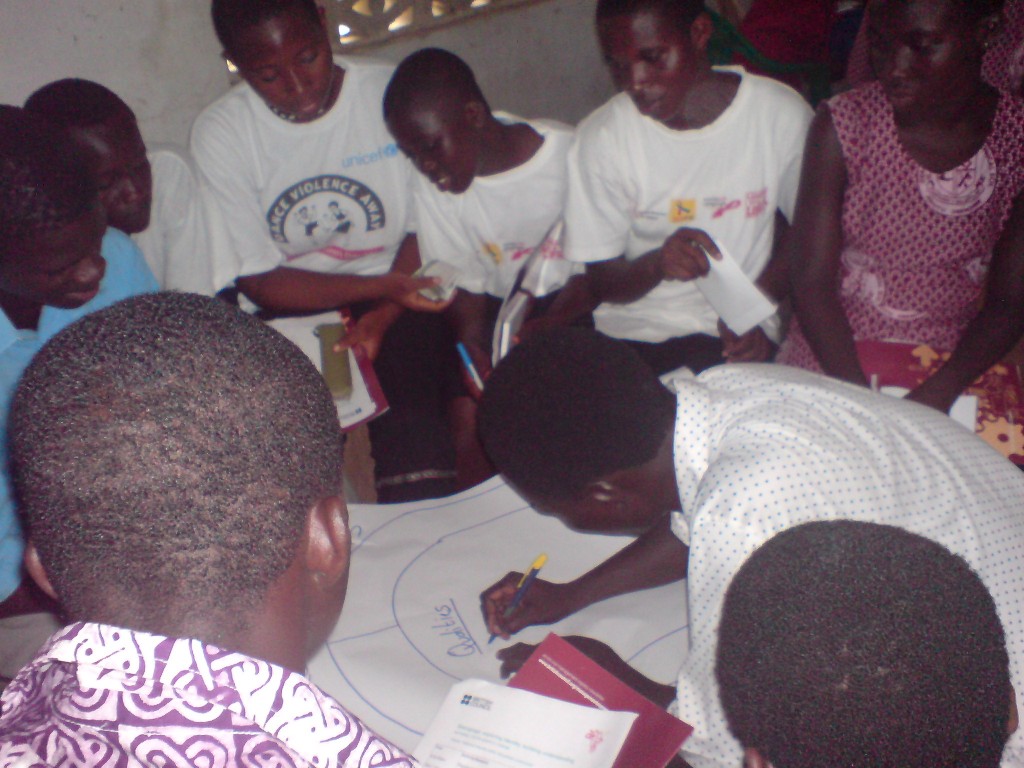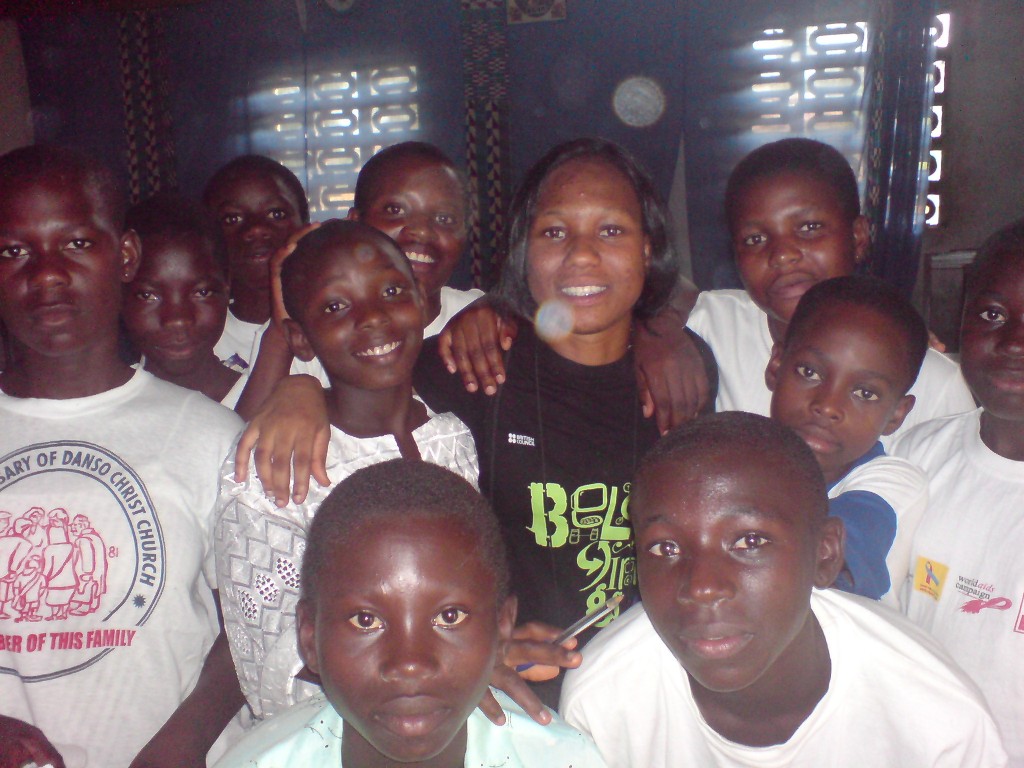 I saw her with my naked eyes galloping along one of the main city streets of Accra chasing cars -taxis, private BMWs and "trotros"(a public transport other than a taxi). When the traffic lights brought the cars to a halt she briskly walked to a chosen car bringing her right hand out hoping to get money from the driver or passengers. She looked grubby, frail and hungry. Her fingers and nails clogged with dirt, her dress looked unwashed for weeks. When my eyes fell on her feet, I realized one of her slippers was torn.
Her name is Aicha and she is 9. As she comes closer to my taxi she smiled revealing a yellowish set of tiny teeth that has not been brushed for weeks. She spoke to me in the only line in the Twi Language that she knows "ma mi sika"(give me money) and my nose was offended but my heart fell in love with her. I wondered where her parents could be. In our short conversation, she told me her name and that she came from Niger. Language was a barrier to our conversation as she understood little English and Twi.
Before I could fish for coins in my purse to give to her, the green light was on and my cab flew away. My heart was swollen with anger. Holy anger- Why should a little girl of her age be on the street begging? Is it poverty? Is it illiteracy? Is it lack of values? The more I asked myself these questions, the more exasperate I become. Should any reason be justified not to take proper care of children-feed them, cloth them and send them to school? Should there be a reason why children should be loitering on streets or working on farms, be at quarries instead of attending school when they did not come into this world by themselves? Where are their parents and families? What went wrong? What can be done? As these questions bagged my head I realised it was an early Monday and children of Aicha's age are in school.
Like Aicha, many children wake up to find themselves on the street during school days and hours because of poverty and its related difficulties. Days after days, weeks after weeks and months after months, I see many of her age and frail frame on the streets from different places begging for alms. Some children come with elderly physically challenged folks. Others are sent out alone and tasked to beg for alms. What is the future of such children without education in the 21st Century? How would they survive without education in a world that is growing with different global challenges of wide sizes, heavy weights and mountain Everest heights?
Like a film, my own childhood started unfolding:
As far as I remember, I was just about 6. I went to school sometimes. Sometimes I had to stay home and work on my grand father's farm close to our house. My job was mainly to drive fowls that will pick the corn and millet seeds my grand father had sewed. Though I was too young to work on a farm, my figure was big enough to scare and drive fowls away. My grand parents had no education and knew little about the importance of education. Much as I wanted to be in school my voice was too tiny to be heard let alone respected then. From my background, "children were to be seen and not heard".
I wanted to be in school-to read, to calculate and to draw. Though I was rarely in school, I knew that for me to afford a good pair of shoes like the ones my teacher wore I should have to read hard. I remember admiring my class teacher very much the times I went to school. She spoke fluent English and I would tell myself, "one day I will be able to speak fluent English like Miss…I cannot remember the name now. Against my oversized sweater and unappealing school uniform, I admired her red blouse and her high heeled shoes which tick- talked as she majestically walked in the class. She was a good tutor who knew how to motivate her students. She always bought me "Kulikuli" (peanut balls) the times I read very well in class not knowing that in most cases this was my best and only meal for the day.
My early homes
My Grandparents' home was built with mud and roofed with thatch. There was no electricity, potable water nor tarred paved roads in our village. There was one school. No clinic. Occasionally nurses will come from somewhere to our schools and give us injection. I never liked that and always screamed!
I spent a lot of my time with my grand mom. We went to the river side to fetch water, the market to sell and the farm to harvest groundnut. My trips to and from the riverside, through the bushy paths that made me wish someday I may live to see potable water in this community that was also adversely affected with the absence of opportunities, infrastructure and safety.
I had friends in the community. We played together, plucked mangoes together, swam in the rivers and bathed sheep. There were times we just wandered in the bushes.
I had no idea where my father was at that age though later I learnt I lost him. My Granny was to me my mother until the spell was broken one day-"your mother is in the City and will be here one day".
The Exodus
As my mum and I sat in big bus to Accra I was filled with mixed feelings. I had a bond with my Grand mum and it was painful "running away" from her. We had to escape as my grandparents would not allow me to leave them for reasons best known to them. The journey to Accra was long but one that will give me a new life and destiny wrapped with it unique challenges…
Early life in Accra
I woke up one morning to realize I was alone. All alone. By myself. I was 10. I was to take care of myself spiritually, emotionally, physically, socially and economically and health wise whiles as my mum travelled from one city to another as a trader. I felt lonely, neglected and wished things were different. I knew my mother did not wish to leave me but she had no choice -. She was a single mother –a widow.
Though I did not feel the heat of a gunshot, nor the edge of a sharp knife stabbing me then I felt the heat of neglect, the stung of lack of parental love and care because of poverty. My younger brother was in the village and I was yet to meet and to know my elder siblings. That is another chapter of my life story.
Night after night, beads of sweat formed on my forehead without permission. It was hot and stuffy, sometimes cold and silent. One night I woke up. Sat up and told myself-poverty is not good. This situation has to be changed and this change must begin with me!
Teenage years.
It was not until after Senior High School that I became actively involved in issues that affected children, youth and women. I had experienced and seen many young people beaten by poverty and lack of education. Many young people have dreams were threatened by those same two factors.
University education was challenging for me without a proper source of income but it was worth staying at University i graduated with a degree in French and in Linguistics proud of my mother.
Accra Today
As I walk through the streets of Accra today there are many sights and sounds but the ones that I cannot just hear or see walk away are the sounds of children, youth and women who are poverty stricken.
I see many children in the streets-beggars, petty traders, some Ghanaians most foreigners. There are young, hungry, and frail with no education nor proper homes. I wonder where their families are what their future will be. The United Nations Convention on the Rights of Child spells out clearly the fact families, communities and nations are responsible for the well being of every child.
I see many young women thronged and chocked the city in their quest to escape poverty and its related myriad challenges. Many are abused and exposed to many dangers in the city because of poverty as some do not have homes to live in.
Research findings in Ghana reveals two categories of street children - the 'typical' Ghanaian street child who lives and works on the street and the urban poor child, who survives daily on the street but still has some family ties.
According to Catholic Action for Street Children (CAS), a local Non Governmental Organization (N.G.O.) established in 1993 to provide support to children living on the street of Accra, Ashaiman and Tema Metropolis 86% of the children who find themselves permanently on the streets are within the age range of 7 – 15 yearsThe latest head count by CAS, conducted in 2006 in the selected areas of Tema and Ashaiman, proved the number of street children to be a horrifying 21,140. In addition to this, there were 7500 street mothers who were below the age of 20 and another 14,500 urban poor children. These statistics show the alarming rise in the number of children who live, work and spend at least some of their time on the streets of Accra. These are the children that CAS strives to help.
We may not be feeling knives stabbing us or guns searing hearts nor even as a country experiencing the disruption of war scattering many but poverty and its related complications continue to sting many young souls and displace many families as many people try to break the poverty circle in their families .Scores of women have and still struggle and go through hard times to raise and educate their children. Many girls braved and still brave the storm of poverty to make it themselves who they are today.
Though the Ghana Government, international organizations, NGO and individuals are working earnestly to curb this problem, Accra, the capital, is still home to over 20,000 street children on the street
.
Education as a development tool
I believe there is a correlation between literacy/education and Development as education harness people's potential, enriches a country's human resources and is the key to an individual and community development.
Most people who are educated take initiatives to contribute effectively to development and cultivate attitudes to the break poverty circle in families and communities by engaging in income generating activities.
When people's lives are improved through education and opportunities, they are refined, trained with skills to contribute to the nation's wealth. Many human resources are being wasted because of illiteracy and I strongly believe that until we wake up and take responsibility of making sure that every child born on earth gets the chance to go to school we would be digging holes in our pockets. Education should be free and accessible to every child on earth. Everyone has a responsibilty. Individuals need to live responsibly, Governments and the International Community must be fair in Trade deals.
My Vision, My Eforts, My Motivation
I look forward to seeing a Ghana and a world where every child is in school and is properly taken care of. A country where women are assertive and financially independent-being able to generate their own income in order to survive and support their own families. I believe we can achieve this through quality education for all.
I believe I have a role to play as an individual. In my desire to help; I have set up a foundation-GREIGHT FOUNDATION with the mission of empowering children, youth and women in communities through mentorship and education.
As efforts to empower children and young people from difficult backgrounds to go to school and realize their dreams,
-I mobilize a group of friends and we visit a particular community (Obrachire) to encourage the children/young people to believe in their dreams through empowerment and self development workshop trainings.
-Currently I am mobilizing funds from friends to support needy children in schools to help pay their tuition; buy books and some stationery. For instance there are two students who would be going to Senior High School this September.
For a long term development plan
- I am working on connecting children and young people from difficult backgrounds with their peers and other people who would love to mentor them by encouraging them to hold on to their dreams.
-I hope to be able to set up a resource centre (A community library, a computer laboratory, a career and counseling Service Centre) as a long term development plan for one particular community.
I want to leave this world knowing that a life was transformed by my efforts because I ever lived.
For the girls who have dreams; who scream silently in secret corners for a better life-hold on to your dreams. A new era is here-where women have been connected to help each other realize their dreams through collective voice and resources
This article is part of a writing assignment for Voices of Our Future, which is providing rigorous web 2.0 and new media training for 31 emerging women leaders. We are speaking out for social change from some of the most forgotten corners of the world. Meet Us.
Leadership
Girl Power
Education