UN Women Zimbabwe Country Office does it again!
---
---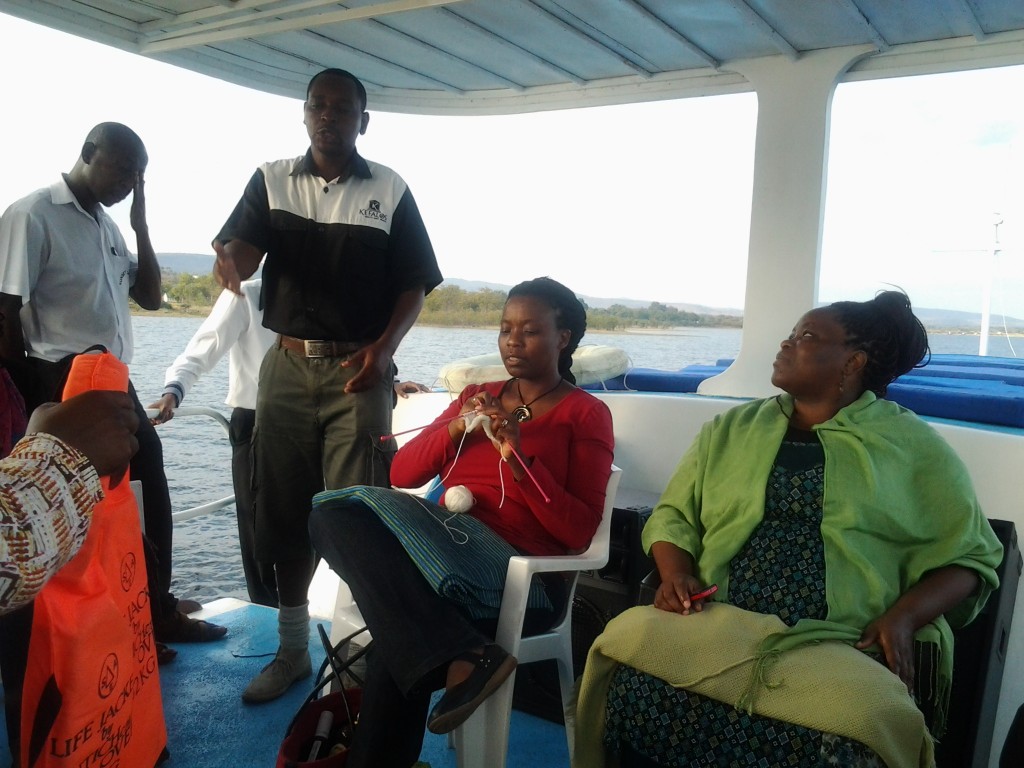 The setting is right inside a boat in the waters of Lake Kariba. This is after spending a long and packed day reviewing our performance in the just ended quarter and planning progress for the future of programme implementation in the UN Women country office. I watch with interest as our country office boss chats with colleagues whilst busy hand knitting a scarf for one of her two sons. She will knit a second one soon after finishing the current one, she says.
In stitches of laughter colleagues express their amazement at how their boss, a modern professional woman conforms to what is perceived as traditional craft, an image of conservative domesticity. But for Revai, creatively converting yarn into fabric seems naturally like just her default setting – something she does without even thinking. Amidst laughter, and without even looking at the loops she is weaving Revai recounts how she bought a small hand sewing machine when she was still in law school at the University of Zimbabwe and started making bed spreads for sale to students to raise extra money for upkeep - and how her business collapsed after she loaned out bedspreads to male student colleagues who kept dodging paying their debts until they graduated.
"It feels like I should start looking for some of those young men now and bring them to book," she says amidst rows of laughter from colleagues.
This event for me is highly metaphorical and an epitome of womanly chutzpah; a deliberate act of resistance and allegorical shattering of the public/private binary that celebrates femininity whilst making bold statements about the identity of an African woman as a mother, professional, leader and sister. I am humbled by such levels of self-consciousness and capabilities of shape shifting, and I am reminded of Buchi Emecheta's novel, Second Class Citizen. In all this, being a proponent of women leadership ideals, I can't help celebrate African woman power! Just as the African mother has traditionally planted crops, pounded maize, and done washing with her baby strapped to her back, so Adah, the protagonist in Emecheta's book can write a novel with her children playing in the same room. I can't remember where, but I read somewhere that whilst men have are busy plotting and fighting wars, women are quietly knitting, building communities of solidarity and being creative.
After this event, instead of retiring to bed after a long laborious day, I find myself reading through the history of craft, especially of knitting. I discover that until the 70s, and through the eyes of the second wave of feminism, knitting was seen as thoroughly 'feminine' and women who conformed to this craft were judged for subscribing to some male imposed stereotype. Traditionally associated with idle work and unproductive female activity in the home, craft was never integrated into profit-making systems. Rather, it was marginalized and undervalued, and as a result, women's significant and creative work in the private sphere such as knitting blankets, weaving the loom did not receive the same respect as male-dominated activity in the public realm. As a result many women, especially those in educated circles did not want to be associated with knitting.
Contemporary third wave feminists are reclaiming knitting, sewing, and other crafting activities traditionally feminized and associated with the private sphere to show that they have the privilege to express themselves through craft and any other acts of choice, and as such making knitting a defiant feminist statement full of the triumph of the human spirit, creativity, autonomy, artistry and pursuit for freedom. Women are questioning why they have to continue more generic produce when we can make their own or support female-run home industries instead. Virtual marketplaces or online sites like getcrafty.com have also allowed women to forge bonds with others who share similar passions and community spirit. In Zimbabwe the Kunzwana Women's Association (KWA) a rural community group of indigenous market women is an example of how local women are using local resources to manufacture shoes, soap, perfume, candles, and also to knit blankets and sew clothes even for export markets.
The UN Women Country Office team is in Kariba for a quarterly retreat whose main objective is to assess progress for the past quarter and to map a way forward for improving efficiency and effectiveness of future program implementation and delivery. On their programme for the retreat is also a slot on exploding ideas on how to come up with individual business proposals of choice for the staff members. Such a community of practical practitioners is rare and hard to come by. Well done UN Women Zimbabwe, and good luck!