UN Women Zimbabwe partners with other development agencies and the Parliament of Zimbabwe to celebrate the International Year of Evaluation
---
---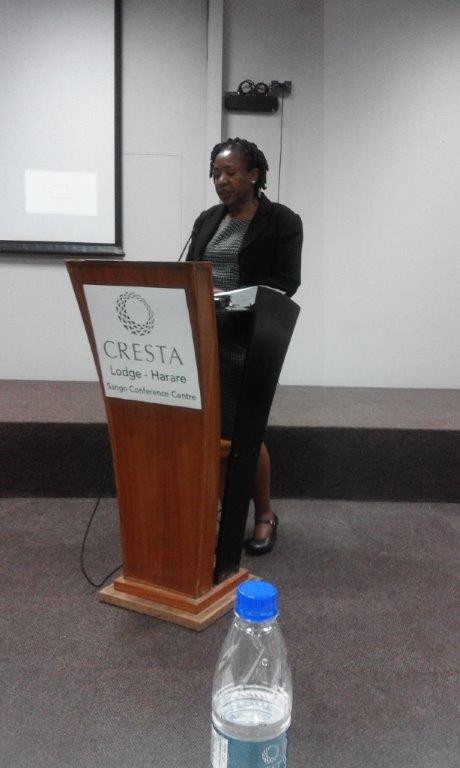 Story by Getrude Matsika, UN Women Zimbabwe Monitoring and Evaluation Officer:
On Thursday 17th September 2015, UN Women Zimbabwe, in collaboration with the Africa Capacity Building Foundation, UNICEF and other development partners supported the Zimbabwe Evaluation Association (ZEA) to host a celebration of the International Year of Evaluation. Over 100 participants, including government officials, Members of Parliament, representatives of the academia and civil society were in session, and the theme of the event was "Evaluation for All." During this event, the Deputy Chief Secretary, Office of the President and Cabinet, Government of Zimbabwe lighted the International Year Evaluation Torch.
Ms Delphine Serumaga, UNW omen Representative in Zimbabwe gave the following speech:


The Parliament of Zimbabwe, hereby represented by Hon. David Chapfika, Hon. Irene Zindi and Hon Thokozani Khupe


Deputy Chief Secretary, Office of the President and Cabinet, Government of Zimbabwe – Mr. J. Mupamhanga


Government Officials here present


Africa Capacity Building Foundation representative


IOCE Board member


Zimbabwe Evaluation Association President and members


AFREA Board member


Chairpersons of Evaluation Associations and representatives from Malawi, South Africa, Zambia


Representatives of Civil Societies


Ladies and gentlemen


I would like to thank the Zimbabwe Evaluation Association for convening this Regional Conference themed Evaluation for All and allowing us to reflect on the importance of evaluation particularly Gender Responsive Evaluation.
I would also like to congratulate the Office of the President and Cabinet, Government of Zimbabwe for leading and coordinating the development of a National Monitoring and Evaluation Policy that guides implementation of government programs and projects to ensure achievement of desired results within the specified time period.
UN Women uses Results Based Management Approaches that prioritise use of evidence based gender responsive evaluations that feed into management and decision making processes that transform the lives of women and men, girls and boys towards the promotion of gender equality and the empowerment of women.
In UN Women, Gender responsive evaluation is conducted for three main and equally important purposes:


To demonstrate results and accountability to stakeholders about intended and unintended impact of programs on gender equality, human rights and women's empowerment.


To provide credible and reliable evidence for decision making


To contribute important lessons learned about normative, operational and coordination work in areas of gender equality and the empowerment of women.


Globally evaluation is recognized and prioritized and 2015 was declared as the International year of evaluation at the Third International Conference on National Evaluation Capacities organized in São Paulo, Brazil, 29 Sep - 2 Oct 2013.
Why 2015? The Millennium Development Goals (MDGs) are being replaced by a new set of internationally agreed Sustainable Development Goals (SDG). While the MDGs drove a global agenda on human development a comprehensive evaluation of what has been achieved has not been carried out so far; yet it has been widely accepted that development programs and policies need to be informed by evidence from evaluations.
The aim of designating 2015 as the International Year of Evaluation is to advocate and promote evaluation and evidence-based policy making at international, regional, national and local levels.
Several activities have been planned for the Year and EvalPartners including UN Women facilitates implementation of these activities at international, regional and national level and these include among others:
Identifying the key future priorities for the global evaluation community to launch the 2016-2020 Global Evaluation Agenda;
Bridging the gap between the evaluation community (supply side) and the policy makers community (demand side), including Parliamentarians, to ensure good quality, equity-focused and gender-responsive evaluations are demanded and used in policy making; In 2014 UN Women together with UNICEF and African Development Bank helped to establish the African Parliamentarians Network on Development Evaluation (APNODE). The purpose of APNODE is to provide a forum to support African Members of Parliament to use evaluation for evidence-based decision-making, learning and accountability. UN Women has supported Zimbabwean Parliamentarians to attend the APNODE meeting and from the meeting the Parliament of Zimbabwe is taking steps to establish a local chapter and UN Women Zimbabwe will continue working with the Parliament of Zimbabwe to promote use of evaluation for evidence based decision making.
Developing equity focussed and gender responsive National Evaluation policies and systems: At a national level, UN Women in collaboration with the government of Zimbabwe through the Ministry of Women Affairs, Gender and Community Development is currently developing a monitoring and evaluation system on Gender Equality and the Empowerment of Women. The purpose of the M & E system is to improve availability, accessibility and utilisation of up-to-date sex-disaggregated and gender differentiated data to inform policies, programmes and legislation promoting gender equality and women's rights.
Mainstreaming equity-focused and gender-responsive evaluations in Sustainable Development Goals at international level, and in national development strategies at national level; UN Women in collaboration with the United Nations Evaluation Group (UNEG) and other organisations joined forces to collectively mainstream evaluation in the upcoming Sustainable Development Goals.
UN Women believe in and promote the collaborative efforts to use evidence in decision making and policy development processes
I believe this Regional Conference has raised awareness on the importance of evaluation and more specifically gender responsive evaluation. My main plea is for all stakeholders represented here to effectively and efficiently use knowledge gained in this conference to design, plan and implement policies and programs informed by evidence generated from gender responsive evaluation.
To the Parliament of Zimbabwe, I hope we will continue working together and facilitate establishment and Operationalisation of the gender responsive Africa Parliamentarian Network on Development Evaluation Zimbabwe Chapter.
Furthermore, it is my hope that in collaboration with the Government of Zimbabwe through the Ministry of Women Affairs, Gender and Community, other government Ministries, development partners and civil society we will develop and operationalise a national Monitoring and Evaluation System for gender equality and the empowerment of women.
Colleagues let me reiterate that UN Women is committed to working with the government of Zimbabwe and other partners to promote use of evidence from evaluation to feed into designing and management of development interventions and policy making processes in Zimbabwe.
I look forward to working with stakeholders represented here in different capacities to promote gender equality and women's empowerment through evidence based programming and policy making.
Thank you.
Gender-based Violence
Education
Human Rights